I Finally Became A Fan Of Setting Powder Because Of This One Product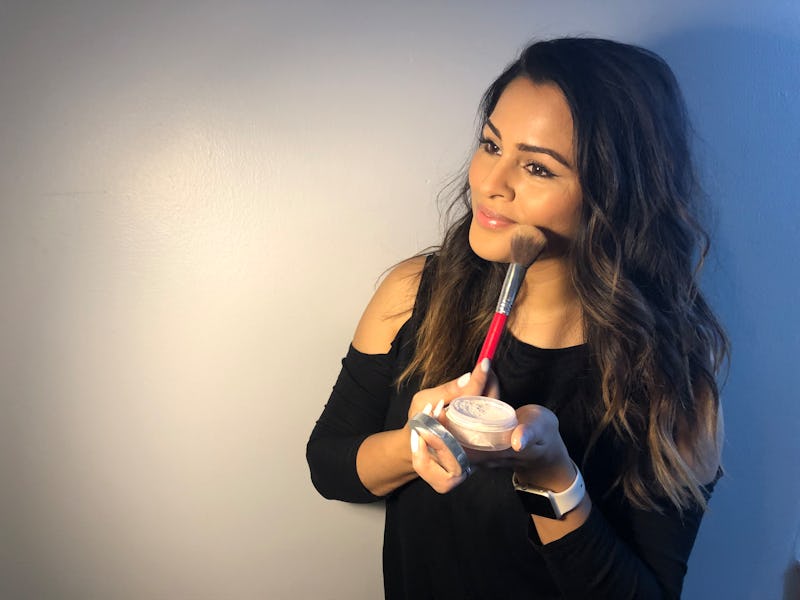 If setting powders and I were a thing on social media, our status would have been, "It's Complicated." I've always favored a dewy glow, so I tiptoed around using powders for the longest time. Too many of them made my makeup look (and feel) cakey or heavy. The problem, though, is that I need something to set my makeup. I've tried it all, setting, forgetting, dusting powder just along my T-zone. But I'd always end making my skin look dry, dull, and powdery. What's worse? I'd notice flashback in photos. Not cute.
I'd all but given up on a setting powder that worked for me... until we partnered up with BECCA Cosmetics to find a solution to my makeup woes. Let me tell you right now: If you've been swiping left on all the setting powders you've come across so far, the Hydra-Mist Set + Refresh Powder is going to be your game changer.
What Makes It So Different?
Like the name suggests, this isn't just a powder. Imagine a refreshing face mist and a setting powder had a meet cute, and then Hydra-Mist was born. What I noticed immediately — and was instantly impressed with — was how the product actually felt on my skin. It literally has a cooling sensation that I can only describe as (yes) a refreshing mist. That's because the powder is formulated with 50 percent water. The lightweight, cool-to-touch sensation is truly unlike anything I've ever tried before.
How To Use It
After I do my normal makeup routine, I use this powder as the last step. I apply it all over my face with a kabuki or fluffy brush to set my makeup. I can confidently say everything I thought about powders (they're dulling and have a cakey finish) has been turned on its head. Not only does the Hydra-Mist feel completely weightless on my skin, but it also sets my makeup without taking away that glow I love so much.
How It Wears
My pores look less noticeable, and my skin definitely looks so much smoother, like it has its own filter. I should also mention, as someone who routinely worries about setting powders creating a gray cast on their medium/tan skin tone, I can't get over how natural this one looks on me. (If your skin tone is deeper than mine, they just launched the powder in Golden Bronze, a warm tan shade.) Hydra-Mist feels comfortable and lightweight, allowing me to set my makeup and reinvigorate my look with touch-ups throughout the day — without ever getting cakey or heavy.
Let's just say my relationship status with setting powder has gotten much more serious since using Hydra-Mist.
This post is sponsored by BECCA Cosmetics.
Images: Courtesy of Shyema Azam