I Planned A Vacation Around Mary-Kate & Ashley Olsen Movies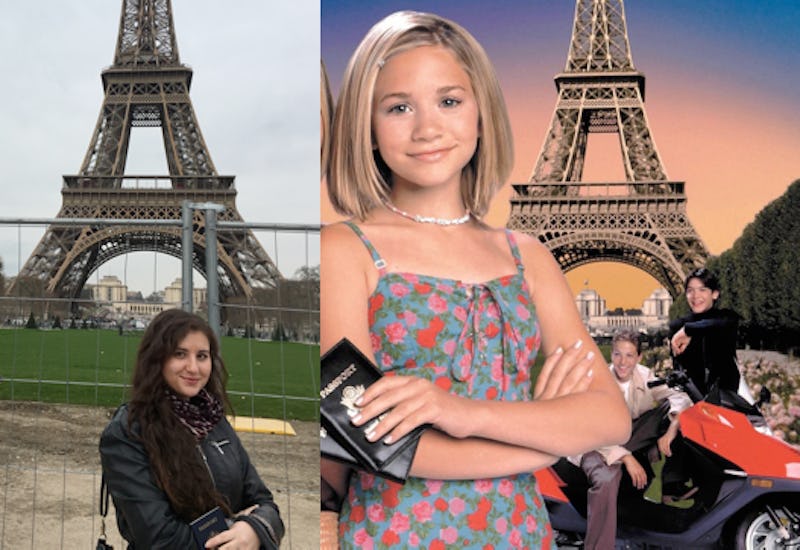 Warner Bros. / Rachael Ellenbogen
As a 23-year-old woman who hated making decisions but loved to travel, it was hard to choose where to go when it was time to take a vacation earlier this year. As someone who loves all things entertainment, I knew I wanted that aspect involved, but was unsure if I should travel to the location of one of my favorite books, the setting of a favorite show, or somewhere else. Luckily, I soon remembered that there's a certain collection of movies that features a new location around the world in each flick — no, not the James Bond series. I'm talking about something with a bit less violence (unless you count fencing in England or baguette fights in Paris): the Olsen twin franchise. And so my Mary-Kate and Ashley Olsen-themed vacation started taking shape.
The twins' cheesy, fun, adventure-filled flicks were staples of my childhood; even my brothers have seen most of their movies, because I'd barely watch anything else growing up. The nicest present I've ever received was a signed Mary-Kate & Ashley picture my dad gave me in 2003. I cried and called my friends immediately, and it's still one of my most prized possessions. So, naturally, it made perfect sense for me to embark on an Olsen-themed vacation.
But where to go? I could've use the tactic of throwing darts at a map to see where I should head to (like the twins did at the end of Holiday in the Sun), but instead, I decided to pick from a location the Olsens have already tested out for me. I wanted to travel abroad, which cut out quite a few movies, like Billboard Dad, It Takes Two, and Getting There. And as much as I really love Our Lips are Sealed and wanted to travel to Australia, that felt too far. And while Holiday in the Sun is also a favorite, a beach destination wasn't exactly what I had in mind for this time around.
The perfect fit? The European trifecta of When in Rome (2002), Passport to Paris (1999), and Winning London (2001). I've seen these movies 500 times each, and they each featured locations I always wanted to visit. So it was settled. I was going to go on a European adventure chosen by MK&A movies, and being the Olsen-obsessive that I am, I couldn't stop there. The itineraries themselves had to also revolve around the movies. Not only was I set to travel the world, but I was going to go to the exact locations I'd seen the twins go to hundreds of times before, and get to watch each flick while in their respective cities. This decision-phobe had just made the best decision she'd ever made.
First Stop: Rome (When In Rome)
I convinced my friend Ali to accompany me on this adventure under the ruse that it was going to be a normal trip to Europe, but luckily, she knows me well and realized I wanted to go to these cities because I'd seen them in Olsen movies. Unluckily for her, she didn't realize the extent of my obsession and how many staged photos she was about to take for me.
We set up the trip to give us about three days in each place, which was just enough time to hit all the major Olsen and tourist stops, which fortunately overlapped most of the time. I had all three movies on my iPad, and before we started exploring in each city, we would watch the city-specific films, pausing the videos at easy-to-find stops the girls had visited and taking screenshots. Once we reached a site, I'd open up the shot and study it to try to get my pose and photo as exact as possible.
Our first step was the Spanish steps. These famous steps were one of our first stops in Rome and were a good way to ease us into our assignment. The photo above isn't perfect, but we felt like it was a good start.
Next, we went to the Pantheon. Unfortunately, life can't replicate movies completely, and I couldn't find a table to eat at right in front of The Pantheon like the Olsens did. A little sorority squat was my best bet.
Up next was the Coliseum. With so many buildings and rooftops and lookouts, I couldn't always find the exact spot to take my photo. But as Ali could tell you, I sure tried pretty hard. I'd stare at the movie screenshot on my phone for a long time and run around, up and down different stairs or to different places, just to try to get my angle as precise as I could. At the Coliseum, I took my shot from a lookout point, while the actual image was from the character's amazing apartment, which I sadly couldn't get to.
Then we headed to the Trevi fountain. This is seen in almost every Rome-centric movie and always brings with it a sense of dreams coming true. It was so important in my trip that it earned itself not one, not two, but three replications, including one I begged my friend to join in on. I mean, I needed a shoulder to rest on, so it was necessary.
Of course, even though this trip was all things Olsen, I had to give a little love to The Lizzie McGuire Movie while at the fountain. In the movie, Lizzie visits the fountain and makes her bestie Gordo promise that while they're in Rome, they'll find adventures. Lizzie's just looking for an exciting change of pace, the same thing I was searching for and was happily finding on my trip.
With my wish of adventure becoming more real with every passing minute, we repacked our bags and said goodbye to the beautiful stone streets of Rome and left for the next location.
Second Stop: Paris (Passport To Paris)
Off to the City of Love we went, and it did not disappoint. While it was raining pretty hard the first day we got there, it gave us time to get accustomed to the area, as well as watch Passport to Paris and get our screenshots in order. When the rain stopped, we set out to explore all that the city had to offer: The Eiffel Tower, the Arc de Triomphe, the Notre Dame, the Louvre Museum, the Palace of Versailles, and as many crêpe stands as we could find. Sadly, we couldn't fit in moped trips on our time-crunched list, no matter how cool they looked in Passport to Paris. I mean, if cute boys carrying flowers whizzed by us and then asked if we wanted a ride, then we would've gone, but that didn't happen. Alas, I still tried my best to get the side shot of myself in front of Notre Dame, imagining I was riding by it on a moped the whole time.
We then went to the Eiffel Tower. The most famous Paris tourist stop and the Olsen twin film's key art, the tower was a magnificent sight to see in person. Construction made if difficult to get a good shot without a metal fence behind me or trucks in the way, but it worked out. I begged Ali to let me pick up baguettes on the way there for us to have a baguette fight, but she wouldn't budge.
That was a bit too much for her, but always seemed like the most fun thing in the world to do when I'd watch the scene growing up.
Next was the Arc de Triomphe. In the movie, all the Olsens wanted to eat was McDonald's, even bringing it with them to the Arc, and I felt this magnetic pull to do the same. Stopping at a store along the way, I picked up a drink that I didn't even want and made my way to the Arc. I couldn't find the location where the twins sit in the movie, but I made do. At least I had a cup with a nice, big "M" on it. And I even got Ali to join me for another twin photo.
With the Paris recreation pictures complete, it was time to take out our passports once again and make our way to our final city.
Final Stop: London (Winning London)
When we touched down in London, we immediately felt like we were winning. So, the flick's title is completely accurate. The feeling only grew as we started our way down the list of hot spots we'd screenshotted while watching the movie. The London Eye, Big Ben, Westminster Abbey, and more were all amazing to visit and see in person. We especially loved the Globe Theater, where it was only fitting that I do a photo replication. We were only given a couple of minutes to take pictures inside before we had to continue on our tour, but we made it happen. Allie may have yelled at me and rolled her eyes, but at least I got the shot.
On our next day, we ventured to see the Changing of the Guard at Buckingham Palace, which was a very cool event to witness. Even though it was packed and we couldn't see as much as we would've liked, we made sure that I could take my very important pictures. Yes, I did wear a red shirt this day specifically for the photos.
On our final day of the trip, we headed to Kensington Gardens. You can imagine how tired my Instagram Husband (Ali) was of taking my photos, which meant I had to tell a little white lie and say that the Gardens were an absolute must, even though they were a far subway ride and walk away. When we got there, I told her the truth. It is a very important spot as it holds the Peter Pan Statue... Jesse Spencer's character James' favorite place in the Olsen movie. Not only was Ali a little upset about this, but things were only made worse when the gardens turned out to be huge, with no maps anywhere. We asked people all around where the statue was located, but no one knew. Thankfully, we finally got an answer, and made our way to the statue.
After heading back to the main area of London, we went to the Tower Bridge. The problem was that we were on the opposite side from where we needed to be to recreate the movie scene. We had been walking all day, but I was determined to get the photo from the correct side. It wasn't enough just to squat down (because the bench from the movie was non-existent) or to have the bridge behind me; we had to go out of our way to walk over the bridge and find a spot to use.
Ali drew the line at us taking a romantic river cruise just so I could take this photo, sadly. You can't win 'em all.
The last stop we wanted to see was Abbey Road. Walking the crosswalk at this location is extremely iconic, but of course I wasn't trying to recreate the classic Beatles walk. I wanted to be Rachael walking as the Olsens walking as the Beatles. An important clarification.
But with our phones dying and us being too tired to ask for directions, we headed to the Underground to figure it out on our own. One of the stops was called "Abbey Road," so we figured that was where we should head. Big mistake. 40 minutes later, we'd ended up out of town and in the middle of nowhere. We turned right back around and got back on the Tube, and with that big fail, we called it a day, a night, and a trip. We headed back to the hotel — a Hilton one, of course, just like the Olsens had stayed at in the movie.
Sadly, my European adventure came to an end. But it had taught me to find the adventure in everything and everywhere, including the place that I've called home for the past few years: New York City. I've always loved the Olsen movie New York Minute, but I'd never before brought it to life. Yet when I got back from my trip, I had a Simple Plan concert planned — the same band Mary-Kate's character skipped school to go see in that movie. Luckily, Simple Plan themselves appreciated my love of all things MK&A, giving me a boost to continue my journey, not that I needed one in the slightest.
Now that I've started, there's no stopping until I've gone through all the Olsen flicks. My obsession has led me on an amazing adventure across Europe, fulfilling my desires to both travel and pretend I'm an Olsen twin. Only time will tell where I decide to go for my next trip, but luckily I only have to look as far as Mary-Kate and Ashley's IMDB pages to find it.