I Tried Finger Coiling My Natural Hair & The Results Were Incredible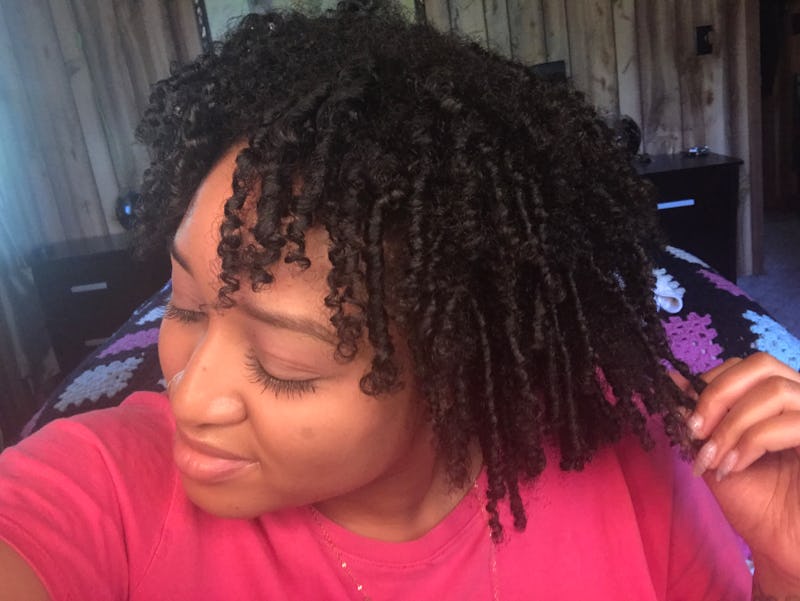 To say I suck at hairstyling is an understatement — I've tried every weave, braided, or twisted style I could think of during the first couple of years of my transition. Never did I picture myself taking a stab at finger coiling my natural hair because any style that got me out of having to really do my mane was a winner in my eyes.
A beauty enthusiast who can work wonders with a makeup brush, I wish I could say my skill set is of the same caliber when I'm holding a comb. As of March, it has been four years since I got my last relaxer and only in the past few months have I really started getting a handle on my natural hair journey. In the process of streamlining my regimen, I'm finally perfecting my wash and go routine and figuring out how to rock the best twist out. As easy as it comes for some naturalistas, it has been hard work for me to get my curls popping. I seriously kid you not when I say I'm hair styling challenged.
Despite my struggles, I decided to try my unskilled hand at finger coiling after seeing so many hair gurus rave about the style. I knew it would be time consuming on my super thick hair, but if was truly as long-lasting as everyone claimed, I figured it was worth the torture.
The Setup
Creamy Curl Cleanser, $14, Jet; Leave-In Conditioner, $11, Amazon; Twisting Butter, $15, Target; Curl Maker, $20, Target; Styling Brush, $11, Amazon
There wasn't really much to it as far as stylers and tools needed. I rounded up the best of the best in my haircare arsenal: a good cleansing and conditioning duo, a couple of curl makers, a Denman brush, a few clips, and every naturalista's best friend, a spray bottle of water.
The Experiment
Beginning on freshly cleansed and conditioned hair is key for finger coiling. I used Curls' Creamy Curl Cleanser, a sulfate-free shampoo, to get rid of the product build-up I had left in my hair from the previous week. In it's natural state my mane has competing textures throughout it. Some sections are very springy and curly, while others are kinkier and seem less defined. Giving my hair a uniform curl pattern with finger coils was an effort to correct the madness.
Using Curls' Blueberry Bliss Reparative Leave-In Conditioner to quench my chronically dry tresses, I distributed product in small sections. I took a wide tooth comb to my hair to gently detangle it as I worked. I definitely didn't want to run into a knotted mess when it came time to coil my strands.
When the conditioning was all said and done, I divided my hair into four sections, parting all the way down the middle and across my head. Having a few spare clips came in handy so I could keep the sections separated into mini buns (oh, hey there '90s 'do!).
And so the ultimate struggle began! It's not the actual prep process that was a pain; It's how long it takes to make a million little coils. I'm definitely exaggerating a little, considering I only had about 50-70 coils at the end. But it took me a whopping FIVE hours to finish. I suppose I have my inexperience and uncooperative roots to blame for that mega tragedy.
The start to each coil began with applying about a dime size amount of the Camille Rose Naturals Almond Jai Twisting Butter and roughly half a pump of the Curl Maker to tinier sub-sections of my hair. This product mix not only moisturized my hair while giving it hold, but also gave each strand an incredible, healthy-looking sheen.
Using a Denman D3 7 Row Classic Styling Brush to comb through the sub-sections helped distribute the product throughly from the beginning of each shaft to the ends. After putting this brush to the test for the first time I can see why nearly every naturalista swears by it. I instantly fell in love with this baby and wondered how I went four years depriving my tresses of this heaven sent tool.
Next, I used two fingers to work my coiling magic, my index and middle fingers.
Getting as close to the root as possible, I continued to wind the hair around my two fingers, wrapping in the direction moving away from my face.
As I wrapped and pulled down, the tiny sections took on a pseudo dread loc form.
Once the entire tuft was wrapped throughout, it sprung back into a tight coil. Yes, there's going to be considerable shrinkage!
The most frustrating part of all was no matter how much I tried, I couldn't get the coil going towards the root. That part of my hair was just too soft to manipulate and hold the coil, so I had to settle with letting it be.
After finishing the top, left quadrant of my hair I was nearly ready to quit. I was about 16 or so coils in and my arms were already begging for sweet mercy. But I knew I had already gone too far to stop.
Putting my big girl panties on and sucking it up was my only option. I used the spray bottle to re-dampen any hair that had gotten dry as I took my time in my room turned hair salon. It seriously felt like the struggle would never end so I was overwhelmed with joy when it finally did.
I have no idea what hell is like, but I imagine the process of finger coiling feels pretty darn close. Taking to Snapchat to quickly document my woes was a must at this point. I had a head full of mini twists and I felt a wild head shaking coming on strong to celebrate. Cue Crime Mob's "Knuck If You Buck" anthem because I really felt like I was a dread-head for a brief moment.
I'm used to rocking big, curly hair, so I definitely needed more volume to make this look truly work for me. I must have wanted to torture myself even more because I began separating— that's right, more separating— each individual spiral into two coils. It was tedious work, but the visible difference between the left and right side of my head here, proves the effort is so worth it.
The Result
After dividing all of the coils I made once more (sometimes even twice!), I ended up with a gazillion spirals. I was truly impressed, because no matter how much I divided my hair, the strands didn't get frizzy. Normally when I try a twist out I deal with God-awful frizziness after taking my strands apart. I was blown away that the Camille Rose Naturals stylers locked in the moisture and defined my hair without making it crunchy or frizzy. Hours later, my coils were still soft and shiny. I'm currently going on day threeand there's no doubt it's just as stunning.
To Finger Coil Or Not Finger Coil?
I'm thinking the testimonies are true that the style can easily last a week or better with the proper maintenance. I haven't even refreshed my hair with water or more stylers because it still feels super soft and nourished. Taking the time to distribute and brush product into every single strand must have made all of the difference.
I'm not so sure that I'll be redoing the process from scratch any time soon, however, just because it was so time consuming on my first try. I suppose continuing to do it would shape me into a master finger coiler who can nail the look in an hour or two. But there's just something about my wild, multi-textured, curly hair that I've come to adore.
I will say that finger coils are a great style to try if your hair is anything like mine and you want a uniform curl pattern. The end result is very neat and defined, which granted me a handful of compliments as I went about my day. If it saves you from over-styling your hair for a week or two, that makes the 'do all the more worth it. Just be sure to clear a solid chunk of your morning to complete the look. This definitely isn't a roll out of bed, run a little product through your mane, and go kind of style; not by a long shot.