I Tried Magnetic False Lashes To See If They Were Actually As Easy As Everyone Claims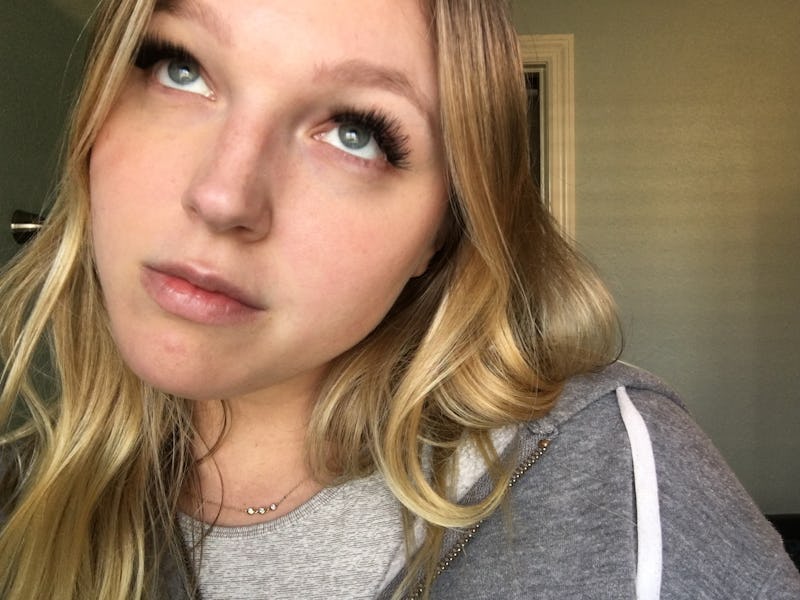 Olivia Muenter
There are more than a few things in beauty that are surprisingly hard to quit using once you start. For me, that list includes face oils, a particular brand of lip balm, and all kinds of fake lashes. Once you start using extra-long falsies, or over-the-top lash extensions, it becomes hard to stop. Sure, there's always the possibility that one day after New Year's Eve, you'll go through airport security with a strip of false lashes stuck to your shoulder (I don't want to talk about it), but even then it's usually worth the dramatic final look. Magnetic lashes are the newest lash invention on the beauty market these days, and I have to say that when I first heard of them, I was skeptical.
The idea of putting magnets near my eye, although not as scary as surgical glue (looking at you, lash extensions), is admittedly a little odd. But what really got me with the concept of magnetic lashes is the instability of it all. While I'm not quite an expert at applying glue-on falsies myself, I have become decently skilled at it. And even if it takes me a couple tries, once those suckers are on my eyes they are not coming off for a solid 24 hours. This is important. No, I'm not usually wearing my false lashes on a speedboat ride or during any intense physical exercise, but I always like them to be secure enough that if either event came up unexpectedly (as speedboat rides and intense physical exercise often do), I'd be set. Magnetic lashes don't give me that sense of security — at least, they didn't in theory. When Ardell (a favorite lash brand of mine), announced they were coming out with magnetic lashes to be sold at every major store in the country, I knew I had to give them a try.
Ardell's new magnetic lashes come in five varieties and offer full lash sets, which are more like your typical glue-on lash strip, as well as accent lashes. All are a cool $13.99. This might be alarming for those of you who are used to shockingly affordable falsies that you throw out after every use (although some people do reuse those, too). But one of the major benefits of magnetic lashes is that you can reuse them safely and hygienically for as many times as you want. That makes that $13.99 price tag look a little less intimidating pretty quickly.
Lash Choices
Ardell's new magnetic lashes offer three full-strip sets and two accent lashes. I tried out one of each for the purposes of this experiment.
Application
The idea of magnetic lashes is that each eye has two sets — one that goes above your lashes, and one below. The magnets on each set lock together to secure themselves to your lash line. At least, that's the idea.
I'm not going to lie — this took me almost two — if not three — times as long as putting on regular fake lashes. There was a lot of trial and error, and in the end, I didn't feel like the lashes looked as good as my regular falsies do. However, I also seem to remember that putting on fake lashes took just about the same amount of time when I first used them. So, I would suspect it's a practice-makes-perfect situation. Plus, with these, there was no lash glue gunking up the falsies after each application, so I really could keep trying to apply them over and over. Even then, though, I think I prefer the slightly more secure fit of lash glue to magnets.
Final Results
I ended up liking the full strip of lashes (bottom right photo) better than the accents (bottom left), which surprised me. However, I also wore these with only a few lone lash extensions on my eyes (see above, before photo) and no other makeup. It's possible with a more dramatic look — thick black eyeliner or a smoky, maybe — that both of these would have looked better, but especially the accents.
I found that even if one set of lashes looked OK, the one on the other eye would be falling off. It was almost impossible to figure out which set (top or bottom) was causing the problem, and it was extremely frustrating to go back and forth a thousand times. This video from Ardell makes the whole process look a lot easier than it was for me, but is a super helpful guide to follow to get started.
Magnetic lashes are... not my favorite thing in the world. But, like almost all beauty habits, practice makes perfect. I think if you're a lash newbie, or you're committed to spending some time mastering magnetic lashes, these would be worth it given the fact that they could last you dozens and dozens of wears.
The lashes will be available January 2018 at CVS, Rite Aid, Sally Beauty, Target, Ulta, Walgreens, and Walmart for $13.99, so if you want to try them out, you have some options for where to go. In my experience, as frustrating as any fake lashes can be, they're always worth it — so they're definitely worth a try or two (or three or four... or five) before throwing in the towel.