I Tried This At-Home Kit For Straighter Teeth & Here's What I Thought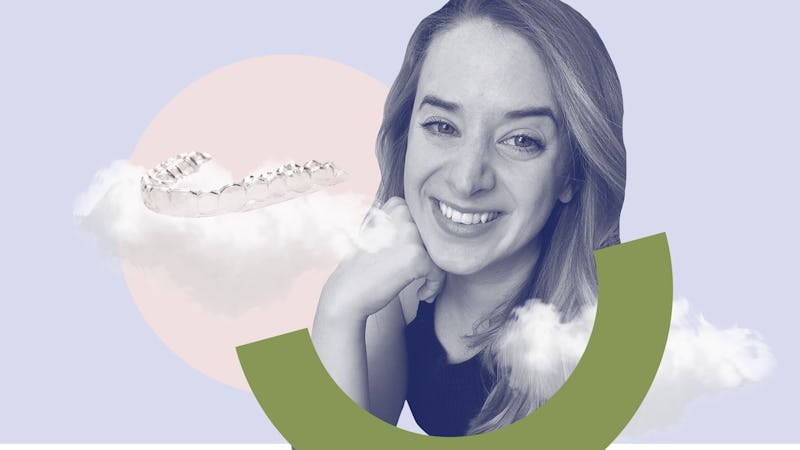 Julie Vaccaro/Bustle
We're not so different, you and I. We both put our sweatpants on one leg at a time, we've both been watching more TV lately than we'll admit to, and we both made an ill-fated decision to stop wearing our retainers after our parents shelled out thousands of dollars for braces.
Back in eighth grade when my braces were removed after three years of treatment, I was diligent about my retainers. Throughout high school, college, and early adulthood, I cleaned and wore both bottom and top retainers nightly — until one day, I didn't. Now, a few years later, my formerly straight top teeth have shifted and my bottom front teeth protrude in less-than-ideal directions.
In another world, maybe this wouldn't bother me. But considering the amount of time I spend looking at my own face on video conference calls, virtual happy hours, and yes, regular selfie-taking sessions, I've noticed how often I try to hide my smile — a feature I used to love. So I decided to do something about it.
Since I had no intention of going back to traditional wire and bracket braces, I started researching options for clear aligners. My criteria boiled down first and foremost to cost, and telehealth companies scored extra points since I also don't want to schedule regular office visits.
When I dove in a bit deeper with my research, I quickly realized I should also consider the actual experts I'd work with throughout my potential treatment. As it turns out, most companies' aligner treatments are developed by dentists, not orthodontists — aka, doctors who spend an extra two to three years of residency after dental school learning the art and science of moving your teeth. The one option that promised a treatment plan developed by an orthodontist, remote monitoring throughout my treatment, and a reasonable price point? Candid.
What really tipped Candid over the edge for me was their approach to remote monitoring, which connects patients with their orthodontist every ten days throughout treatment. Remote monitoring by an expert may seem like an obvious part of the telehealth business, but it's a feature I found lacking when I scoped out their competitors.
To get more context on why Candid works exclusively with orthodontists, I went straight to the source and chatted with Dr. C. Lynn Hurst, Candid's Chief Dental Officer and an orthodontist himself. His explanation couldn't have been more clear: "If I have a problem with my eyes, I'm not going to go to an internist, I'm going to go to an ophthalmologist because that's the person who spent an extra three, four, five years in residency understanding everything." Well, when you put it that way, it's hard not to wonder why people are going to dentists for orthodontic upgrades, but that's a topic for a totally separate article.
Normally I'd have a couple of options for beginning my Candid experience. I could go into one of their studios for a free consultation and scan, but since my city was in the midst of a strict stay-at-home order when I began this process, I started my telehealth journey by going online to order my Candid starter kit to complete at home.
When the kit arrived, I was far from confident in my ability to take high-quality impressions of my teeth myself. What if I messed them up and had to go through the entire process again? Luckily, the kit was so smartly assembled that I felt a wave of relief as soon as I opened it. After looking at the instructions for step one (there are three total steps), I was directed online and Candid's helpful videos walked me through completing my starter kit.
First, I had to snap a few photos on my phone that would be reviewed by my orthodontist when putting together my treatment plan. This part was easy enough, and since you're wondering: Yes, there was a cheek stretcher involved and yes, I looked amazing. Once you snap your pics, you simply upload them to Candid's portal, which also shows plenty of example photos so you won't forget to capture key features.
Next up, it was time to take impressions of my top and bottom teeth. Initially I felt nervous about taking these impressions by myself, but the process turned out to be easier than I thought. Candid's online instructions offer plenty of helpful tips, and even though it seemed like I had a few duds, my impressions wound up working out just fine.
Now for the fun part: I sent in my impressions a few weeks ago and followed along with my treatment plan's progress on Candid's online portal. Once my treatment plan was ready for review, I received a link that prompted me to check out the plan for myself, complete with an interactive tool that let me watch the movement of my teeth along every stage — which, naturally, I watched no fewer than 100 times.
My aligners just arrived today, and to say I'm excited is an understatement. I remember so clearly the confidence I felt the day my braces were removed and how I wouldn't hide my straight teeth even if you paid me to do it. Eventually it became part of my nature to lead every interaction with a welcoming smile, and I hadn't noticed until recently how that part of me had faded away. Today, I'm tapping into the wonders of telehealth to take the first step toward getting reacquainted with my confident side, and I couldn't be more ready.
This post is sponsored by Candid.