What Happened When I Used An Ice Cube As Primer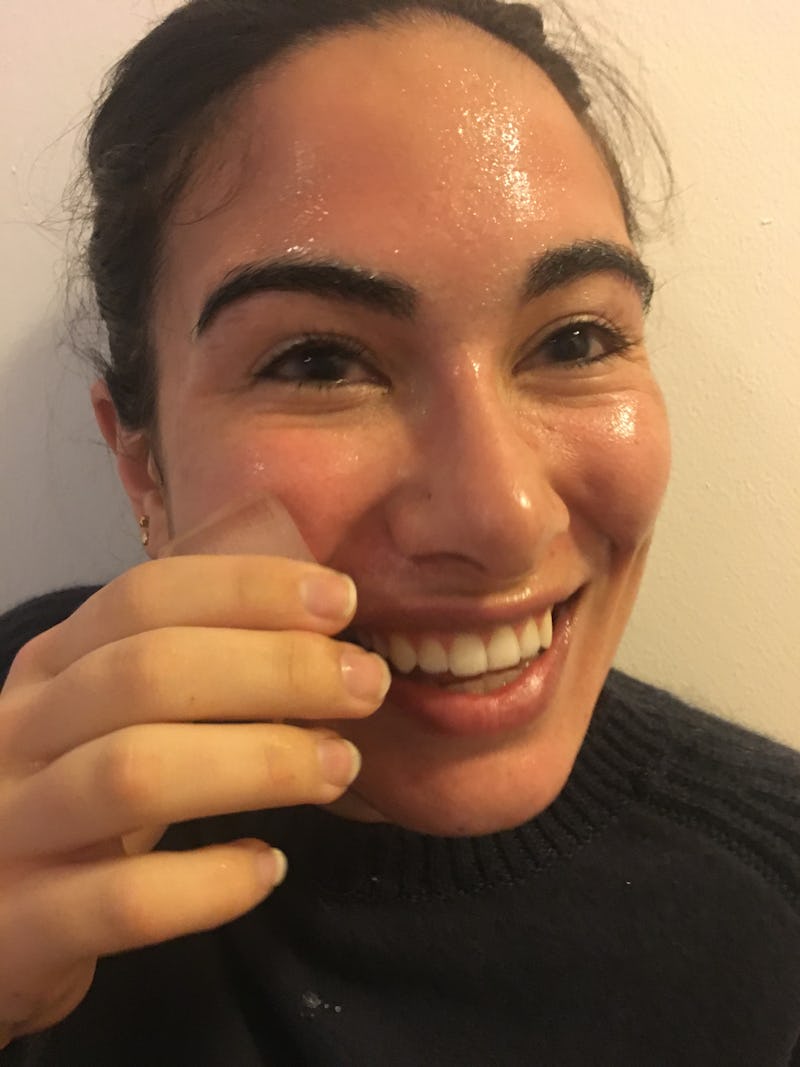 As much as we don't want to admit it, our beauty habits can be expensive. With every "must have" product that comes out, it's like we can feel our credit cards screaming "please, no!" But we can't help ourselves — if you're a true beauty lover, sometimes getting the new Huda Beauty Lip Contour is more important than, say, paying rent.
Huda Beauty Lip Contour, $19, Sephora
Because of this, whenever I find a free solution to a product that normally costs major $$$, I need to give it a try. I've now permanently swapped out my eyebrow gel for bar soap, and it's saving me at least a few dollars every month. According to Pinterest, rubbing an ice cube all over your skin before you put on your makeup will tighten your pores and leave your skin as smooth as a regular primer would. There are all kinds of beauty (and blow job) uses for ice cubes that definitely work, but I was skeptical about this one from the get-go. The idea of rubbing an ice cube on my face sounded weird and horrible, and Pinterest has done me dirty in the past (I will never get the image of the "10 Cupcakes I destroyed in 2013 out of my head"), but for the sake of possibly discovering a $0 solution to my expensive primer habit, I decided to give it a try.
I prepped my skin for the impending ice cube unpleasantnesss the way I usually do in the winter: Toner, Essential oil, moisturizer. Then, it was time to #frostmyself
The Experiment
First of all, rubbing an ice cube all over your face is really unpleasant. Mine kept falling in my shirt, and left my face cold, wet and soggy-feeling. It also kind of seemed like it had rubbed off the expensive skincare products I'd laboriously put on, which I was a little peeved about.
I wasn't sure if i was supposed to wipe off the excess water or let it slowly drip off of my skin and onto my shirt, so I dapped it lightly with a towel. I decided to skip on primer (that was what the ice was for, wasn't it?) and applied my usual Makeup Forever Foundation Stick. The makeup went on really cakey, which I attribute to the lack of my regular Smashbox primer (which, by the way, is the best) underneath it.
Makeup Forever Ultra HD Invisible Cover Stick Foundation, $43, Sephora; Smashbox Iconic Photo Finish Primer, $36, Sephora
As much as I didn't love the way my makeup looked on top of the ice (#CakeCakeCake), I will admit that it stayed on pretttty well. Here is a picture from the middle of the afternoon, six hours after applying (excuse how pissed off I look while working):
And here is a picture from 12 hours after applying:
Pretty good, no? I had a nasty zit on my cheek that stayed covered the entire time, which was nothing short of a miracle. In fairness, it was a pretty cold, dry day, so there was no risk of sweating off any of the foundation (and hell, no, would I ever wear makeup to a workout class, even for the sake of an experiment) but it still stayed on almost perfectly all the way from morning until night.
The Final Verdict
While I was happy with how long my makeup lasted with the ice-as-primer, I don't think it's going to be replacing my regular primer routine just yet. I didn't love the how thick and matte it made my makeup look (I like to think of myself as more of a dewy golden goddess with effortless shimmer). That said, I do think it could be an amazing trick if it's used with the right foundation, like something liquid with an illuminator or even a tinted moisturizer. (Also, the feeling of rubbing an ice cube on your face honestly just kind of sucks.)
Sorry, wallet — it looks like we're sticking with Smashbox, after all.