I Washed My Face with Olive Oil for 2 Weeks & I'm Going To Keep Doing It
by Katie Becker, Coveteur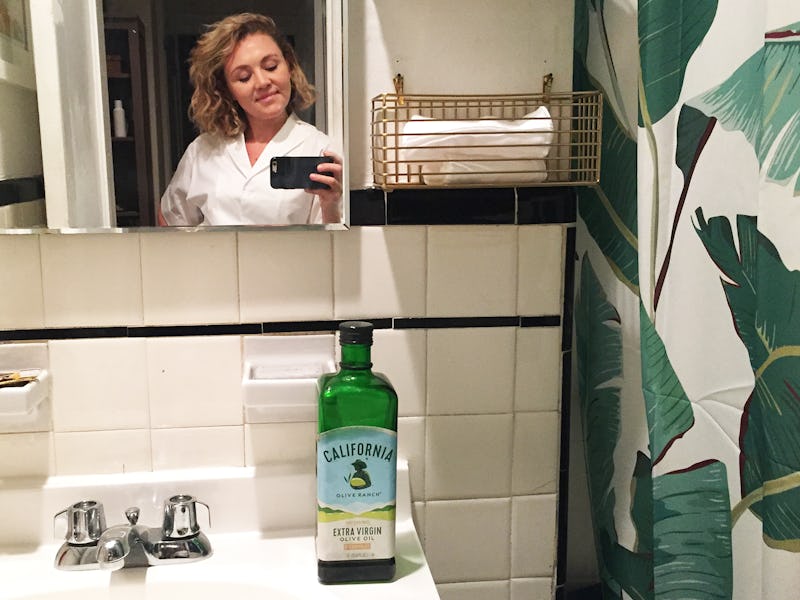 There aren't a lot of well-kept Hollywood beauty secrets left in the world, which is why I immediately turned on my iPhone recorder when I was on a visit to Dr. Harold Lancer's in Beverly Hills and on-staff facialist Ram-Prakash Khalsa told me about her signature face wash technique. It involves olive oil from the grocery store and stacks of white microfiber towels.
She recommends (well, practically insists) the practice of all of her clients, many of whom are red carpet regulars. Though she won't disclose any names herself, her Instagram shows her with Joan Smalls to put it into perspective. (Plus, Lancer's office is the arguably the most star-studded in the country with publicly-disclosed fans that include Gillian Jacobs, Chloe Grace Moretz, Kim Kardashian, and Margot Robbie. So one can surmise as to the complexions Khalsa might tend to.) Needless to say, we'll take the advice.
"It will give you a deep clean and really clean out the pores," says RPK, her nickname among those who see her. The oil cleanse is done at the end of the day, before using any face wash. The technique goes like this:
With dry hands, take anywhere from a nickel to a quarter size of oil (olive, grape, and almond are a few common choices) and rub it into skin like a normal cleanser, circling the face for a few seconds.
Wet a white microfiber cloth under warm water, wring it out a bit, hold it against your face, then wipe everything off.
Repeat. Apply more oil and use a fresh towel every time, until you no longer see traces of makeup on the towel. "After an event my actors sometimes have to do it 10 - 20 times," says RPK. "If it's spray makeup it could be 40 times." (Yes, they use a fresh towel every time.)
Finish with a regular cleanser. Preferably the Lancer The Method: Polish and Cleanser.
"Oil goes into the pores and lifts out the makeup and dirt, and soften the blackheads so that when you use a polisher or microfiber towel, it helps remove those blackhead or dead cells," she explains. The idea isn't far off from the oil cleansers you'll find in any skin care line these days, but RPK prefers just a regular grocery store oil for a number of reasons: "Oil cleansers include some good stuff, but some formulas contain not so good stuff," she explains. "Then there's the cost." Plus, using the white towel technique has two benefits: gentle exfoliation and a show of evidence. If you haven't used a bright white towel, have you ever really washed your face?
Back in New York City, I stocked up on a bunch these towels from Amazon and heaved my jumbo bottle of California Extra Virgin Olive Oil from the top of my fridge to my bathroom sink. RPK's instructions were simple enough, it's not like I needed to write them down, but I broke out my iPhone recording just in case. "Remember, it does bring things to the surface, so don't freak out," says RPK toward the end.
That turned out to be important to remember. But first I learned a few other lessons. If you're using a delicious aromatic olive oil like the aforementioned California, it will make you hungry. (Just me?) Also, if you're accustomed to using an oil cleanser to remove your eye makeup, don't do the same with an olive oil with hints of pepper. They won't feel like just hints when your eyes are burning. For the record, when I asked RPK about this, she recommended switching to grape or almond for eye makeup.
I'm also glad I did this for two weeks. I'm super breakout prone and the first week was not great. Of course, an inner voice says, "No duh, you're putting heavy olive oil on your face, you crazy person." But I think RPK was right about raising things to the surface. Once I was into week two my skin was feeling super supple in the mornings and my blackheads were fewer and smaller. While RPK did not recommend rubbing the oil into the skin for a long time, that actually does work well for me, but only if I do it on the third or fourth cleanse. My theory: Boosting the circulation helps my skin clear things up. Lastly, though (and sorry RPK), but I'm going to do this only twice a week instead of every night. While I know it's only healthy to gift myself with 10 minutes of facial self care at the end of the day… I still haven't watched the season finale of Insecure season 2 and it's calling my name.