I Went To Miss USA 2017 & My Feminism Kind Of Lost It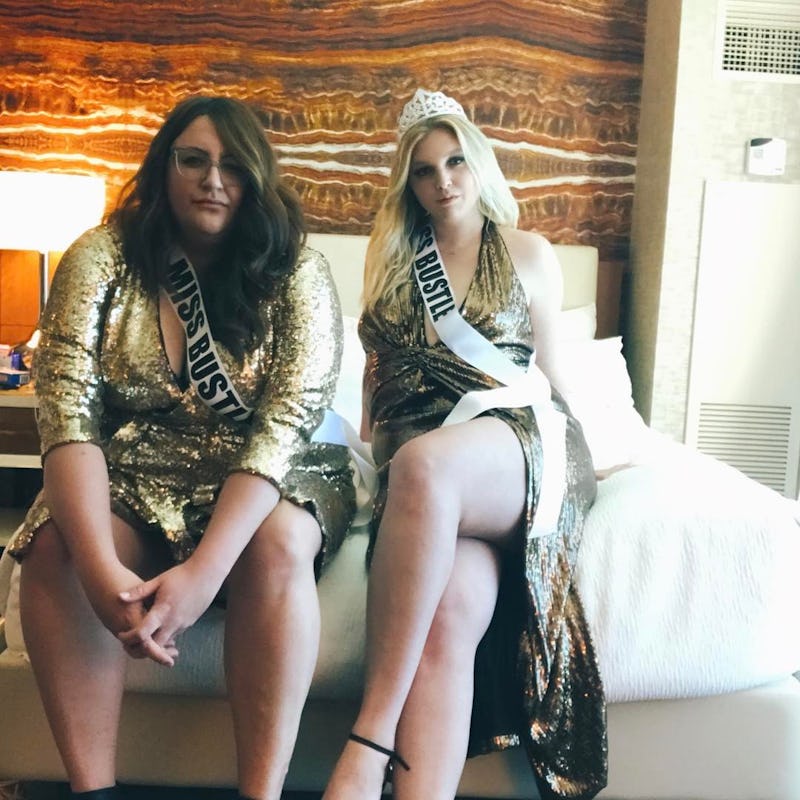 Amanda Richards
It's hard to pinpoint the exact moment I knew I'd really arrived at Miss USA 2017 in Las Vegas. Technically, my plane landed at McCarran International on May 11, first thing in the morning — but the reality of what I'd come to do didn't set in until a bit later.
It may have been when I was backstage that afternoon, watching the beauty queens get ready for the preliminary competition, contented smiles plastered on their faces as CHI stylists barrel curled and straightened and teased their flowing locks. It may have been when I saw dozens of Little Miss USAs casually strolling through the casino in full makeup and gowns, their roughly 8-year-old presences looking more glamorous than I ever have in my adult life. Or, it may have been the moment that I was sitting in a room with what felt like a higher concentration of beautiful women than there was oxygen to fill all of our hairspray-coated lungs.
Whenever that moment was, it was accompanied by one thought and one thought only: I'm a feminist at a beauty pageant, and shit is about to get complicated.
In the past, the feminist politics of the competition were easier to dismiss than consider, at least for me. Until 2015, the Miss Universe Organization (which includes Miss USA) was owned by Donald Trump, and his actions left a dark mark on the legacy of the competitions.
Throughout his nearly two decades of ownership, Trump bragged about entering the pageant dressing rooms while the contestants were half-dressed, treated the contestants like cattle, and even blustered to Howard Stern in 2005 that the pageant was "a sick puppy" when he purchased it in 1996, because under previous ownership the judges had been allowed to place larger importance on brains than beauty. "They had a person that was extremely proud that a number of women had become doctors," Trump told Stern, "And I wasn't interested."
Despite the fact that former contestants cannot be blamed for Trump's alleged actions, Miss USA pre-2015 seemed like the kind of thing that would be impossible for a true feminist to involve themselves in without serious dilemma — an assumption that might be unfair, but was one I made anyways. I held all the typical beauty pageant stereotypes to be true: There's no room in modern feminism for a competition that evaluates women based on their appearances, the questions asked to each contestant in the interview portion of the competition are trite at best, the parade of women in swimsuits serves no other purpose than to let the audience and the judges ogle women's "good" body parts.
In 2017, things feel a bit less one dimensional. Over the course of my Miss USA 2017 weekend, I realized that the atmosphere of the pageant was more supportive than anything else — everyone from the stylists, to the assistants, to the families, to the participants themselves were nothing but supportive and in good spirits, from what I observed. Yes, all of the contestants were adhering to those classic beauty queen standards, but the conversations I had were positive. Backstage before the preliminaries, I spoke with Arturo Gray, a CHI stylist who's done hair for the competition for the past decade. Gray says he's seen a marked difference since ownership changed hands.
"A little thing that I think it totally different is that before, the preliminary judges were a whole different set of people than the live judges," Gray tells me. "Now, some of [the preliminary judges] are also live judges, and they also have interviews where they really sit down and talk to them. They're not judging based on what they see from across the stage, they get a chance to really connect and feel these girls and see who they are."
The idea of seeing the contestants as individuals was something that came up over and over again throughout the weekend. During a luncheon meet-and-greet, Miss USA 2016, Deshauna Barber, and Miss Universe 2016 Iris Mittenaere both touched on the fact they want people to focus on the work they do, not just their title or appearance. The night of the competition, family members and friends near me in the audience were singing the praises of the contestant they came to support — not of her beauty, or the way she looked in a bikini, but how hard she worked and how wonderful of a person she was.
I'll admit that the atmosphere of the competition forced me to create a bit of room to consider each of the contestants as individual adult women who made a choice to participate in something that offers scholarship opportunities, the chance to participate in activism in their communities, and to earn money. If I don't respect their choice to participate, how can I ask them to respect the fact that I don't? That's what feminism means to me, after all: Supporting other women leading the lives they want to lead — not necessarily agreeing with all of their choices, but trying my best to respect them and include them in the conversation.
The nuance of modern feminism hit me even harder during the competition itself, particularly when the judges had eliminated all but three contestants: Miss District of Columbia, Miss New Jersey, and Miss Minnesota. I was moved by the fact that the majority of the top 10 were women of color, and elated that the final three consisted of a black woman, an Indian woman, and a white woman — particularly because the subsequent crowning of Miss DC would mark the first time in history that a black woman won the competition two years in a row.
That isn't to say that the final competition wasn't without its flaws — far from it. The entire thing is, quite literally, a celebration of pitting against each other, and based vastly on appearance. At one point, the male co-host referred to Miss District of Columbia as "one of the most intelligent contestants in recent memory," and made a comment post-swimsuit competition about how he just wanted his girlfriend at home to know he "wasn't looking" — the first remark felt like a dig, and the second reminded me that many men think the idea of leering at women is a hilarious joke.
And of course, there's that confounding swimsuit competition: I don't care what else improves about pageantry in general — the swimsuit competition serves absolutely no purpose, empowering or otherwise. In fact, it was the only part of the competition that left me feeling like I had no idea what I was looking at or why, a foreign language composed of washboard abs and neon elastane.
When it came time for each contestant to answer their interview questions, the Complicated Intersectional Feminism Monster struck again. Miss DC is an accomplished woman of color, but her answer about health care being a privilege instead of a right upset many progressives in the audience, myself included. Miss New Jersey gave a fluffy answer about the state of social media, but was the only contestant to definitively call herself a feminist. Miss Minnesota is a white woman, which doesn't exactly subvert from convention, but her answer about gender identity was arguably the most progressive and inclusive of the bunch. In a sense, it was an intersectionality mindfuck: Three women, three different ethnicities, three different approaches to feminist politic, three different levels of privilege, and all of whom benefit from the reality that they're cis, able-bodied, and conventionally beautiful.
If Pitbull hadn't started performing right then and there, I may have lost myself in feminist thought. Instead, I just put everything I'd heard and seen into the back of my brain, choosing instead to dale.
Now, it's nearly 24 hours later. I'm on an airplane, Mr. Worldwide is probably having his head shined in a Vegas hotel suite, and I'm left to reconsider everything I've witnessed. Overall, the experience was a glaring reminder that when it comes to modern feminism, nothing is perfect. The true feminist is ever-changing in their outlooks, constantly struggling with ideas that range from horrifying to uncomfortable to empowering. It's more than the cliche "beauty and brains" conversation that swirls around events like these — it's privilege, class, access, politics, and more.
In the past, it was simple for me to dismiss beauty queens as The Other, a group of women with priorities and goals far different than my own, and therefore not worth my time. Unfortunately, that mentality ultimately does feminism a disservice, because it ends the conversation instead of pushing it further. Pageantry still has it's flaws, but the fact that modern women are still choosing to partake means something, because it has to — it's deciding what it means to you that's the hard part.