Barbie Is Wearing A Hijab For The First Time Ever & It's A Historic Moment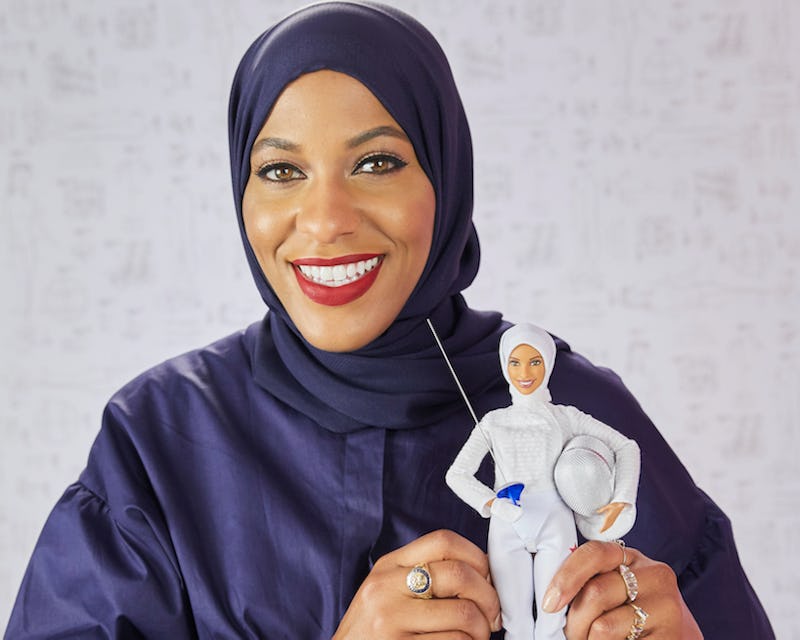 Courtesy of Mattel
Barbie has a new look — and she's breaking boundaries yet again. Each year, the "Shero" Barbie program honors a select group of notable women who inspire the next generation of woman leaders. The latest woman to be immortalized in Barbie form as part of the program is Ibtihaj Muhammad, a woman has the incredible distinction of being the first American Olympian to compete wearing a hijab. Muhammad's doll also marks the first time Barbie has worn a hijab, which is the traditional head covering that many Muslim women wear while in public.
It's a massive step forward for the iconic doll, and a moment that matters for Muslim women and girls everywhere. The one-of-a-kind Barbie will be available for purchase in 2018.
Muhammad, a sabre fencer, has a rich history with the famous doll dating back to childhood. Now, the Olympian says she is elated to have a doll made to her likeness.
But Muhammad also recognizes the deep importance of this honor, since young girls who wear hijabs will now see themselves in Barbie's image for the first time ever.
"Through playing with Barbie, I was able to imagine and dream about who I could become," she said in a statement provided to Bustle. "I love that my relationship with Barbie has come full circle. Now, I have my own doll wearing a hijab that the next generation of girls can use to play out their own dreams."
The doll was presented to Muhammad, who was named one of TIME's Most Influential People in 2016, by model Ashley Graham on Nov. 13 at the Glamour Women of the Year Summit. The summit is an annual event celebrating influential women in a wide range of fields.
Ultimately, Muhammad was a perfect choice for Mattel to immortalize in their iconic doll for this year's Shero lineup. As a brand, Mattel has recently taken major steps to create a vast selection of dolls that represent women of all backgrounds and experiences.
The Barbie of the new millennium provides a more accurate depiction of the shapes and sizes of real women, as well as depicting women of color who exist beyond the white, blonde archetype.
"Barbie is celebrating Ibtihaj not only for her accolades as an Olympian, but for embracing what makes her stand out," Sejal Shah Miller, vice-president of marketing for Barbie, told Bustle. "Ibtihaj is an inspiration to countless girls who never saw themselves represented. By honoring her story, we hope this doll reminds them that they can be and do anything."
Glamour called Muhammad "a modern American woman" for her ability to challenge multiple stereotypes in her life. That's just another reason that she is a perfect choice for the Shero Barbie honor.
Though Muslim women will no doubt be elated to have an official hijab-wearing Barbie, hijab-wearing women haven't been waiting for Mattel to include them in official Barbie fashions. Pittsburgh-based company Hello Hjiab, for instance, has made a business in producing and selling small hijabs that fit on Barbies and similar-sized dolls.
The company was created in recent years to promote "inclusion, tolerance and diversity through exposure" to Muslim fashion. According to the Hello Hijab website, their doll hijabs serve two critical purposes. The first is to make "playtime more inclusive," all the while "getting children accustomed to seeing headscarves in order to help fight stigma."
While it's groundbreaking that Mattel is getting on board with this mission through Muhammad's doll, it still took a long time for Muslim women to be represented through Barbie. And companies like Hello Hijab still have a place in the conversation while we all wait for Mattel to make Barbie hijabs a reality for their dolls.
With the official Ibtihaj Muhammad Barbie and the efforts of the Hello Hijab collective, the iconic and enduring doll has become even more representative of American women. And that's something to celebrate.