This Father Of 7 Claimed He Was Raped In ICE Custody. Now, He Could Be Deported.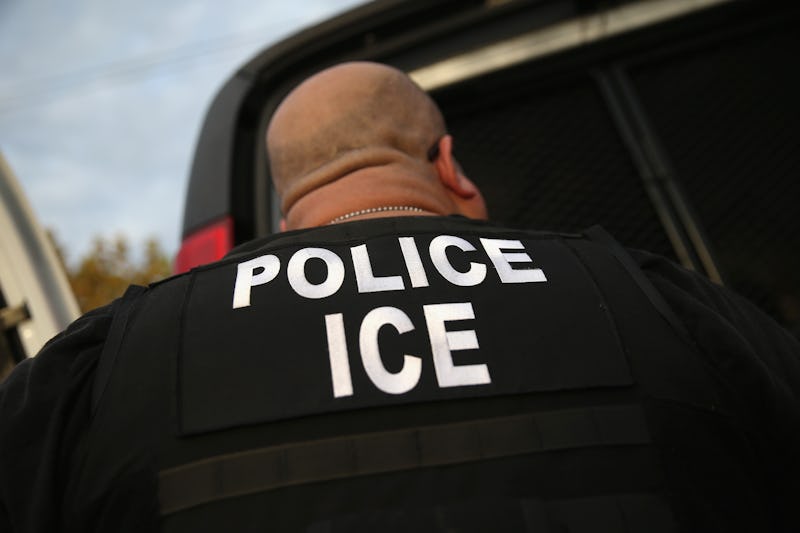 John Moore/Getty Images News/Getty Images
For five months, Audemio Orozco-Ramirez has been in a ICE detention center outside Denver, waiting for a decision on whether he will be deported back to Mexico. According to the American Civil Liberties Union (ACLU) and other legal experts involved, Orozco-Ramirez has been targeted by ICE for deportation because of his alleged rape while in the agency's custody years ago, as well as the current nationwide crackdown on undocumented immigrants under President Trump.
Orozco-Ramirez has been in the United States for nearly 20 years. He was living with his wife and seven children in Vida, Montana, when, in 2013, he was a passenger in a car pulled over at a traffic stop. Officials then arrested him for being in the country illegally. Orozco-Ramirez was transported to a detainment center in Jefferson County, where he later alleged he was raped by a fellow inmate.
The jail agreed to settle with Orozco-Ramirez in a civil lawsuit, awarding him $125,000 in 2016. A spokesperson for ICE told ThinkProgress, "These claims against Jefferson County, Montana, were investigated by federal and state agencies; the results of these investigations concluded that Audemio Orozco-Ramirez was not drugged or sexually assaulted."
Notably, Orozco-Ramirez was provided with a work permit when he was released in 2013, with the stipulation that he check in with ICE on a regular schedule. When he showed up in 2017 for his August appearance, ICE arrested him. Orozco-Ramirez has been in their custody ever since.
"I think every immigration lawyer has seen things that are unfair," Orozco-Ramirez's lawyer, Shahid Haque, tells Bustle. But he says it's still "hard to let go of and accept that the government would do this to a victim of a crime."
Haque, who represented Orozco-Ramirez in his case against Jefferson County, tells Bustle that while it's impossible to know for sure, he believes Orozco-Ramirez's arrest in 2017 was due to stricter immigration enforcement policies under President Trump. Haque says "new guidelines" issued to ICE meant "they were supposed to be deporting anyone who was subject to a final deportation order."
"No more Mr. Nice Guy, basically," Haque adds, noting that other immigrants in Montana had experienced similar treatment.
The executive director of the ACLU in Montana, Caitlin Borgmann, called Orozco-Ramirez's deportation "a new low," and said, "It appears that they are trying to get rid of him because he was raped in their custody. And unless the public speaks up, they will get away with it."
The public has spoken out. There have been demonstrations in both Colorado and Montana. Haque also posted a video on Facebook detailing his client's case, calling it "one of the most egregious abuses that I've ever been involved in."
Haque takes issue with Orozco-Ramirez's first 2013 detainment, as he was a passenger in the vehicle that was pulled over and law enforcement allegedly held him there for hours until ICE could arrive. "By all accounts, it was an illegal stop," Haque said in the Facebook video.
He pointed out that after Orozco-Ramirez reported the alleged rape, officials at the Jefferson County jail failed to interview all the inmates who were present until years later, and only after his legal team filed a lawsuit against them. "Their goal, right from the beginning, was to sweep this under the rug," Haque says of Jefferson County jail.
Haque also noted that four hours of recording were cut out of the tapes Jefferson County jail handed to Haque — the same four hours that coincided with when Orozco-Ramirez claimed the rape occurred. After it became clear that the detention center had not provided Haque with full video evidence, officials agreed to settle with Orozco-Ramirez.
But justice remains elusive. Haque notes that the alleged sexual assault changed Orozco-Ramirez. "He's not been the same person," Haque says.
Haque also tells Bustle that Orozco-Ramirez's family has suffered greatly as a result of his alleged sexual assault and current detainment. The family lost their housing, which had been tied to Orozco-Ramirez's work as a ranch hand. As the sole financial provider for his wife and seven children, the family has struggled to adjust to his absence, and have now moved out of Montana. Orozco-Ramirez's wife told Haque that their "children are starting to suffer from the fact that what happened to their father is being talked about."
Haque tells Bustle, "They're in a new town, and they're hoping that Audemio comes back to them, but she's also trying to shield her children from being subjected to any more harassment."
But with Orozco-Ramirez's deportation now imminent, it's difficult to imagine how that would happen. Deportees are barred from reentering the United States for 10 years, and once he's out of the country, legal recourse will be impossible for Orozco-Ramirez to pursue, barring some "special action" taken, according to Haque.
Nathan Woodliff-Stanley, the executive director of the ACLU in Colorado, noted another violation in Orozco-Ramirez's case. In an op-ed published in the Colorado Independent, Woodliff-Stanley wrote, "As a victim of a crime who cooperated with law enforcement, Audemio is eligible for a U visa, which would block his deportation, but his application has never been responded to."
Woodliff-Stanley referred to the change in deportation policy under President Trump as an "ICE reign of terror." By targeting peaceful residents and coopting local law enforcement, the safety of communities is put in greater peril, not less, according to Woodliff-Stanley. "Audemio should be home with his family in Montana, not in a for-profit Colorado detention facility awaiting deportation," he argued.