ICE Arrested A Man Who Was Driving His Pregnant Wife To The Hospital For A C-Section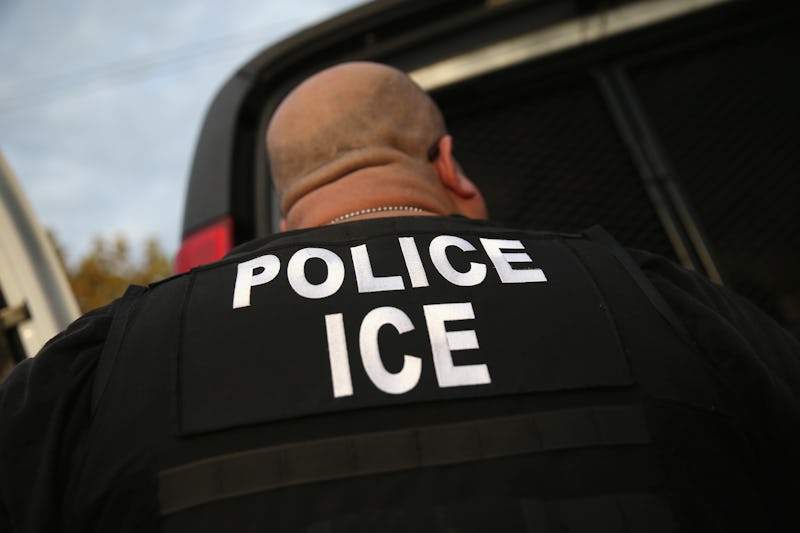 John Moore/Getty Images News/Getty Images
What was supposed to be a quick stop for gas on the way to the hospital turned into a heartbreaking ordeal for one expecting family earlier this week. U.S. Immigration and Customs Enforcement (ICE) agents detained a man driving his pregnant wife to the hospital for a C-section, leaving her forced to drive herself the rest of the way and give birth alone, a Los Angeles CBS News affiliate has reported.
UPDATE: In a new statement sent to Bustle, ICE stated that the man "was brought to ICE's attention due to an outstanding warrant issued for his arrest in Mexico on homicide charges."
Maria del Carmen Venegas told CBS2 News that she and her husband Joel Arrona-Lara were on their way to a scheduled Cesarean section appointment Wednesday when they stopped for gas and were approached by ICE agents. Venegas said they were asked to hand over their identification and when Arrona-Lara, who Venegas said left his ID at home in their rush to get to the hospital, couldn't produce his the agents took him into custody.
"I never imagined they would remove him like that and that they would take him away and handcuff him and still leave me there abandoned at the gas station," Venegas told Univision Los Angeles affiliate KMEX after successfully giving birth to a healthy baby boy, according to The Daily Mail.
The couple had offered to accompany the ICE agents back to their house where Arrona-Lara's identification reportedly was, according to The Daily Mail. But agents refused and detained Arrona-Lara under President Donald Trump's so-called "zero-tolerance" immigration policy, leaving Venegas at the gas station to drive herself to the hospital and welcome her newborn alone.
"My husband needs to be here," Venegas told CBS2 News. "He had to wait for his son for so long, and someone just took him away." Footage captured on security cameras at the gas station show Venegas clearly in distress inside the station's store after her husband was taken away.
In an email statement to Bustle, a spokesperson for ICE described Arrona-Lara as "a citizen of Mexico illegally residing in the United States" and confirmed he'd been taken into custody by agents in San Bernardino, Californian. "Mr. Arrona-Lara is currently in ICE custody pending removal proceedings with the Executive Office for Immigration Review," the spokesperson wrote.
Although Venegas told CBS2 that her husband had never been in trouble with the law before, ICE has stopped exempting classes or categories of what they call "removable aliens" under the Trump administration. These include undocumented immigrants with no criminal record. The ICE spokesperson wrote:
ICE continues to focus its enforcement resources on individuals who pose a threat to national security, public safety and border security. However, ICE will no longer exempt classes or categories of removable aliens from potential enforcement. All of those in violation of the immigration laws may be subject to immigration arrest, detention and, if found removable by final order, removal from the United States.
ICE has come under intense criticism and scrutiny as it transitions from prioritizing undocumented immigrants with a criminal background to enforcing President Trump's "zero-tolerance" immigration policy. In recent months, critics, some Democratic lawmakers, and even 19 ICE investigators have called for the agency to be dissolved.
According to CBS News, Venegas is currently looking for an attorney to help get her husband released.