This Country Wants To Require Equal Pay For Women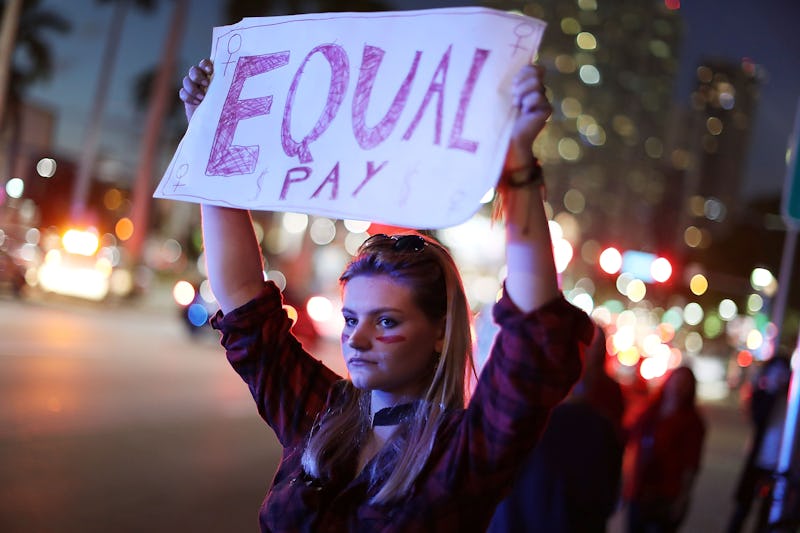 Joe Raedle/Getty Images News/Getty Images
It feels a little unfair that Iceland, the nation with the smallest gender gap in the entire world, is also the first nation aiming to demolish its wage gap, but hopefully, they can set a good example for the rest of us. Iceland's mandatory equal pay legislation was announced by its government on International Women's Day, which was a particularly savvy PR move.
The new law will be introduced sometime in March — Women's History Month — and it already boasts bipartisan support. According to the proposed legislation, companies with 25 or more employees would be required to obtain a mandatory certification proving that they offer equal pay for equal work, regardless of an employee's gender, ethnicity, nationality, or sexual orientation. The goal is not just to smash the gender wage gap, but gaps felt disproportionately by multiple intersecting marginalized identities. If passed, the law would go into effect by 2020 with the hope of completely eradicating the pay gap by 2022.
Iceland pays its women somewhere between 82 and 86 cents for every dollar that a man makes, depending on other factors, such as race and sexuality. For reference, the first four spots of best-performing nations on the Global Gender Gap Index all belong to Nordic countries, with Iceland topping the list. The United States is all the way down at a dismal 45th place, giving white women 82 cents on the dollar, black women 65 cents, and Latina women 58 cents.
Iceland's proposed law is, of course, experiencing some pushback, even though it's widely expected to pass thanks to support on both sides of the aisle. Some have dismissed it as unnecessary, since the nation's pay gap is already closing over time on its own, and others say it imposes needless over-regulation of private businesses. While other countries (and, incidentally, the state of Minnesota) have equal pay certificate policies, Iceland would be the first to make equal pay totally mandatory for both public and private employers.
"The time is right to do something radical about this issue," said Iceland's Equality and Social Affairs Minister Thorsteinn Viglundsson, according to AP. "It is a burden to put on companies to have to comply with a law like this. But we put such burdens on companies all the time when it comes to auditing your annual accounts or turning in your tax report."
History has shown that waiting around for social injustice to course-correct on its own is, uh, not the most effective strategy for change. Ideally, Iceland can model for the rest of the world what intentional, meaningfully legislated equity accomplishes.