Iceland's Gender Equality Policies Are Famous, But Violence Against Women Is Out Of Control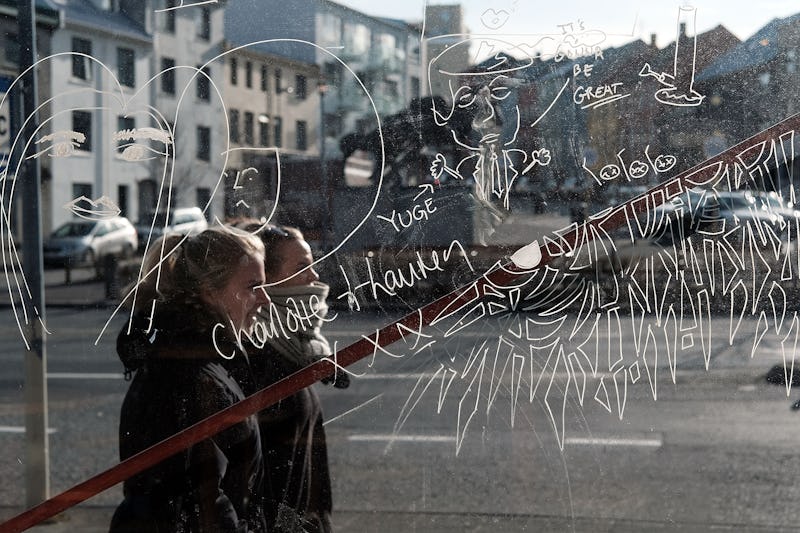 Spencer Platt/Getty Images News/Getty Images
Despite being famous worldwide for its gender equality policies, Iceland women experience violence all too frequently. While the country has some of the strongest laws when it comes to equality in the workplace, including equal pay for equal work, women still regularly encounter sexual harassment and assault in and outside of the professional world. Iceland is slowly learning that strong workplace equality laws don't immediately correlate to safer environments for women.
In November, more than 100 Icelandic women in politics shared their stories of sexual harassment. This is surprising to some, considering more than 40 percent of lawmakers in Iceland's parliament, the Althingi, are women. Iceland also had a female prime minister, Jóhanna Sigurðardóttir, from 2009 until 2013, and just elected another woman, Katrín Jakobsdóttir, to office in November. Still, at least 137 Icelandic female politicians reported receiving comments from men telling them they needed to lose weight, or attributing their success to their husbands or boyfriends. Although nearly closing the gender wage gap is most definitely a step in the right direction, Andres Ingi Jonsson, an Icelandic lawmaker for the Left Green Movement, knows more work needs to be done.
"The basic tools we use can be influenced by sexually degrading language, and we need to remove that from the toolbox," Jonsson told the Associated Press. He is one of several male parliamentarians trying to get more men involved in promoting gender equality. The group has already seen some success, petitioning the speaker of parliament to host a sexual harassment workshop in February for Iceland's 63 legislators. "It won't be an easy day," Jonsson said. "We have to be ready to open our hearts a bit."
Icelandic law requires private companies to have at least 40 percent women on their boards and to provide equal parental leave for men and women. And, starting in 2018, the Equal Pay Law will regularly audit companies to ensure they're paying men and women the same for comparable work. While these laws have resulted in more women rising to the top ranks of business, according to Quartz, they can't alone address the social progress that still needs to be made. Women might be fairly compensated monetarily, but they're paying in other ways.
At the Women Political Leaders Summit, held in Iceland in November 2017, more than 250 women political leaders from around the globe discussed the issue of sexual harassment in the workplace. In addition to women in politics, women in the performing arts world in Iceland have also come forward with sexual harassment stories, as have women in religion. Forty-nine Icelandic male priests and deacons recently signed a declaration vowing to protect the safety of women in the church and other places where they have power, RÚV reported. "Silence on sexual harassment and the use of force will not be tolerated on our part," the group said in a statement. "We will report the harassment that we have witnessed."
And it unfortunately doesn't end at harassment. More women in power has not equated to any kind of decrease in violence against women. Iceland has Europe's highest per-capita levels of reported rapes, according to statistics agency Eurostat, and according to a 2010 study conducted by the University of Iceland, 30 percent of Icelandic women aged 18 to 80 reported they'd been physically assaulted at least once, with 13 percent saying they'd been raped or suffered attempted rape. An additional 2013 study by Hildur Antonsdottir and Thorbjorg Gunnlaugsdottir, who were affiliated with the University of Iceland, found that of the 189 cases of rape that were reported to police in 2008 and 2009, just 21 resulted in convictions.
In 2015, an Icelandic Facebook group called Beauty Tips launched a campaign to hold men accountable for sexual assault and abuse. They encouraged women to share their stories, similar to the 2017 #MeToo campaign. According to Gudrun Jonsdottir of Sigamot, an organization dedicated to stopping incest, rape, and sexual assault in Iceland, this was the moment that people in the country began moving away from the "women-are-to-blame" attitude. "They are not just describing what happened: They are naming the perpetrators, which is also very important," he told Al Jazeera. "At least one perpetrator has publicly apologized in a newspaper."
"It's so important for boys to understand women and respect women," newly elected Jakobsdóttir said at the Women Political Leaders Summit. And University of Iceland gender studies professor Gyda Margret Petursdottir similarly told the AP, "Men need to find ways to change their ideas about masculinity. That's the biggest challenge now." What Iceland has discovered is that despite women breaking the glass ceiling, there still is a lot of work to be done when it comes to addressing sexual harassment and violence — and the bulk of that work needs to be done by men.