Adam Rippon Doesn't Think He Should Meet Mike Pence. Here's Why He Wants To Anyway.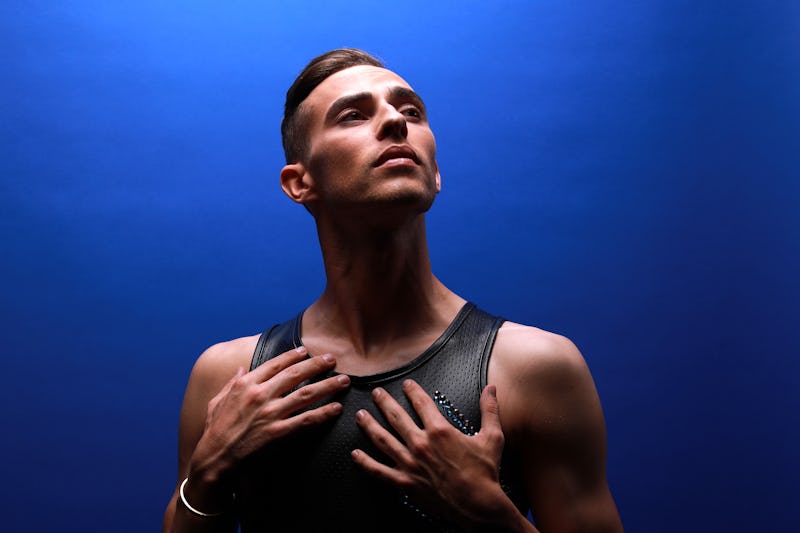 Tom Pennington/Getty Images Sport/Getty Images
Adam Rippon doesn't think he's the right person to have that conversation with Vice President Mike Pence. Or at least, he doesn't think he's the only gay person that Pence, with his long history of pushing anti-LGBTQ policies, should face. Rippon is open to meet Pence, but he tells Bustle that if and when that talk happens, he'd want to use the opportunity to make sure the vice president hears from those who've been harmed by policies he's promoted.
"If the conversation was still on the table, I would like to take it," Rippon tells Bustle. "It would be an opportunity for people whose lives have been affected by legislation that [Pence has] pushed. It would be a time for them to share their stories with him ... and why they feel that the legislation that he's pushed is wrong."
The drama between Rippon and Pence began when the White House announced that the vice president would lead the U.S. delegation at the 2018 Winter Olympics opening ceremony (Rippon says that Team USA's grand entrance during the opening ceremony was a moment he had waited for his entire life). Rippon, one of the country's first openly gay Winter Olympians, criticized that choice at the time.
"You mean Mike Pence, the same Mike Pence that funded gay conversion therapy?" Rippon told USA Today. "I'm not buying it."
Pence has long championed anti-LGBTQ legislation, opposing same-sex marriage and shooting down efforts to protect LGBTQ people from discrimination. He has also been accused of supporting gay conversion therapy, which has been widely discredited by medical experts, although his aides deny that he backs the practice. Ty Cobb, the director of Human Rights Campaign Global, has described Pence as "one of the most anti-LGBTQ politicians in the U.S."
Later, USA Today reported that Rippon had turned down a talk with Pence (Pence's aides deny there was an offer at all). Rippon says turning down the phone call had more to do with the timing.
"When I'm getting ready for a competition, I don't go out with friends. I don't go to the movies. I stay pretty local just to stay focused," he tells Bustle. "I kind of felt like taking a phone call from the vice president would be a little bit more distracting, if I don't even want to go to Applebee's."
With the Olympics behind him, Rippon says now would be the time to have that conversation — but he's not sure what he'd say.
"I didn't feel like he was the correct choice to lead the delegation, especially since we had a few out athletes on the team," Rippon says. "I spoke up, but I spoke up mostly for those people who felt like their lives have been affected by legislation he's pushed. It's a conversation that isn't for me. It's for those who have a story to tell. Because I've been really lucky that anything Mike Pence has tried to do had no bearing in my life."
Rippon's beef with the vice president made national headlines, but his sensational rise to fame went far beyond that. Olympic athletes can become household names overnight with a single stellar performance, and Rippon has seized his Olympic moment to propel himself far beyond the world of figure skating.
"I'm not a gay icon. I'm just an icon."
In the space of a few short weeks, he's gone from "gay Olympian Adam Rippon" criticizing Mike Pence to America's sweetheart, candidly welcoming sponsors ("I love money," he told CNBC), winning praise for wearing a harness on the Oscars red carpet, and charming the socks off Reese Witherspoon.
Rippon, who's 28 years old, has said that 2018 was his one and only time competing in the Olympics. "I'm not a spring chicken!" he told E! News. "On the immediate horizon I'm taking advantage of all these open doors and just seeing what I want to do after skating."
"I've always been a household name at my own house. So I guess ... now it's the same — just at everyone's house."
His post-Olympics schedule goes to show just how successfully he's made a name outside of the 2018 Winter Games. Rippon has barely had space to breathe since the Olympics; he says that after the closing ceremony, he got home, unzipped his bag, and fell asleep on the floor. Then came a string of meetings, photo shoots, and media appearances for hours each day.
He hasn't even had time to process how dramatically his life has changed since the Olympics. "I don't feel any different," Rippon says. "I've always been a household name at my own house. So I guess ... now it's the same — just at everyone's house."
Rippon is slightly bewildered that, in the year 2018, he's in that first class of openly gay American winter athlete. And he wishes people didn't affix the "gay athlete" label to everything he does. Rippon says that during the Olympics, he was asked a lot about what it was like to be a "gay icon." He shut that down real quick, he says — "I was like, I'm not a gay icon. I'm just an icon."
In watching his star rise over the past few weeks, Rippon says he noticed how media outlets changed how they identified him over the course of the Olympics.
"At first they were like, 'gay Olympian.' Then a few days later it was 'gay Olympian Adam Rippon.' And then before I left [PyeongChang] everything I did was [just] 'Adam Rippon,'" he says, "I thought that was pretty awesome. I think a lot of times, a personality like mine, or sometimes somebody who is gay, kinda gets thrown into that box: 'Well, you're just for other gay people.'"
Similarly, Rippon says he thinks Pence's anti-LGBTQ policies threaten more than just gay rights. He points to Pence's comment that same-sex couples are a sign of "societal collapse."
"I think it's important that I take a stand. ... That's totally outlandish and wrong," Rippon says. "And I don't think it's really a gay issue, it's a human rights issue."