This Is The First Thing Democrats Will Do If They Take Back The House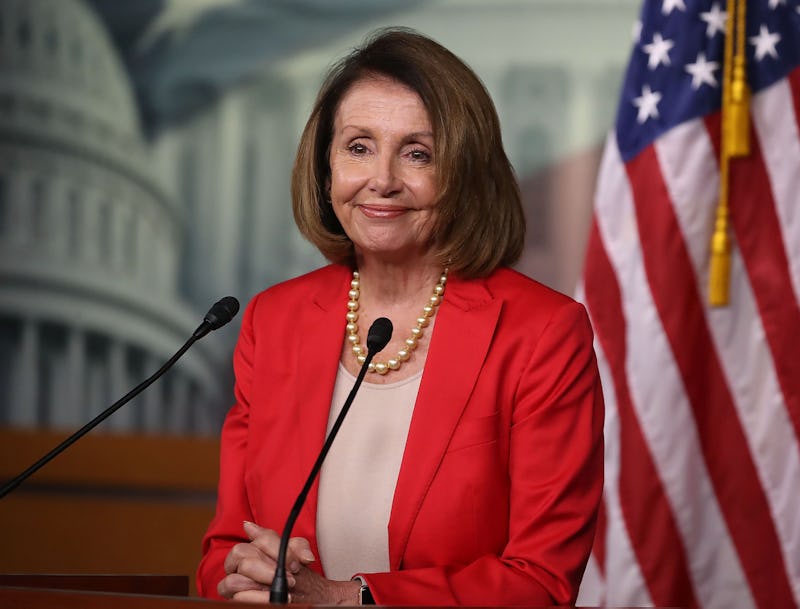 Mark Wilson/Getty Images News/Getty Images
With just three weeks until the midterm election, Democrats are strategizing what they hope to accomplish if the record number of Democratic women running for office succeed in taking over the House of Representatives. House Minority Leader Nancy Pelosi spent the weekend campaigning for women candidates in competitive Pennsylvania districts, telling Politico that campaign finance reform, lowering drug prices, and protecting Dreamers will be the focus of Democrats' legislative plans if they take back the House on Nov. 6.
FiveThirtyEight predicts that Democrats will take control of the House after the midterms, with more than a little help from women candidates. More than half of the Democratic contenders in "Red to Blue" House districts that Democrats see as vulnerable are women, and Politico's race tracker estimates that the number of Democratic women in the House could increase by as many as 45.
If these predictions prove true, Pelosi wants to kick off 2019 with a bang. Democrats plan to immediately introduce campaign finance reform legislation aimed at making elections more transparent.
"People believe you that if you want to reduce the goal of money in politics … then they trust you to do the right thing," Pelosi told Politico.
Earlier this month, 107 House Democratic candidates wrote an open letter to Congress announcing that they plan to make sweeping changes to the way money currently impacts elections if they win a majority in November. Their goals include limiting the influence of big donors on political campaigns, strengthening congressional ethics laws, and minimizing lobbyists' power over elected officials.
"We decided to run for Congress because we know America's best days are still ahead, but confidence in our government and democracy must be restored," read the letter, which was obtained by The Wall Street Journal. "To do so, we must all acknowledge the corrosive role money and special interests have played in shaking the American people's faith in the system."
After tackling campaign finance reform, House Democrats want to lower drug prices, according to Pelosi. President Trump signed bipartisan legislation last week that allows pharmacists to tell customers if they could save money by paying for prescription drugs out of pocket and bypassing health insurance fees. The law doesn't alter how much drugs cost, but Trump did say last week that lowering prices is a bipartisan issue, the Associated Press reports. So, he may be willing to reach across the aisle to address drug costs after the midterms.
Protecting Dreamers (undocumented immigrants who were brought to the United States as minors), strengthening background checks for gun owners, and ensuring Americans' voting rights remain intact are also top priorities for the Democratic Party in 2019. Although the courts have held up Trump's plan to end the program that protects Dreamers from deportation, their immigration status has been in limbo for more than a year. Congress has failed to pass legislation for Dreamers, as well as gun control measures, with Republicans in control of both the House and Senate.
Winning back the majority on Election Day would undoubtedly give Democrats more power to tackle their to-do list, but remaining in the minority would likely mean business as usual for Republicans' agenda.