There's Still A Good Chance This 'Gotham' Character Is NOT The Joker, Believe It Or Not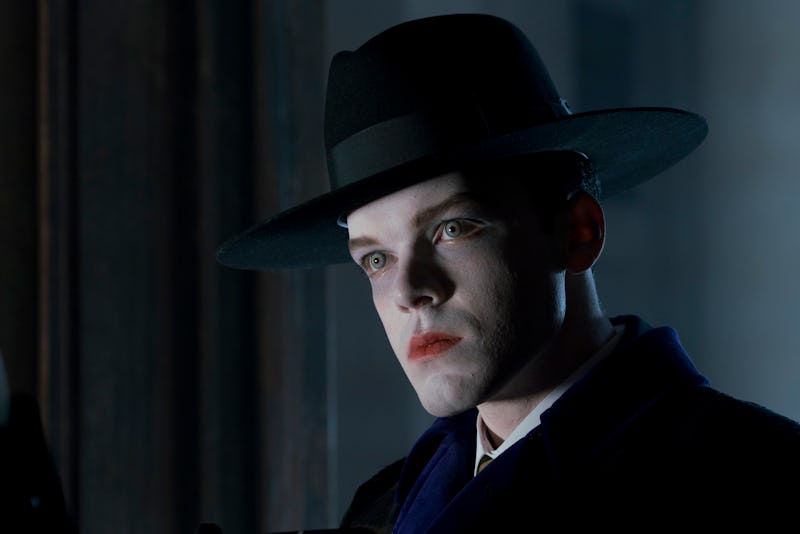 Giovanni Rufino/FOX
It seems clear that Gotham has finally, at long last, found its Joker: Jeremiah Valeska, poisoned by his brother and transformed into a grotesque villain. But what if Jeremiah is not the Joker on Gotham? The show loves to pull the rug out from underneath its audience, and it's played around with introducing and then not introducing the deranged Batman villain many times now.
A lot of characters have undergone transformations this season, but Jeremiah still seems like the most likely candidate. Butch became Solomon Grundy; he's barely interacted with Jerome, so he's definitely out. Barbara, once a madcap, Joker-like villain, has become slightly more reserved as the head of a league of female assassins. Penguin and Riddler are firmly in their comics-accurate identities, and Jim Gordon and Harvey Bullock are fighting Jeremiah's plans to reshape the city. There are still a few recurring characters who could still be Joker-fied, like Leslie Thompkins, or possibly Selina, but they're not really tied to either of the Valeska twins.
Even if Jeremiah is just another red herring, he is certainly attempting to shape others into his image. Gotham executive producer John Stephens told CinemaBlend that Jeremiah's relationship with Bruce Wayne will figure significantly into the end of Season 4. "[Jeremiah is] trying to drive Bruce insane so the two of them can be paired together," he said, pointing at both Jerome's funeral, orchestrated by Jeremiah, and the events of the show's episode "One Bad Day," which Stephens told the outlet will be Gotham's take on the controversial DC comics storyline, "The Killing Joke."
That book saw the Joker psychologically torturing Commander Gordon, but Gotham's version will substitute Bruce Wayne instead. Jeremiah "gets to entertain whether he wants to drive Bruce insane," Stephens said in the same interview. Could this upcoming arc turn the young Batman into a young Joker instead? Stranger things have happened on Gotham, and Bruce has already admitted to Jeremiah that he has a darkness inside him. Jeremiah's plan to break down Gotham City and rebuild it would be complete if he broke down his ersatz "brother" Bruce and rebuilt him as an evil mastermind.
A trailer for the end of the season also shows Alfred being tortured by Jeremiah, and there's no one who loves Bruce more than his surrogate dad. If Bruce isn't the Joker, it would certainly effectively destroy him psychologically to see Alfred become the Joker.
Producers have also suggested that this season might not be headed in the direction viewers expect. According to executive producer Danny Cannon's comments to ComicBook.com, the still unconfirmed Season 5 of Gotham would "[change] the face of Gotham forever" and serve as "almost a reboot and a different show." He continued, "It's a complete [departure], and the city has changed too, new characters on a new landscape." That certainly makes it sound like Jeremiah's plan to totally reinvent Gotham will be happening — and the prospect of new characters means that it's possible the Joker is someone who hasn't even been introduced yet.
But so many clues point to Jeremiah being the Joker — not only is he mentally unstable, evil, and the ringleader of Jerome's gang, but the show has also made several noticeable visual allusions to the comics character by dressing Jeremiah in a purple suit and hat evoking The Killing Joke, not to mention the same white skin and freaky smile that Jack Nicholson had in Tim Burton's original Batman film.
But Jeremiah isn't the only character who has the potential to turn into the Joker by the season's end. Yes, he's still the most logical candidate, but if Gotham pulls a wild surprise going into what Cannon called "the biggest cliffhanger we've done" in his ComicBook.com interview, it's not necessarily a bad thing.