How To Get Through The Kavanaugh Allegations News Cycle If It's Triggering For You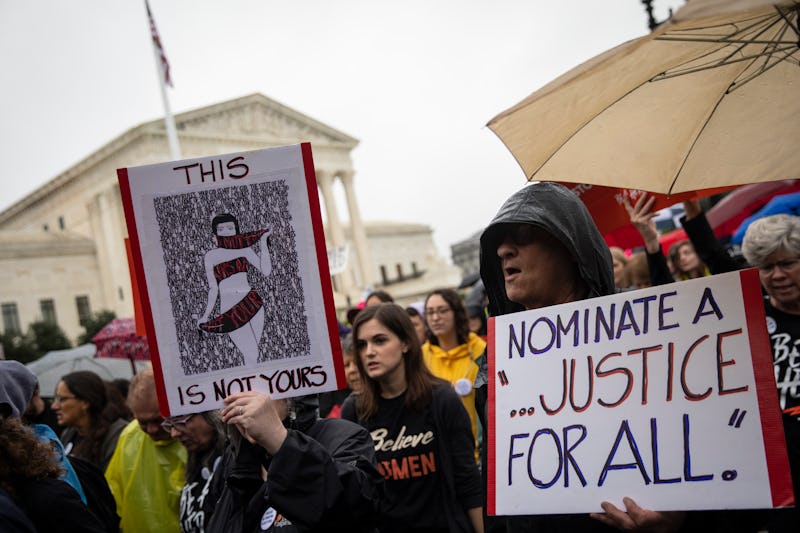 Drew Angerer/Getty Images News/Getty Images
With sexual assault allegations leading the news cycle yet again in the Supreme Court confirmation process for Brett Kavanaugh, it's a tough time to try to remain an informed individual — especially for survivors of sexual assault. Bustle spoke with several experts about how to get through the Kavanaugh allegations news cycle for information on how you can cope, as well as how you can help your friends out.
Kavanaugh's confirmation seemed all but sure until allegations of sexual misconduct arose. First, Christine Blasey Ford accused Kavanaugh of attempting to sexually assault her at a party when they were in high school. Kavanaugh "categorically and unequivocally" denied the allegation to the Washington Post. Ford agreed to testify to the Senate Judiciary Committee this Thursday.
Remember that you're in control of what you watch and read, and you don't owe it to anyone to be familiar with these news stories.
Over the weekend, a second woman came forward. This time, Deborah Ramirez accused Kavanaugh of exposing himself to her at a party when they were at Yale University. Kavanaugh told the New Yorker that this allegation "did not happen."
All together, this means sexual violence will continue to be a major news item, complete with push alerts, tweets lacking nuance, uncomfortable conversations, and lots of opinions that could be promoting harmful myths — especially as the news surrounds a partisan issue with political agendas to promote (i.e. getting a conservative-leaning justice on the Supreme Court while the Congress has a Republican majority). If you're not feeling good about the news cycle, you're not alone, and there are coping mechanisms and productive things you can do to get through it.