Tuna Sold In Three States May Be Contaminated With Hepatitis A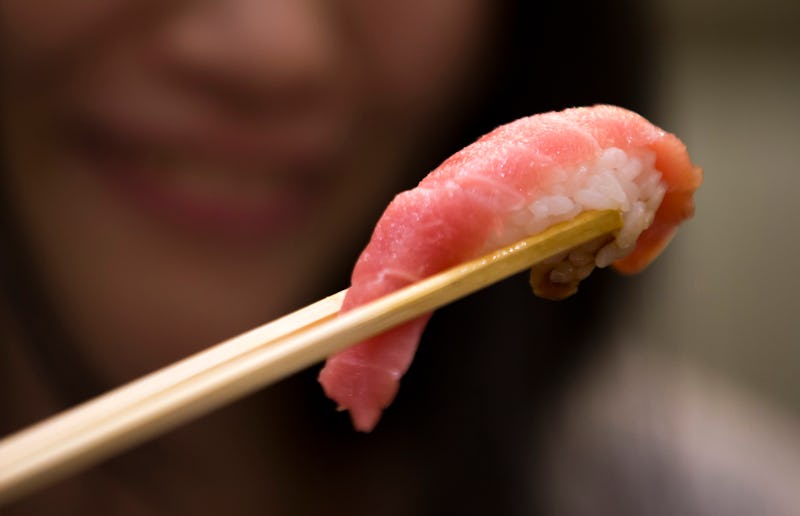 Tomohiro Ohsumi/Getty Images News/Getty Images
If you've recently eaten tuna in Texas, California, or Oklahoma you may want to consult with a doctor as soon as possible. The U.S. Food and Drug Administration has recently issued a warning regarding potentially contaminated frozen tuna sold in Texas, California, and Oklahoma. According to the FDA, the fish may have been infected with the hepatitis A virus.
"Consumers may be at risk of contracting a hepatitis A infection due to the consumption of potentially contaminated frozen tuna distributed by Hilo Fish Company and sourced from Sustainable Seafood Company and Santa Cruz Seafood, Inc," the FDA said in a warning issued Thursday.
Hawaii-based Hilo Fish Company issued two recalls of its frozen yellowfin tuna steaks and yellowfin tuna cubes in May after samples of the fish tested positive for the hepatitis A virus. Raw frozen cubes of ahi tuna imported from Indonesia and sourced from PT Deho Canning Co were recalled in Oahu, Hawaii on May 1 after a sample tested by the Hawaii Department of Health came back positive for the hepatitis A.
On May 18, Hilo Fish Company issued a second recall after samples of imported tuna products – this time sourced from Sustainable Seafood Company in Vietnam and Santa Cruz Seafood, Inc. in the Philippines – being held in a storage facility also tested positive for the hepatitis A virus. Prior to testing products from that storage facility had been sold to various eateries and retailers in Texas, California, Oklahoma, and New York.
According to both the New York State Department of Health and the FDA, products shipped to New York were not sold to the public and thus no warning has been issued for the state. However the FDA reported potentially contaminated frozen tuna was sold to 17 locations in California, 13 locations in Texas, and one location in Oklahoma. A detailed list of the locations is available here.
Currently the Centers for Disease Control and Prevention (CDC) reports they are not aware of any illnesses linked to consumption of the recalled products. Out of precaution, however, they've advised anyone who may have eaten the potentially contaminated tuna within the past two weeks and has not been vaccinated against the hepatitis A virus to seek post exposure prophylaxis (PEP) therapy to help prevent infection.
Symptoms of hepatitis A, which may take 15 to 50 days to appear, include fatigue, abdominal pain, jaundice, abnormal liver tests, dark urine and pale stool. Although infection can occur after consuming contaminated food or water hepatitis A can also be passed from person to person, making it vital that those who may have consumed potentially contaminated tuna contact a medical professional right away.