IKEA Is Testing A Mini Version Of Its Stores, But It *Won't* Have This Cult Fave Item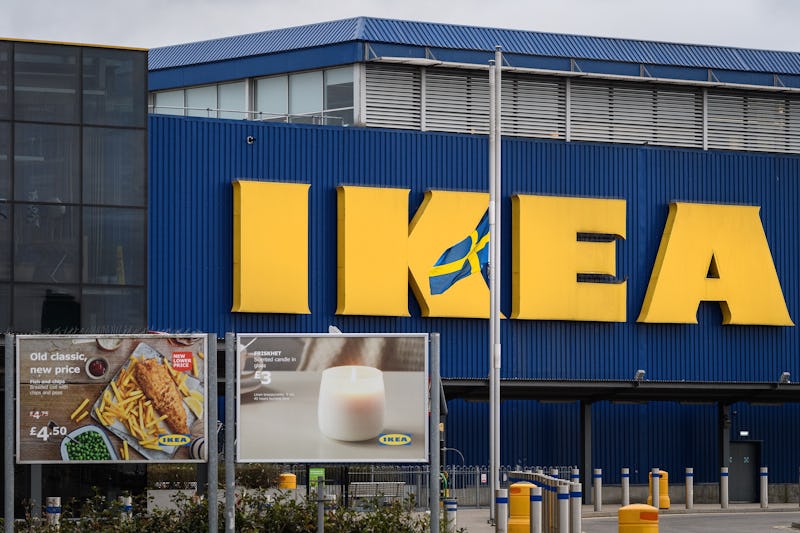 Leon Neal/Getty Images News/Getty Images
If going into a giant warehouse-type store makes you anxious, the news that IKEA is testing smaller versions of its stores in the UK is a big deal. The Times reported that IKEA UK and Ireland Retail Manager Javier Quiñones plans to make smaller stores a priority and will also begin 24-hour delivery. The first mini IKEA is slated to open in central London this fall, and will offer shoppers a customized IKEA experience, which includes increased personal attention when shopping in store.
The new round-the-clock delivery service is a response to changing consumer shopping habits, and IKEA is adapting to meet its customers needs. "Consumers were driving to where the stores were and picking up the goods and going home," Quiñones told The Times. "This is changing totally. Online is impacting massively because people are ordering through phones and iPads."
While there is one downside to this mini store, it's a small sacrifice considering everything you're gaining by not having to block out an entire day to venture to IKEA. While the smaller-scale store will feature an in-store restaurant, it will not serve IKEA's famous Swedish meatballs, according to The Times. Despite being meatball free — please take a moment to mourn if you need to — the new smaller store will make shopping at IKEA more accessible to people who live in densely populated urban areas, don't drive, but still want to shop in store.
Because current IKEA stores are so large, going to one is usually an exhausting all-day pilgrimage. The lengthy drive to the nearest location (usually far from the city) and the struggles of navigating the massive store, keep some shoppers from ever stepping foot inside an IKEA. In fact, The Times reported that plans for a large-scale IKEA store were scrapped earlier this year in order to focus on what's quickly becoming the new normal in retail.
"By launching this new approach and investing in our online offer and services, we are working to ensure IKEA remains affordable, convenient and sustainable, both now and in the future," Quiñones said in a news release from IKEA. The smaller London store will primarily focus on kitchen and bedroom products, and is designed to meet the needs of urban shoppers.
"Our new city centre [sic] approach brings IKEA into the heart of London and is designed to complement our larger stores and digital offering so customers have a wide range of choices that suit their needs and lifestyles," IKEA London City Centre Market Leader Jane Bisset said in the news release. "The Tottenham Court Road shop will give Londoners a relaxed and professional experience in which to plan more complex or large-scale projects in the home, with the expertise and specialist support of IKEA co-workers, alongside a great service package and delivery offer."
While there's no news on whether mini IKEA stores will appear on the scene in the U.S., smaller stores already exist in Canada, other parts of the UK, Norway, Italy, Japan, and China. "For most consumers, the nearest IKEA store is too far away and we are developing the concept to enable more people to reach the IKEA range," an IKEA spokesperson told CNN in 2017. The goal is to attract shoppers who have never been to a large scale IKEA store (guilty right here). When the retailer tested pop-up shops last year, IKEA told Bloomberg Businessweek that 70 percent of the pop-up shoppers had never been to IKEA.
IKEA is also working to refine its online shopping experience to better meet consumers' needs. "I think it's the first time we really looked into the DNA of who we have been," Quiñones told The Times. "We were born from the store and the typical way of retailing. It's not unique to IKEA. Every retailer needs to adapt to the new digital era."
IMO, the smaller store concept is wildly attractive, and if one opens in Los Angeles I will likely make my first trip to IKEA. Hopefully the almost guaranteed success of the new London City Centre store means that smaller, centrally located IKEA stores will soon be a reality for U.S. shoppers. Fingers crossed!