High-Fashion Ikea Bags From Virgil Abloh Are Happening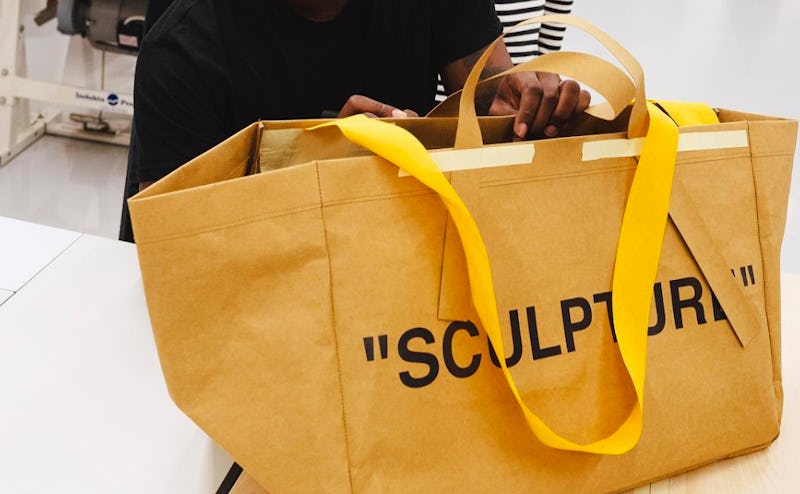 After last month's frenzy over Balenciaga's suspiciously similar Ikea bag lookalike, it seems that the Swedish furniture giant has caught on that their iconic blue carryall is ripe for a fashion moment — and this time, they're taking the opportunity for themselves in a big way. Announced on Instagram today, Off-White Founder Virgil Abloh is designing a new Ikea bag, and it's as avant garde as you'd expect it to be.
I think it's safe to assume that the giant structured blue tote we all know and love will remain an ubiquitous part of Ikea culture, but the newest iteration of the FRAKTA bag takes the fashion up a notch. "We're in a moment where IKEA is transcending, and people are bringing this 'do it yourself' culture to the blue bag," Abloh says in Ikea's Instagram announcement caption. "What I'm most interested in is doing that process in partnership with the brand. It's allowing me to put my opinion on a classic. It's unique, and distinctly as much of off-white as it's IKEA."
Abloh's collab with the furniture company isn't entirely out of left field — as PAPER Magazine points out, he revealed a furniture collection at Art Basel last year.
Ikea teased the collaboration last week, and some commenters guessed correctly from this disguised video.
Off-White also posted a behind-the-scenes look at Abloh designing the bag at Ikea's prototype shop in Älmhult, Sweden.
This isn't the final look, or course — in a live-streamed interview from Ikea's Democratic Design Days earlier today, Abloh explained that just being in the prototype shop inspired him to get started. (The interview starts around the 19-minute mark.)
So, even though this isn't a final look at the bag, wouldn't it have been fantastic if Bella Hadid had debuted it at the CFDA awards as Abloh's date?