Here Are All The Things Your Pet Needs From IKEA's New Pet Collection Right Meow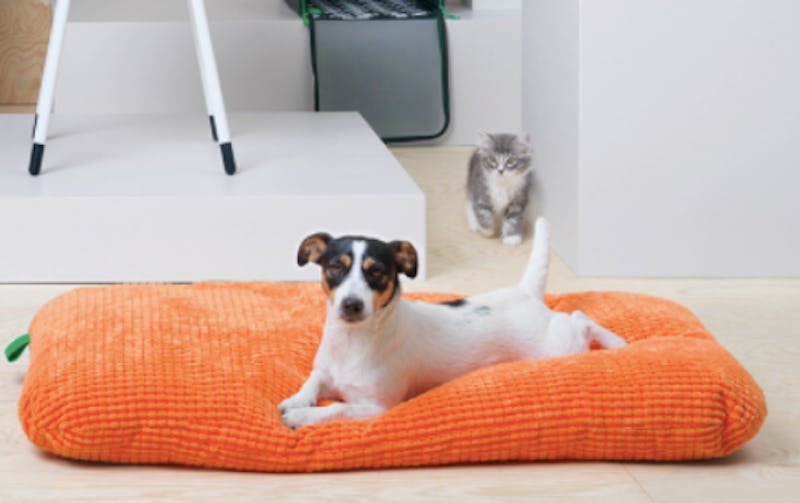 IKEA Japan Instagram
If you own a cat or dog, you know the feeling of wanting to spoil them with every last dollar in your possession. Clothes, toys, organic-cage-free-grass-fed-all-natural-antiobiotic-free-non-GMO treats ... nothing is too outrageous for your little furball friend. Well, there's great news from our pals at the kind of affordable but not really home furnishings store: IKEA is selling pet furniture now, so you can say goodbye to every paycheck henceforth, indefinitely.
The collection is called Lurvig, which translates to "hairy" from Swedish. Awkward? Sure. But considering my two dogs are walking carpets, it's quite fitting nonetheless. As of the beginning of October, Lurvig has launched in Japan, France, Portugal, Canada, and (*drumroll*) the U.S., now making it possible for your dogs to have nicer furniture than you do.
According to IKEA's website, they created the line because they believe pets are family and should be treated as such. They worked with "pet loving designers" and veterinarians to create a range of both indoor and outdoor products. If any of this is pee-proof, well, take my money.
IKEA offers dozens of products for both cats and dogs, including beds, houses, scratching mats, and play tunnels. Feast your eyes upon this fancy dog bed with its intricately designed mattress that's certainly nicer than the mattress I bought when I first moved out on my own because I was too broke to buy anything else.
The sides even fold down so Fido can enjoy the view in all four directions! This mattress is just $27.98 online, making it both cheaper and nicer than my own mattress; and if I can curl up in the fetal position tightly enough, I plan on sleeping in it, too.
And don't worry. Nobody forgot about Mr. Bigglesworth, your precious hairless cat. For him, how about this cat house on legs, where he can perch majestically and watch all the peons — I mean, humans — walking about his land? For just $49.99, you can remind your cat that he is better than everyone else, not that he forgot in the first place.
It doesn't end at furniture, either. Lurvig also includes bowls, place mats, leashes, collars, toys, brushes, and even doo-doo bags, which I could always use more of.
Truthfully, the prices are pretty decent; and let's not pretend we haven't spent way more on our pets. Paris Hilton built an entire mansion for her dogs, for crying out loud — with heating and air conditioning! (Does it have any rooms for rent? Asking for a friend.) Splurging on a comfy new couch for your hairy little pal is A-OK.
While we're always looking for ways to boost our budgets, there are apparently two things Americans don't mind spending a ridiculous amount of money on: coffee and pets. Last year, the American Pet Products Association predicted we'd spend around $62.75 billion on pets in 2015 — a four percent increase from the year prior. Spending has steadily gone up every single year, starting at $17 billion in 1994, when the APPA first started collecting data.
To be fair, we're not dropping all this dough on designer clothes and jeweled collars. The APPA says about $23 billion is spent on pet food alone. The next biggest expense is nearly $16 billion for vet care, followed by about $14 billion for supplies and over-the-counter medicine. No word yet on what their projections are for 2017 spendings on IKEA furniture.
I'm fully on board with a dog couch for my hairballs, so maybe they'll stop wiping their eye boogers all over mine. If you're interested in spicing up your home and turning it into a pet palace, you can browse IKEA's selection online or visit a location near you.