The Governor Of Illinois Drank Chocolate Milk For "Diversity" & Twitter Was Like, Excuse Me?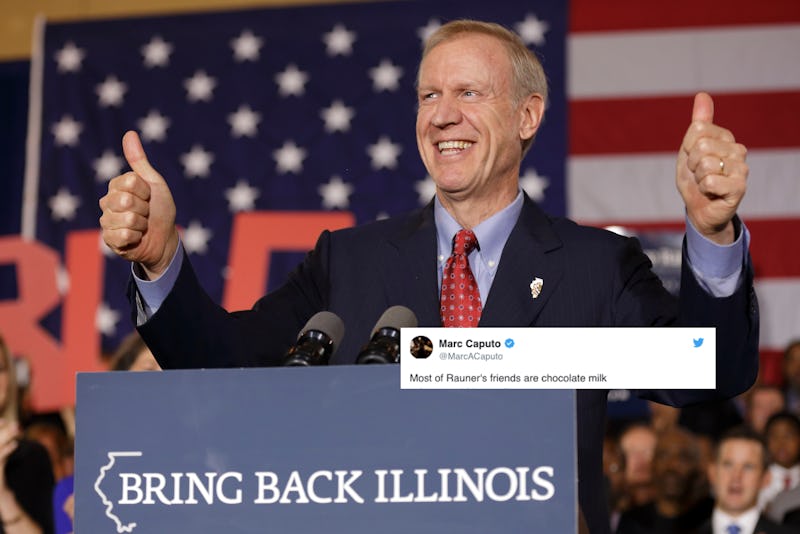 John Gress/Getty Images News/Getty Images
I had high hopes for 2018, but after checking my Twitter feed last night, I'm ready for next year. In one of the most truly inexplicable stunts I've ever seen, Illinois Governor Bruce Rauner drank chocolate milk in the name of diversity, and Twitter had some questions. Can you blame them? According to The Chicago Tribune, the governor was attending a Black History Month event Wednesday when he was invited onstage by Tyronne Stoudemire, vice president of global diversity and inclusion at Hyatt Hotels. Stoudemire, who is Black, pours milk into a glass and says it represents the lack of diversity in Fortune 500 companies. "If you look at any corporate website and look at its leadership team, you'll see all white men, a few white women and just maybe an Asian in technology," Stoudemire says. It's worth noting that Stoudemire has been performing this demonstration for 16 years, according to the Tribune.
Stoudemire then adds chocolate syrup to the milk to "represent diversity," including, "women, people of color, and people with disabilities," Stoudemire says. The syrup sinks to the bottom, and he asks the governor to stir the glass to make a point about mixing things up at corporations. Rauner, who presumably knows he's being filmed, volunteers to drink the milk and says, "That's really, really good. Diversity!" It didn't take long for Twitter to roast both men. The Tribune provides video of the whole thing, and I suggest watching it as many times as you can bear.
Most of the corporate events I've sat through are relatively corny — no one is asking for comedic genius here — but the optics of a white Republican man with a net worth of $500 million drinking a glass of chocolate milk in the name of diversity aren't... great. Rauner's spokeswoman reportedly did not directly answer a question from The Chicago Tribune about whether the governor was "embarrassed" by the event, but she did say this: "This was the event moderator's example of diversity that an audience of all ages could see and understand. It was one of two demonstrations at the event, both of which received ovations from the crowd."
Meanwhile, some people on Twitter wondered if they'd stumbled across an article from The Onion on accident.
After Rauner attests to the deliciousness of diversity, Stoudemire wraps up the demonstration. "That little illustration helps us to understand it is our differences that blend together and create sustainable, long-lasting results," he says. It's worth noting that Stoudemire is a Black man with an impressive resume when it comes to diversity work, but I'm still majorly confused by the stunt — during Black History Month, no less. Journalist Mark Maxwell, who works for news station WCIA, pointed out that Rauner's office has reportedly faced criticism for its handling of diversity.
Of course, some Twitter users chided critics and said the snafu "isn't nearly as bad as it sounds." I politely disagree. It seems like the whole thing was done in good faith and with decent intentions, but I'm still scratching my head in confusion.
The main takeaways from this viral moment, it seems: The Internet is ruthless, awkward corporate stunts shouldn't be videotaped if they have to happen, and using milk to represent white people and chocolate syrup to represent people of color is a bit simplistic, to say the least. Stoudemire has done more in his career to challenge segregation in corporations than most of us, which is great, but the image of Rauner sipping chocolate milk and then toasting to diversity is forever burned into my retinas. On the bright side, I'm now craving chocolate milk, so maybe there is a silver lining here.