I'm A Nun Leading A Cross-Country Bus Tour To Protest The GOP Tax Law – Here's Why
by Sister Simone Campbell, SSS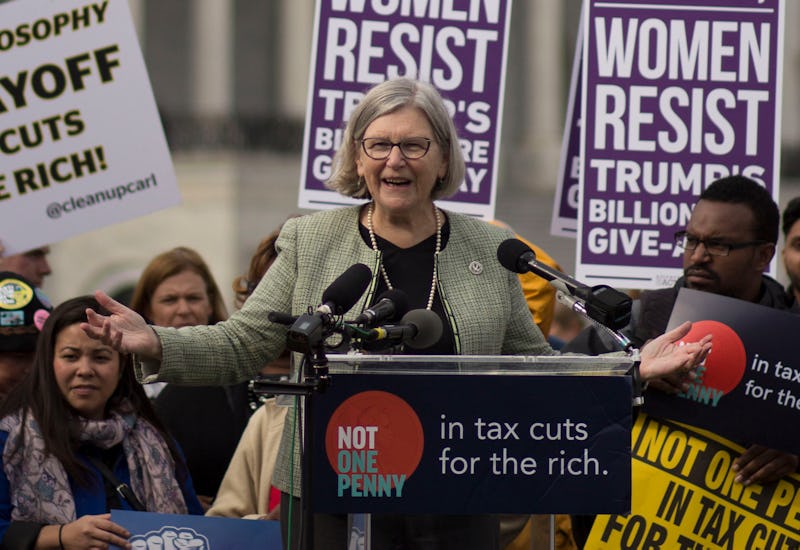 Courtesy of NETWORK Lobby for Catholic Social Justice
My faith has always taught me to defend the common good and to speak out when people and policies have sought to undermine it. And that's why, in protest of Republicans' tax law, my Sisters at NETWORK Lobby for Catholic Social Justice are once again heading out on the road with Nuns on the Bus next week.
Time and time again, my fellow Sisters and I have mobilized against the laws that undercut investments in our shared future, as well as against the lawmakers who supported them. For years, we have traveled across the country advocating for economic justice, an inclusive budget, and access to health care.
Last year, Republicans chose a partisan course to push their tax law. Without seeking bipartisan compromises, they ensured that their Democratic colleagues were shut out of the process and that American people were left in the dark. The GOP held no hearings. They received no testimony. They listened to no one — except their donors.
When I look at the hyper-partisan law they passed, it's clear who the GOP's tax law was written for — and it is not the men, women, and children whom Jesus championed.
This tax law isn't just bad policy, it's unconscionable.
So, Nuns on the Bus are going to talk to people across the country who are hurting from an unjust and unbalanced tax law that is putting the wealthiest Americans and biggest corporations first. We're going to talk about a tax law that further rigs the system against working families and small businesses who are the heart of our communities.
We will travel from coast to coast, starting in Los Angeles, California, and ending at President Trump's Mar-a-Lago resort in Florida. Along the way, we will demonstrate that tax policy is fundamentally a moral issue. From giving billions to the already-wealthy to sabotaging the Affordable Care Act, this tax law isn't just bad policy, it's unconscionable and goes against core teachings of my faith.
The legislative agenda put forth by Republicans perpetuates the unpatriotic lie that our country was founded on a principle of individualism. But what I know — and what I have experienced traveling across the country — is that we have always been stronger when we enact policies that support the common good and invest in our communities.
The Republican tax law epitomizes the erosion of so much in our society that we care about. It slashes reasonable revenue for responsible programs. It also unravels our moral standard that everyone, especially those with the greatest means, should be paying their fair share for our nation to flourish.
Tax policy is a moral issue.
Nuns on the Bus are heading out to hear and share the stories of the American people hurting from this law. We will tell our truth on the road, engaging with the communities these so-called leaders have left behind. We will raise questions about the direction our country is headed, and we will ask, "Who will help us undo the damage this law is causing?"
After watching more than 275 Republicans in Congress vote for this ill-conceived law, it's clear they aren't up to the task.
As we travel from California to Florida, we will ensure they know how their members of Congress voted — whether in the Senate or in the House — and the consequences of those votes. When they see how this law threatens the financial security of their families and neighbors, the small businesses in their towns, and the public programs their communities rely on, I'm certain they'll see it for what it is: a shameful scheme to prioritize the wealthy over the most vulnerable.
Tax policy is a moral issue, and we must have a progressive tax code that ensures everyone pays their fair share toward the common good. That's why NETWORK's Nuns on the Bus and I will continue to organize in support of tax fairness and economic justice. We hope that you will join us on the road to Mar-a-Lago.
Sister Simone Campbell is a Sister of Social Service, a lawyer, and a poet. She is the executive director of NETWORK Lobby for Catholic Social Justice and leader of NETWORK's Nuns on the Bus.
This op-ed solely reflects the views of the author, and is part of a larger, feminist discourse.