As An Atheist, I Think America's National Day of Prayer Is Problematic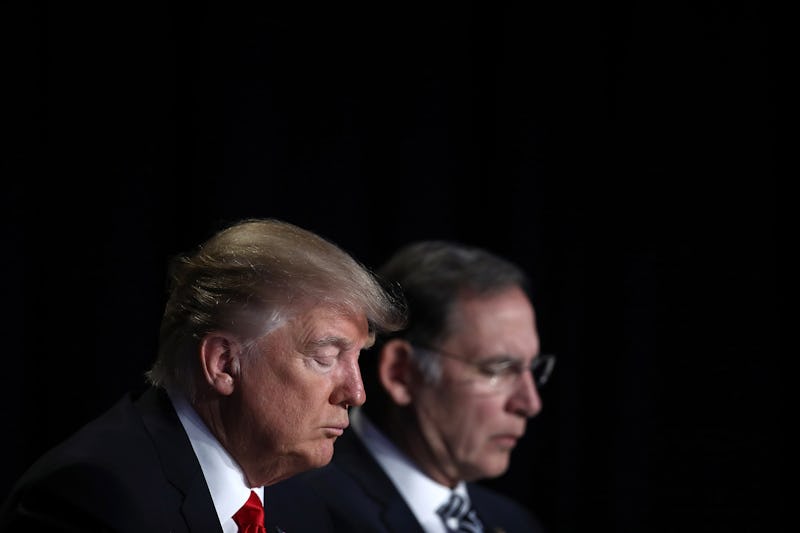 Win McNamee/Getty Images News/Getty Images
Today is the National Day of Prayer, an annual event held on the first Thursday in May that calls on Americans from all faiths to pray for the country and its leaders. The brief history of the holiday is that the National Day of Prayer was signed into law by President Truman in 1952; two decades later in 1972, the National Prayer Committee — which is now known as the National Day of Prayer Task Force — was established to officially coordinate events.
As an atheist, I find many aspects of the National Day of Prayer deeply troubling — and at odds with the First Amendment's free exercise of religion.
What actually goes on during the National Day of Prayer? To find out, I dove deeper into the event's official website. The site provide several free prayer guides, as well as downloadable ones that you can customize for $4.99. Of particular interest is their guide on how to pray for those in authority, which you can view in full here. According to the site, the guide provides (bolding my own):
"30 ways to pray for our leaders- our judges, educators, police chiefs, school board members, military officers, elected officials, and others who serve our country by leading. By doing this, you are standing in the gap, intervening between God and those in authority."
Listed among the 30 ways to pray for people in authority are:
■ "That they be God-fearing and recognize that they are accountable to Him for each decision and act."
■ "That they be given godly counsel and God-Fearing advisors."
■ "That endeavor to restore the sanctity of life, families, divine order and morality in our nation."
■ "That they would work to reverse the trends of humanism in our nation."
Anyone who sat through middle school history class knows that the separation of organized religion from the nation state was a fundamental principle on which America was founded. It's what gives Christians the right to go to Church on Sunday, and me to go to brunch, without the government telling either of us how to spend our holy time. But the National Day of Prayer is an indication of a larger blurring of the line in the U.S. between church and state.
My atheism doesn't keep me from feeling complete, but it does keep me from feeling like my beliefs are fairly represented, or respected, within the government — a feeling that is constant, but is amplified on the National Day of Prayer. According to the Pew Research Center, 91 percent of the United States Congress identifies as Christian, compared with 71 percent of US adults overall. Being both religious and a politician is certainly not a problem in and of itself — but anyone paying attention to our nation's politics knows how much faith is regularly injected into lawmakers' decisions, on issues from same-sex marriage to reproductive rights.
Take U.S. Senate Candidate Richard Murdock's comments that "Even when life begins in that horrible situation of rape, that . .. is something that God intended to happen," or Texas Representative John Carter, who spoke out against gay marriage, saying "it's always been a union between a man and a woman. In my faith, I believe it's part of God's plan for the future of mankind." These aren't private citizens just speaking their minds; they're leaders declaring how they wish to govern.
This trend is especially obvious in Trump's cabinet. Secretary of Education Betsy Devos has been particularly open about her desire to use school choice activism as a religious tool, telling an audience at a 2001 Christian conference that education reform is a place to "advance God's Kingdom;" she has fought her whole career to promote home schooling & religious educational institutions. And VP Mike Pence, who has described himself as "Christian, a conservative and a Republican, in that order," frequently invoked religion while performing his former job as Governor of Indiana, including signing bills restricting abortion ("I sign this legislation with a prayer that God would continue to bless these precious children, mothers and families.") and giving businesses the right to discriminate against LGBT individuals ("What I'm for is protecting, with the highest standards in our courts, the religious liberties of Hoosiers. ") EPA Director Scott Pruitt has denied the existence of global warming, and though he has not specifically tied this stance to his religious beliefs, he has reportedly referred to climate change as a "religious belief" in a 2016 radio interview, implying that belief in global warming is an issue of personal faith, not facts.
I have never once felt that something is missing in my life, and resent the idea that without faith, it's somehow incomplete.
If those with authority are accountable to God for their decisions, it means they must act as God wants them to, even when it violates this essential principle of our governmental structure. The National Day of Prayer website's "How to Pray for America" section says "We need to pray for our leaders, for all those who govern us, that they will turn to God with humble hearts and follow Him." But shouldn't our elected leaders be following the Constitution that requires them to just the opposite when it comes to governing?
I was raised Jewish, in the loose sense that I attended dozens of Bar and Bat Mitzvahs in 7th grade, but haven't been to temple since I was a teenager. At age 12, while at Hebrew school, I thought "Huh, this just doesn't add up," and refused to go back.
In the 15 years since my atheist awakening, I've never had any qualms about admitting that I do not believe in any sort of higher power (with the exception of lying to one ex-boyfriend's religious parents). I have nothing but respect for those who choose religion and prayer in their personal lives, and greatly enjoy learning about different cultures and religious traditions. But I have never once felt that something is missing in my life, and resent the idea that without faith, it's somehow incomplete.
The First Amendment forbids Congress from promoting one religion over another, and guarantees freedoms concerning religion, as well as freedom of expression, which is why if the National Day of Prayer were something organized without any government endorsement, I'd move on. But, per tradition, President Trump publicly proclaimed today as America's 2017 National Day of Prayer — so I'm forced look more closely at how such a day might affect Americans whose beliefs don't seem to be represented by those participating in the day.
Outside of the prayer guides, of which there are many, theNational Day of Prayer's website makes several mentions of how important prayer is, given the dire circumstances facing our country:
"At this crucial time for our nation, we can do nothing more important than pray."
This statement is right on track with the trend of politicians declaring prayer as a trusted means of problem solving. If you were as hooked on 2012 election coverage as I was, you might remember Texas Governor (and Dancing With The Stars alum) Rick Perry's "Day of Prayer for Rain" during Texas' 2011 drought and surge of wildfires. Scientists are in consensus that these weather-related events stemmed from climate change; however, Perry chose to focus on the power of prayer to solve Texas' immediate problem, rather than scientific solutions. Last year, Oklahoma Governor Mary Fallin issued an official proclamation declaring Oilfield Prayer Day, asking Christians to pray for the improvement of the state's failing oil and natural gas reserves. President Trump's new Agriculture Secretary, former Georgia Governor Sonny Perdue, famously held a vigil at the state capital to "pray for rain" during a 2007 drought.
Unfortunately for our planet, there is no scientific proof that praying for rain will stop a drought. And while politicians are more than welcome to pray as a supplemental measure, we need tangible solutions for our worldly problems — so it's immensely frustrating to watch them rely on God's power as an excuse for ignoring the needs of modern Americans in 2017.
As a resident of this deeply religious country, I don't have high expectations for eliminating the National Day of Prayer. Rather, I'm calling for a broader understanding of what it means to be atheist in a country that has zero openly atheist members of Congress. According to a Pew poll, 22.8 percent of Americans consider themselves religiously unaffiliated, with 3.1 percent of those people identifying as atheists — numbers that are on the rise over the past decade. Why does such a large part of the population have such a lack of representation in 2017?
To me, it all comes back to the First Amendment, which instills us with the freedom to choose what religion to practice. Given the Trump administration's professed interest in abridging our right to free speech, we need to respect the First Amendment now more than ever. What we need now is respect for those who choose not to practice, as much as those who choose to. I would never try and push my atheism on Christian members of government — so I, too, ask for the ability to live my life free from laws and regulations formed from belief in a higher power that I do not share.