People In California Are Really Pissed About In-N-Out's Political Donations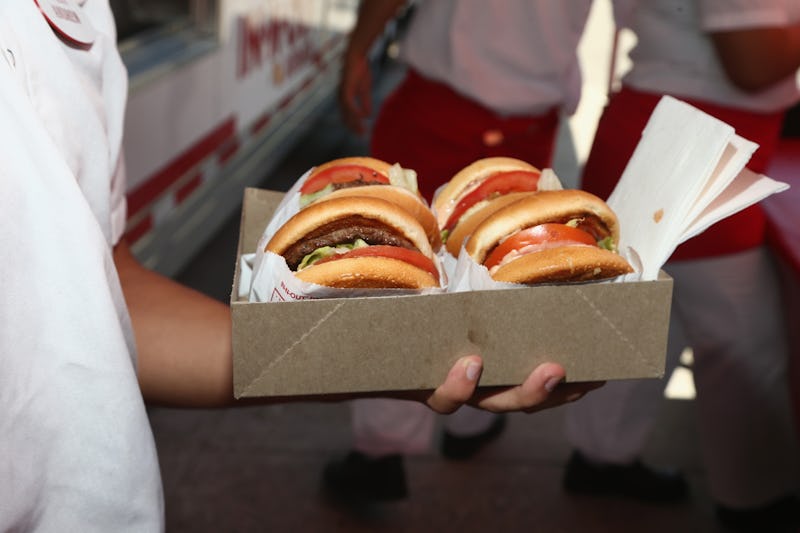 Tommaso Boddi/Getty Images Entertainment/Getty Images
Things may have gotten a little political for burger aficionados in the Golden State recently. On Wednesday, Washington D.C.-based writer Gabe Schneider pointed out in a tweet that the famous Irvine-based In-N-Out donated to the GOP. Now, Democrats in California are calling on others to boycott the popular burger joint, including a heated slam-down from the chair of the Golden State's Democratic Party on Twitter.
On Thursday, Eric Bauman — who chairs the California Democratic Party — tweeted, "Et tu, In-N-Out? Tens of thousands of dollars donated to the California Republican Party. It's time to #BoycottInNOut. Let Trump and his cronies support these creeps — perhaps animal animal style!"
Schneider had tweeted a screenshot of a Late Contribution Report filed under the name of In-N-Out Burgers based in Irvine, California on Wednesday. On the second page of the sheet — you can view the file in PDF form here — the company listed the Sacramento-based California Republican Party as its recipient for a donation of $25,000.
While it may have been a little jarring for passionate left-leaning Democrats to see such a figure offered to the California Republican Party, Fortune magazine reported that campaign finance filings showed that the company donated $30,000 to the GOP in 2017. But it isn't just Republicans that the company reportedly supports. According to Fortune, In-N-Out had also donated $50,000 to Californians For Jobs and Strong Economy in 2018. Per Fortune, the organization is a political action committee aligned with "business-friendly" Democrat candidates.
More liberal consumers of In-N-Out burgers may be surprised by its donation to the GOP, but those familiar with the family behind the company are probably already aware of their conservative history. Fortune reported that the current president of In-N-Out, Lynsi Snyder, is pretty open about her Christian beliefs.
In 2017, Snyder appeared in a video for the Christian media platform I Am Second. While detailing her controversial past as a divorcee, Snyder said that she found peace and calm in religion. "I realized, 'I'm gonna follow in the footsteps of my father [Guy Snyder] in that I'm gonna meet an early death if I do not get right with God and follow him,'" the In-N-Out heiress said.
On Twitter, those who do not agree with the burger company's recent donation have already populated the hashtag, #BoycottInNOut. While most tweets appear to be serious criticisms of In-N-Out, some have turned to humor to express their disappointment.
This won't be the first time that a burger joint came under public scrutiny for its political alliances or donations. In the past, companies like Chick-fil-A faced criticism for supporting "the biblical definition of the family unit" as a "family-owned business, a family-led business." In spite of criticism leveled at Chick-fil-A, it said that it viewed "every person with honor, dignity, and respect — regardless of their belief, race, creed, sexual orientation, or gender."
For now, it's hard to say how the current publicity will serve In-N-Out — whether it will harm or help them. But it's clear that while liberals may boycott the company, conservatives may continue to enjoy the burgers Animal Style.