Lorell Is The Unsung Hero Of 'Dreamgirls'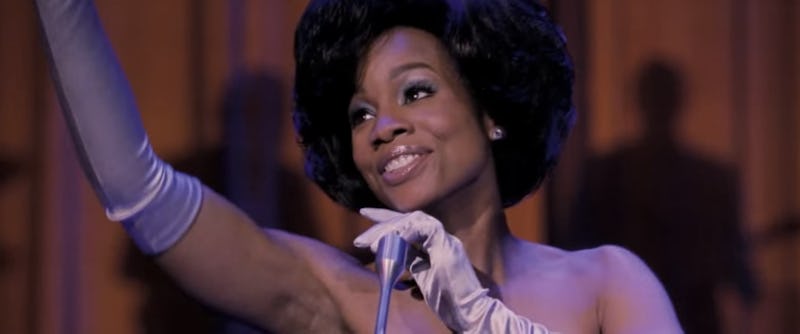 Movieclips/Youtube
"And I am telling you: I'm not going." This line from Dreamgirls, which turned ten years old in 2016, was made famous by a still-green Jennifer Hudson and is perhaps the definitive line from the movie musical. Dreamgirls is a loose adaptation of the lives of Diana Ross & the Supremes, following the fictional lives of Deena, Effie, and Lorell from their early years as an aspiring girl group in the '60s through the highs and lows of musical success in the latter half of the 20th century. While Deena and Effie get the meatier storylines, it's Lorell's that interests me the most, especially when revisiting Dreamgirls. Her story, the one the film instructs us to not care as deeply about, is probably one of the most compelling in the film.
Lorell's Dreamgirls storyline is naturally tied into the fates of Deena and Effie, but driven by the power of dreams and dreams deferred. She is portrayed a classic third wheel stereotype — too emotional, too silly, and pushed to the side — so that the majority of the emotional arc of Dreamgirls can be given to the loud and proud Effie or the quietly ambitious Deena. She risks being sidelined even further with familiar narrative beats rooted in cheap melodrama. It's a shame because Lorell's story is maybe the most relatable and realistic of the three. It's her story that rounds out Dreamgirls into a relatively realistic portrait and arguably makes her the unsung hero of the film.
Lorell is immediately established as a third wheel in the opening sequence when the Dreamettes — Deena, Effie, and Lorell — take the stage at the talent competition. While they didn't win the prize money, they did catch the eye of Curtis Taylor Jr. He offers the Dreamettes a chance to sing for Jimmy Early and its this news that makes Lorell squeal with delight.
Her inability to contain her glee, in comparison with the cooler reactions from Deena and Effie, is meant to show that Lorell is meant to not be taken as seriously as her fellow Dreamettes. I contend that this reaction, following Deena's earlier line that Lorell has been singing since she was 12, betrays Lorell's excitement as finally (finally!) getting a serious break. Wouldn't you react the same way?
Even more irksome about the way Lorell is used in Dreamgirls is in her relationship to Jimmy Early. First, she is a virginal, squeaky clean young woman who is all but presented to a smitten Jimmy on a silver platter. As the two begin an extramarital affair during the time the Dreamettes are on the road with Jimmy, it becomes clear the Lorell is not only tertiary to the Dreamettes, she is simply a love interest to Jimmy.
Now, here's where it gets interesting and why you should pay attention to Lorell. She's being set up as a background character but she is legitimate character. We know her hopes, her dreams (no pun intended), and we understand who she is. Just because she is a third wheel in the Dreamettes doesn't mean her story is any less important than Deena or Effie's. If anything, watching her remain consistent and true to her singing career, despite the drama spilling out of Effie's life and into the group or Deena's sudden solo ascension to fame, reminds us that there is merit in steadfastness even if it means you don't get as bright a spotlight.
Lorell is put through the emotional wringer, with the final nail in the coffin being Jimmy's aversion to marriage despite an eight-year relationship and his drug addiction which ate away at Lorell's personal life. Her devotion to Jimmy is an extension to her devotion to the Dreamettes; both things are made to chip away at her confidence but she remains unshakeable. Her dreams are too important to be dashed.
In an odd way, the fictional lives of the women of Dreamgirls mirrors the real-life trajectories for each of the lead actresses. Hudson, a relative unknown, jettisoned right to the top after playing Effie earned her an Academy Award for Best Supporting Actress. Her career has leveled off and now balances motherhood with musical roles, such as the recent Broadway hit The Color Purple and Hairspray Live!, much the same as Effie did once she left the Dreamettes. Beyoncé's work as Deena was a breakthrough role after previous appearances in made-for-tv movies like Carmen: A Hip Hopera and comedies like The Pink Panther. Her success in Dreamgirls capitalized on her decision to go solo and, like Deena, remove herself from the musical group that made her famous: Destiny's Child. She is now one of the most lauded and recognizable celebrities in the world.
But it is Anika Noni Rose, a.k.a. Lorell, has remained quietly steadfast in her career. Her career began on Broadway, where her work in the musical "Caroline, or Change" won her a Tony Award for Best Performance By a Featured Actress in a Musical in 2004. She switched between theater, film and television, getting supporting roles in From Justin To Kelly and Hack before her big Dreamgirls break. Since then, she's maintained a quiet career with roles in Disney's The Princess and the Frog, For Colored Girls, and Bates Motel.
All of this is brought forward to say that the most powerful part of the Dreamgirls story and history alike are the stories of the fictional Lorell and the real-life Rose. Both women stayed in their chosen career paths, worked tirelessly, delivered standout work, and thus, deserve the spotlight that has somehow been delegated to another star. They are both unsung heroes and it's time, ten years on, that we recognize that Rose's performance as the third wheel Lorell in Dreamgirls is anything but third rate.