In The Bustle Booth With Alli Webb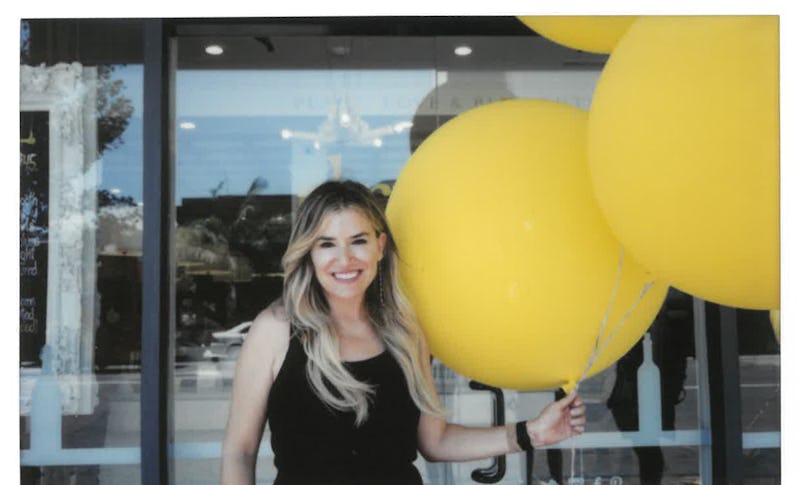 When celebrities hang out with Bustle editors, we want to give them the chance to leave their mark. Literally. So we hand them a pen, a piece of paper, a few questions, and ask them to get creative. The rest is up to them. This time, Alli Webb is leaving her mark in the Bustle Booth.
Alli Webb may not have invented the blowout, but she might as well have. Before she founded Drybar, you'd be hard pressed to find a salon where you could simply just get your hair blow dried and styled — no cuts, colors, or intricate braids and bobby-pinned updos involved. In fact, before 2010, unless you were a hairstylist, you probably had never even heard of the term "blowout." Now, 90 stores (by the end of 2017) and a line of products later, you can't walk down the beauty aisle without seeing the word attached to a styling cream or hair dryer. And while she doesn't own the term, blowouts have become synonymous with Drybar. And it's thanks to Webb that millions of women across the country can transform their frizzy, disheveled locks into a smooth and shiny 'do in a pinch, whether it's before an event, in the middle of a workday, or a weekly weekend ritual.
But there's more to Alli Webb than her blowout bar empire and her entrepreneurial mind. Webb is sweet, friendly, and beautiful in person — her demeanor is as bright, bubbly, and fun as her yellow-colored salons are. She loves a good jumpsuit, spending time with her husband, two sons, and dogs, and in another life, she would've been a country songstress (after all, she's got the hair for it).
To learn more about the Drybar founder, like what her favorite emoji is and what her superpower would be, check out her Bustle Booth below.