In The Bustle Booth With Evan Bass & Carly Waddell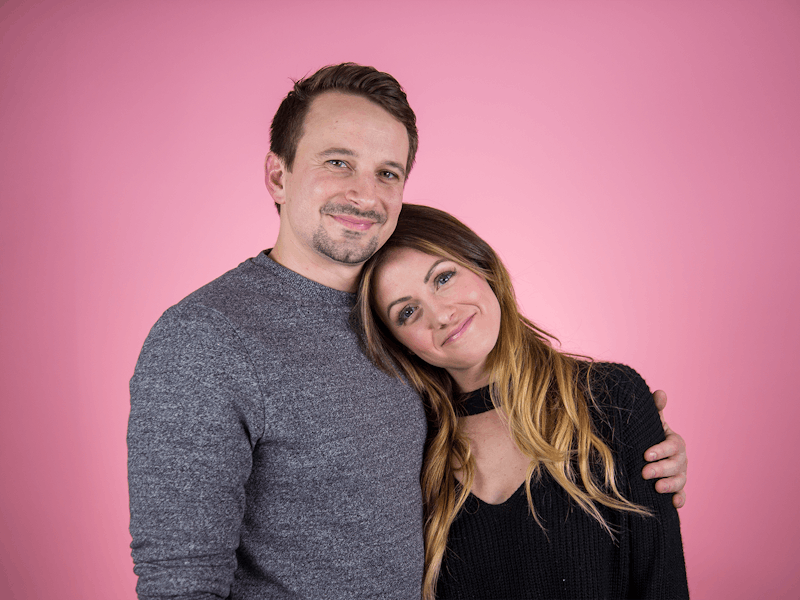 Kenny Suleimanagich/Bustle
When celebrities come into Bustle HQ in New York, whether it's for a photoshoot, videoshoot, or a Facebook Live, we want to give them the chance to leave their mark. Literally. So we hand them a pen, a piece of paper, a few questions, and ask them to get creative. The rest is up to them. This time, Bachelor in Paradise couple Evan Bass and Carly Waddell are leaving their mark in the Bustle Booth.
When Carly and Evan got together on Bachelor in Paradise Season 3, it truly was a shock to most fans. While it was clear that Evan liked the former Bachelor star, Carly didn't seem as interested. But, over time, the pair fell deeper in love with each other and made it off the show with a shiny Neil Lane engagement ring and a well-established relationship. It helps that both stars live in Nashville and were able to start their lives together right away. Or, perhaps they just learned from the best, considering that Jade Roper (of the successful BiP couple Jade and Tanner) is Carly's best friend.
However they managed to keep their Paradise spark going, things couldn't be better for Carly and Evan. Fresh off their engagement last summer, the couple told Bustle during a Facebook Live video that they plan to marry later this year in a "fun and weird" ceremony. Aside from starting to plan their wedding, the couple is chilling in Nashville, where Evan still runs his men's health clinic, and are both chiming in with their thoughts on Nick Viall's season in a weekly column for Bustle. In other words, they're just living the good (and certainly not boring) life together, which they expanded on in the Bustle Booth.