Why A Nuanced Female Role Shouldn't Come Once In A Blue Moon, According To Philippa Coulthard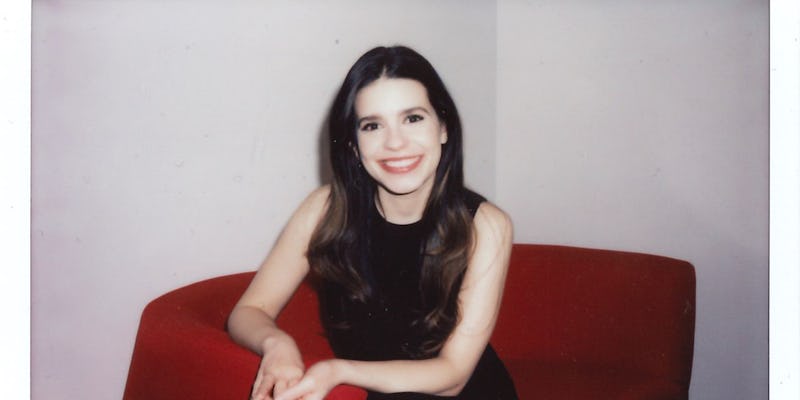 Bustle
When celebrities hang out with Bustle editors, we want to give them the chance to leave their mark. Literally. So we hand them a pen, a piece of paper, a few questions, and ask them to get creative. The rest is up to them. This time, Howards End star Philippa Coulthard is leaving her mark in the Bustle Booth.
This isn't the first press tour for the miniseries adaptation of the E.M. Forster novel Howards End, but Philippa Coulthard isn't over it all yet. The series, which first aired in the U.K. in 2017, made its U.S. premiere on Starz in early April. The on-the-rise Australian actor plays Helen Schlegel (that's the Helena Bonham Carter role in the Oscar-winning 1992 film version), the passionate middle sibling of an intellectual, solidly middle class British family. And traveling back to 1910 was just as pleasurable as bringing the project to the states, it turns out.
"In a lot of ways it is sort of that ultimate dress up," Coulthard says of starring in a period costume drama. "And you might say most [people] growing up wanting to be an actor spent a lot of time in the dress up box."
Taking up residence in Edwardian England was a new experience for Coulthard, who's also appeared on The Catch and in last year's Annabelle: Creation. Fortunately, she had some helpful guides on the trip, particularly Hayley Atwell, who plays elder sister Margaret Schlegel — the sense to Helen's sensibility. Though they had little time to get to know one another before the production began, Coulthard says that Atwell took her "under her wing," mirroring the protective relationship the siblings have in the novel and the series.
"It would have been very easy to have been just hugely intimidated and overwhelmed just by the material itself and, I guess, the pressure of wanting to do these characters justice," Coulthard says. "So I think, from the beginning it felt like that sister dynamic. And I could ask her anything. She's so incredibly down to earth and easygoing."
Coulthard's other connection to the material was to Helen herself. Howards End explores what happens when families from three different classes and economic situations become intertwined with one another — relationships, livelihoods, and even lives are at stake. Helen is the financially comfortable idealist who wants to save the world. And while Coulthard can't identify with her impulsiveness, she does recognize herself in how Helen strives for more.
"I think Helen's so amazing, and I can see in her this sort of restlessness. She's such a capable and intelligent woman, and she feels stifled by Edwardian England and trying to find a meaningful role in the world and make meaningful connections," she says.
Her heart encourages her to make some reckless decisions, but the story doesn't judge her for them. And Helen's frustration with her liberal family may remind you of how you feel watching political debates play out in Facebook comments.
"I think she often judges the way the Schlegels sort of live in the world," Coulthard says. "They spend hours sort of agonizing over injustices, talking about it. And talking is all well and good, but Helen wants to put her words into action. And so I hope I take that on board."
Earning a role as complex and classic as this at this point in her career is a blessing and a bit of a curse for Coulthard. She tells me that the description for Helen alone was drastically different and more illuminating than some of the "awful" ones she's seen for other female characters, "where there's nothing about the actual person — the first five adjectives are purely aesthetic." Atwell emphasized to her costar that characters like the Schlegel sisters come about "once in a blue moon," she remembers. But Coulthard has hope that Hollywood's rampant sexism is on the way out, and thinks the #MeToo movement is already changing the industry for the better. She's thankful for "bravery" of those who've already spoken up about harassment, abuse, and other gender-based issues.
"I am hugely grateful for that because I think we are starting to see a difference, bit by bit," she says.
Her Bustle Booth shows that, in addition to being part of the change, the Howards End breakout is reveling in Nickelodeon and Disney Channel nostalgia, quoting Mean Girls incessantly, and idolizing Emma Thompson (who isn't?).