In The Bustle Booth With Lyrica Okano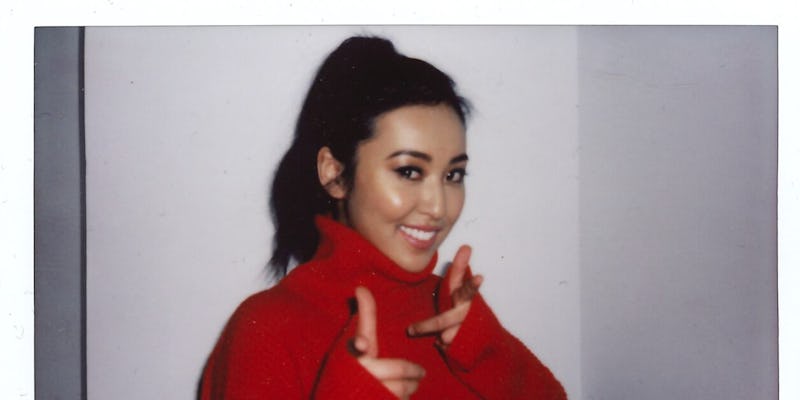 Guillermo Perez/Bustle
When celebrities hang out with Bustle editors, we want to give them the chance to leave their mark. Literally. So we hand them a pen, a piece of paper, a few questions, and ask them to get creative. The rest is up to them. This time, Runaways star Lyrica Okano is leaving her mark in the Bustle Booth.
Fans of Marvel's Runaways series of comic books were on board with Lyrica Okano's portrayal of extraordinary Los Angeles teen Nico Minoru before they'd even seen an episode of the Hulu adaptation. The actor, who also appeared in The Affair, remembers being unexpectedly confronted with the show's existing fanbase when she and her co-stars arrived in New York City ahead of their Comic-Con debut.
"Ginny [Gardner, who plays Karolina], Ariela [Barer, who plays Gert] and I all had pimple cream on our faces getting off the plane because we didn't think anyone would see us," Okano says. "We go to the hotel and there were already people who were really excited about the show there to show support, and we were like, 'OK, we're really lucky.'"
But lucky isn't the word to describe Nico, or anyone in her fractured friend group. At the end of the series premiere, the high schoolers collectively find out that their parents' regular "meeting" is actually a super-villain conference. That disturbing revelation sits on top of Nico's existing grief: The ghost of her sister Amy hangs over her, and caused a rift among the childhood friends.
"She wanted to be exactly like her sister, so when her sister disappeared, she didn't know who to turn to, who to talk to, and it seemed liked her friends weren't down to hang out anymore because things were so awkward," Okano explains. "So the only way she could handle that was to turn inside herself."
The actor, who was also a competitive gymnast in her youth, identifies with Nico's need to express herself through dark clothes, heavy makeup, and exploring the Wicca religion. (All of which — comic book fans know — will pay off in a big way further down the line.)
"As a teenager, I definitely went through all of those emotions of not knowing how to express all these feelings that I had," Okano tells me. "So the only way to do that was by controlling how I looked, pushing people away and having them believe that I was a certain way, even though that wasn't exactly how I was feeling."
The actor hints that Nico is now on a journey to learn how to trust people and open herself up again. The shared trauma of their collective situation is what really bonds the Runaways. After they witness the Pride's sacrifice in the pilot, it's really just them against the rest of the world. They have to trust themselves and each other instead of the people and institutions that are ostensibly there to protect them.
Nico could even emerge as a leader, despite her loner status. Okano believes that her character's tragic history allows her "to understand a whole different range of emotions," and her empathy will guide her. The actor hopes that young fans are inspired by Nico and the show to take control of their futures and form their own opinions about the world.
"You're allowed to confront authority," she says, summing up the series' theme. "You don't have to conform to anything and you're allowed to challenge others and other ideas. And you're allowed to follow your heart."
Her Bustle Booth answers reveal that Okano's heart leads her to the films of Hayao Miyazaki — particularly Princess Mononoke — and away from lattes. Keep reading to find out what else Lyrica Okano is into right now.