Ice Dancers Maia & Alex Shibutani Talk Olympic Pressure & Absurd Internet Rumors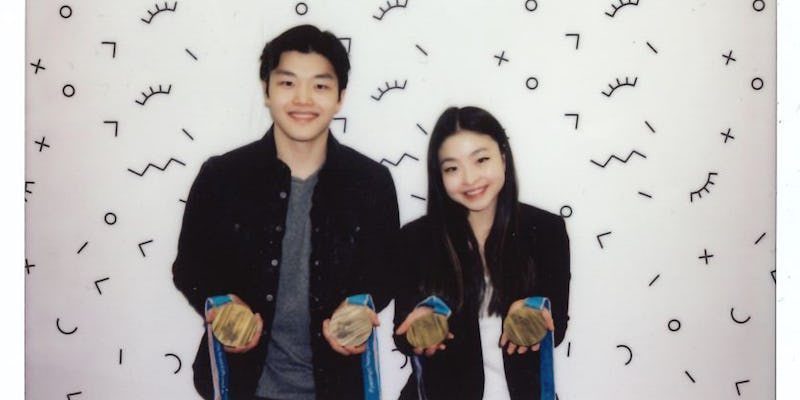 Clare Thigpen/Bustle
When celebrities hang out with Bustle editors, we want to give them the chance to leave their mark. Literally. So we hand them a pen, a piece of paper, a few questions, and ask them to get creative. The rest is up to them. This time, Olympic figure skaters Maia and Alex Shibutani are leaving their mark in the Bustle Booth.
It's just a few days after they returned home from PyeongChang, Korea, and Olympic medalists Maia & Alex Shibutani are reflecting on how different this press tour would feel if they hadn't been as successful at the Winter Games as they were. Fortunately, that's all just speculation, as the sibling team earned bronze medals in both ice dancing and the figure skating team event. Huge achievements to be sure, but what they want you to understand is that those few minutes of competition (and the ensuing celebration) aren't as important as they may have seemed to everyone watching at home.
"Not every athlete has the opportunity to medal at the Olympics," Alex says. "So not everybody gets that feeling of elation standing on the podium, being recognized by the world that you did it. Years from now — 15, 20, 30 years from now — what we're going to remember the most is the feeling we had when we were doing the work."
And work? There's been plenty of that. The Shibutanis have been skating together for 14 years. They advanced to the senior level of competition in 2010, racking up two national championships, three Worlds medals, and a trophy case full of other accolades. Alex and Maia made their Olympic debut in Sochi four years ago — a warm-up that set the stage for their near-flawless performance in PyeongChang.
The experience was different this time around, as expectations for the team were much higher for this most recent Olympics. "Everything in Korea was elevated, the energy at that arena was electric," Maia remembers. She and her brother consider themselves to be fairly unflappable — and indeed, their whole vibe is focused, determined, professional — but "even we felt the pressure," she says.
But that pressure, according to Maia, should be something on which elite athletes of this level — and especially in this sport — "thrive." NBC and its affiliates featured almost round-the-clock coverage of the Games, which included practice sessions and exhaustive expert commentary on competitors, discussing everything from perceived flaws to wardrobe malfunctions to career potential. It's a fishbowl for those three weeks. But that's a part of the deal — and it's more easily accepted when you, as the Shibutanis did, dreamed of competing on this stage as kids.
"What separates skating in a lot of ways is that you are very exposed," Alex says. "You are literally on a white sheet of ice. You are under a microscope. Cameras are everywhere. You don't have a helmet to cover your face. Every reaction you have is dissected, not just in competition, but your body language in practice. It is a real competitive test of your composure and your emotional stability."
Everyone deals with the pressure of the Olympics in a different way, and acknowledging that was a big part of participating in the figure skating team event. (This was the Shibutanis' first year competing as a part of Team USA in that competition.) Figure skating is a solitary sport, for the most part, so competing together with teammates like Adam Rippon and Mirai Nagasu presented new and ultimately satisfying challenges. Each member of the team has their own needs, and those had to be respected.
"Some people like to get pumped up, some people really prefer to be more focused," Alex recalls. Maia adds, "I think we were all aware of being good to each other."
For two competitors who rarely leave each other's side, consideration is a must. But Alex and Maia aren't just competitors. They're also siblings, big dreamers, and watchers of Netflix. Read on to find out which one wants to be a Marvel hero, what's the tastiest meal in the Olympic village, and which summer sport they think they'd dominate.