This New Book Argues That A Clean Environment Is An Inalienable Right — Just Like Free Speech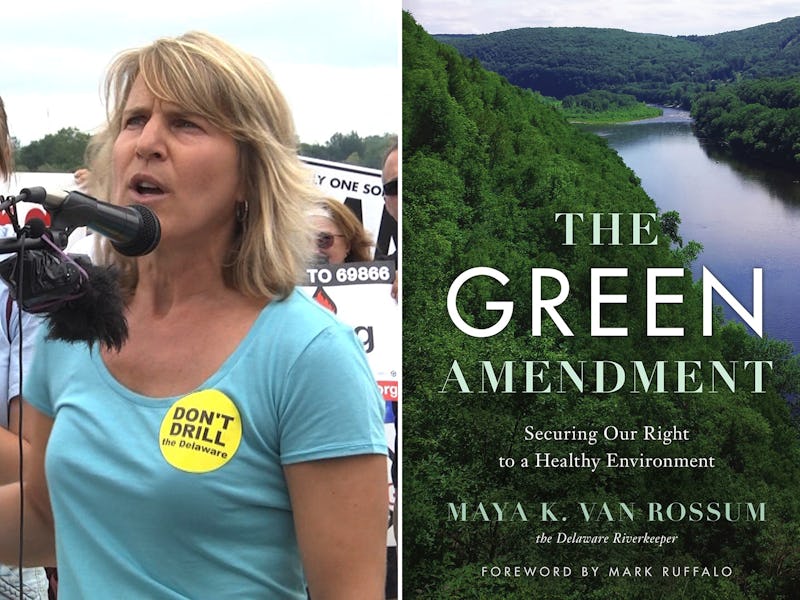 Maya K. Van Rossum, photo courtesy of The Delaware Riverkeeper Network
It's a book that's been called the "next Silent Spring" by actor and clean water activist Mark Ruffalo — The Green Amendment: Securing Our Right to a Healthy Environment, written by environmental activist Maya K. van Rossum and published by Disruption Books on Nov. 14. For those unfamiliar with the activist's work, van Rossum is the Delaware Riverkeeper and leader for the Delaware Riverkeeper Network — a nonprofit organization that works throughout the entire Delaware River Watershed (including Pennsylvania, New Jersey, Delaware, and New York) to ensure the health of the Delaware River Watershed waterways at local, state, and federal levels. She's also a licensed attorney in three states — a benefit when she and other activists have taken the fight for environmental protection off the land and into the courts.
"My parents raised me to be mindful of the environment," van Rossum tells Bustle. "We rode our bikes everywhere no matter the distance. I remember vacations camping in national parks and days spending hours in the forest by my home. Every fall, my mother would collect the trash bags of leaves on the side of the road, because to her, those leaves were a renewable resource perfect for compost. At first, I was embarrassed, but as I got older, I realized picking up those leaves showed me how to be mindful of the way I live on this planet. My mother sparked the environmentalist in me, and to this day I advocate for the preservation of our lands and for the rights of all generations to fresh air, clean water, and a healthy environment. For the past 20 years, I've dedicated much of my time to protecting the Delaware River watershed from the pollution caused by dirty energy."
"At first, I was embarrassed, but as I got older, I realized picking up those leaves showed me how to be mindful of the way I live on this planet. My mother sparked the environmentalist in me..."
In The Green Amendment, van Rossum, outlines her call for "environmental constitutionalism" and details a series of infuriating and jaw-dropping examples of times when the Delaware River Watershed has been under attack, and she's fought everyone from big corporations to policymakers backed by big oil in order to save it. It's a book that will leave readers shocked, angry, enlightened, empowered, and hopeful that by taking van Rossum's seasoned approach, we might start to move towards more progressive, safe, and just environmental protection policy.
The Green Amendment by Maya K. Van Rossum, $17, Amazon
In fact, van Rossum was one of the original petitioners in the Robinson Township v. Commonwealth of Pennsylvania case, in which she invoked a state constitutional protection that guarantees people the right to a healthy environment. It was this landmark case — which declared unconstitutional key sections of pro-drilling legislation — that inspired van Rossum to focus on constitutional green amendments as a way to not only fight the environmental degradation caused by fracking, drilling, deforestation, water pollution, and more, but to use green amendments to strengthen federal environmental protections for generations to come.
"When our organization and a wonder team of attorneys successfully swayed the conservative Pennsylvania Supreme Court to render an opinion that breathed life into the constitutional right of a healthy environment, I realized the potential of green amendments," says van Rossum. "Issued in December 2013, this opinion illuminated the true power of the Constitution to protect people's rights to drink clean water and breathe clean air, and I could see how the decision changed the way people thought about their right to a healthy environment. A strong provision emboldened and empowered people to claim this right."
It's a right that exists, constitutionally, in other countries around the world. In The Green Amendment, van Rossum cites Ecuador and Portugal as examples of countries that have enacted and upheld successful policy at the national level. As a country that likes to consider ourselves at the forefront of things, then, it's amazing that the United States is still so behind in moving towards clean energy.
"Despite the benefits of clean energy, fossil fuel companies and the people who profit from them are incredibly powerful, both politically and financially. As a result, our laws are written to advance dirty energy and impede clean energy solutions," says van Rossum. "This is especially true in the case of pipeline regulation. The Federal Energy Regulation Commission (FERC) has a notorious reputation for abusing their authority and siding with the industry it was designed to regulate. In the past 30 years, FERC's only declined one pipeline project. Unless energy's flow of money into the pockets of politicians subsides, our country will never fully embrace the potential of clean energy."
"...our laws are written to advance dirty energy and impede clean energy solutions."
But — as so many of us observed during the last presidential election — there are cultural hurdles to overcome in our country as well. When even fellow citizens are rallying to reopen coal mines and cheering over reductions to the EPA, taking the fight to the federal level might seem daunting. I ask van Rossum about this.
"The incredible biases of our legal and political systems are the biggest obstacles to a clean and healthy future. Yet to upend these dangerous structures and ensure protections for the environment, we will need to re-examine our culture of indifference and learn how to build a coalition of environmentalists that understand why protecting the environment now and for the future is so important," she says. "My work has shown me this is possible. Although we're in a precarious place with our environment, the culture is changing, people are getting active and understanding what we need to do to build a sustainable future. I believe this culture change will create better laws and better decisions that ultimately lead to a better, healthier future for generations."
Too often, the conversation around climate change exists at one of two extremes: it's "a hoax" or it's already too late to make any real change. But throughout The Green Amendment, van Rossum writes about the power of "starting with local communities [and] building momentum" and "incremental change." I ask her why she remains hopeful that starting small will make a difference — and also why these messages of hope and citizen empowerment aren't a more regular part of the conversation around environmental protection.
"The global climate change we are experiencing is scary," she says. "That fear can be isolating and limiting. When combined with the false messages of polluters and fossil fuel companies, change seems impossible. This is made even worse when industries, empowered by ineffective laws, can disrupt entire communities, endangering their livelihoods, their homes, and their lives. Still, the work of an environmental activist is one of ending these false narratives to show people the power they possess to reshape their communities. I've seen that this is possible, but it means starting small. It means showing people how they can organize to protect their land, their schools, their water, and their homes. It means showing people that they do have a right to clean water, fresh air, and a healthy environment."
"If I and others aren't willing to stand up and fight for these natural resources then they don't stand a chance because they don't have a voice in our human world if we don't give them one," she says.
She also describes staying inspired by connecting directly with nature herself — and it's a connection she recommends for anyone, especially those looking to make a difference in their own communities.
"Connecting with nature increases our capacity to learn, improves our health, reduces stress, and provides an opportunity for us to better connect with family and friends," she says. "Supporting local parks and ecotourism can strengthen local economies, and seeking time away from our polluted cities helps protect and heal our bodies. Yet as unhealthy environments become more prevalent and as technology increasingly keeps us indoors, many are simply unaware of what is happening just outside their windows. We need to not only encourage people to spend time in nature; we also need to show the difference between a healthy environment and invasive ecosystems. This means making time to walk through our neighborhoods, read a book on our porches, explore the beauty of a sunset, or experience the thrill of getting up close to a bird or butterfly. Cherishing these moments and realizing what our lives might look like without them is key to improving our understanding and advocacy."
The activist also says she draws strength from her lifetime of work with local communities.
"The hope and strength that comes from the communities I work with when they realize their own power is truly remarkable," she says. "There is nothing like working with a community who thought they were at the mercy of others but learn that they can rise together to secure meaningful change. It is amazing to watch the transformation that comes from people learning about the issues they are facing. Whatever the outcome of that battle, I know we have built a community of informed advocates who will no longer sit back and take environmental degradation as a foregone conclusion, but will rise up again and again to defend nature and their own communities from harm."
"This work is empowering, and when it's done, it can change our lives on the local, state, and national levels," she says.
She's also got plenty of tips for anyone someone who cares about protecting the environment — and she shares even more in The Green Amendment.
"Taking the time to learn about one issue in your community and voicing your opinion is a great first step," she recommends. "Read the local news or talk to your neighbors to identify that one environmental concern in your community that resonates with you. It might be a proposed pipeline crossing, a new development project, or a stream that's being overwhelmed by trash. From there, take the time to make your voice heard: send a letter to your elected officials or attend a town meeting. Continue to stay informed on the issue and consistently make your opinions heard. If you have trouble speaking in public, going to a meeting simply to sit in the audience in support of others who are willing to step up to the podium is always a big help. By getting involved, even in small ways, you will connect with a community that shares your concerns, and together you can make a change."
"By getting involved, even in small ways, you will connect with a community that shares your concerns, and together you can make a change."
"From there the strength, empowerment, and sense of being a part of shaping a future that includes a healthy environment will grow. You don't need all the facts or the "right" solution for your opinion to matter. I guarantee you, if you're upset, others will be too. Voicing your opinion is important and irreplaceable."