Independent Abortion Clinics Are Under Attack — Here's What You Can Do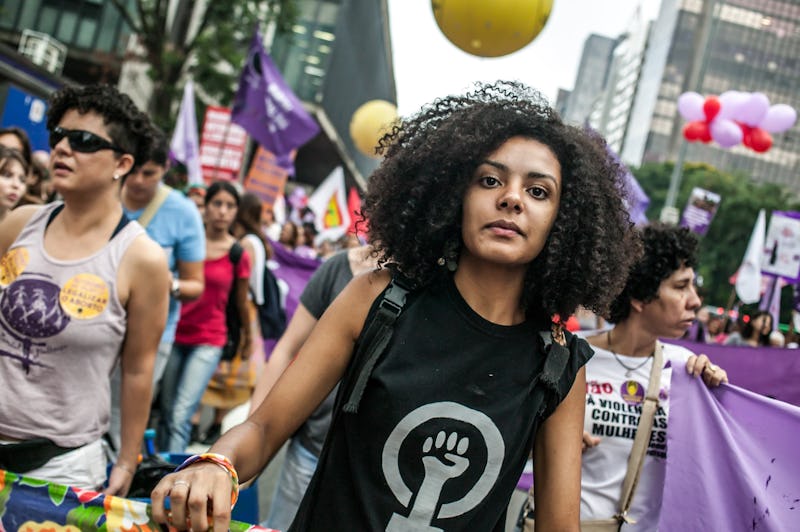 Anadolu Agency/Anadolu Agency/Getty Images
According to a new report released by the Abortion Care Network, the fate of independent abortion clinics is more precarious than ever, despite their vital role in providing the majority of abortion care services to patients seeking abortions across the United States.
Community-based independent clinics — which perform about 60 percent of abortion procedures and provide care to 3 out of every 5 people in the country who need an abortion — have closed at alarming rates in the past five years, according to the ACN report.
Since 2012, 145 independent clinics have closed, due to restrictive anti-abortion legislation, financial pressures, and anti-abortion extremism. This has reduced the number of clinics by about a third. In 2017 alone, 10 independent abortion clinics have already been forced to shutter their doors.
For women in need of safe, reliable abortions, as well as a myriad of other, general healthcare services, the rapid fire closure of these independent clinics can be devastating. "Meaningful access would absolutely not be available without these clinics," Nikki Madsen, executive director of the Abortion Care Network, tells Bustle. "Independent abortion care providers make the right to abortion a reality, they provide the most abortions in the U.S., and in several states are the only place a woman can go to end her pregnancy."
"The way that these restrictions are coming out are specifically with the goal to close clinics, and they have nothing to do with women's healthcare or the wellbeing of women," she adds.
In addition to independent clinics, abortion services are also offered in private physicians' offices, Planned Parenthood clinics, and hospitals. However, independent clinics are unique because they are more likely to provide second trimester abortion care, have deep ties to their communities, and often fill other healthcare gaps, like LGBTQ care and broader women's health services. Abortion care is also significantly cheaper in a clinic than hospitals, which accounts for 4 percent of all abortion services, according to the report.
"Independent abortion care providers are like your local, independent bookstore or family business in your community. They know their neighbors, they care about the people who walk in their doors, and they're focused on meeting the healthcare needs of their local community," Madsen says. "They were founded to provide care when no one else would."
That commitment to the community is obvious at the Feminist Women's Health Center in Atlanta, Georgia. Founded in 1977, the non-profit clinic has provided abortions, as well as a full gynecological clinic with wellness exams, STI and STD testing, and Pap smears, among other services, for decades.
"The need is not going to disappear as the clinics disappear."
However, they have also faced challenges: To receive an abortion in Georgia, a woman must receive state-directed counseling that includes information to discourage her from having the procedure; the parent of a minor must be notified before an abortion is provided, and health plans will only cover an abortion if her health is endangered.
"That legislation passed in 2014, and it not only restricted abortion coverage through market place coverage but also through any state-based, state-employee plans," Kwajelyn Jackson, the Center's Community Education and Advocacy Director, tells Bustle about the health plan constraints. "So, not having coverage for your abortion care is an additional burden on folks who are uninsured, underinsured, and who's plan just counts them out, forcing people to come up with alternative ways to cover the cost of the abortions they need."
In the last six years, states have passed 338 laws that make abortion care more difficult to access, according to the report. These regulations comprise of Targeted Regulation of Abortion Providers laws, or "TRAP" laws, which place burdensome, hazy requirements on providers, with standards often impossible to meet.
For instance, in 2013, a HB2 law passed in Texas required facilities performing abortions in the state to meet expensive, hospital-like standards, like minimum sizes for rooms and doorways, as well as a requirement that providers have admitting privileges at nearby hospitals. While the law was ultimately overturned by the Supreme Court in the 2016 case of Whole Women's Health v. Hellerstedt, on the grounds it imposed an "undue burden," on women seeking an abortion, it still resulted in the closure of half of Texas's clinics, due to the overwhelming financial barriers involved with reopening a clinic.
"Just the fact that these restrictions are imposed is outrageous," says Rachel K. Jones, principal research scientist with the Guttmacher Institute, a research and policy organization committed to advancing sexual and reproductive health and rights. "And I think independent clinics have a harder time implementing them or meeting them because they don't have this pool of money."
Jones highlights that while Planned Parenthood is a brand name with a large network and resources, independent clinics often struggle to obtain name recognition or institutional support. This can make it especially difficult to fight against burdensome laws.
"The climate of the local, state, and federal policymakers has made it very challenging, but what I try to focus on is the fact that our communities tend to feel otherwise," Jackson says. "We know that, through conversations we're having on the ground, that most of the folks we engage with are really supportive of the work that we do and want us to continue to be able to exist and provide safe, quality care to people."
She says that if the Feminist Women's Health Center was forced to close, the impact would be noticeable across the entire region, especially since so many of their patients travel to Atlanta from other states for second trimester abortion care, or 14 to 23 weeks after the last menstrual period.
Across the country, the majority of clinics providing abortion care after the first trimester are independent — without these providers, access to an abortion after 16 weeks would decline by 76 percent, while access after 19 weeks would be "nearly non-existent," according to the report.
"The need is not going to disappear as the clinics disappear. And so, if one of the clinics in Georgia cease to exist, we could see a ripple effect across the whole Southeast," Jackson tells Bustle.
Madsen encourages folks to reach out to their representatives and legislators about the importance of independent abortion clinics, whether that be via phone call or email. She also says it's crucial to physically support their local clinics — through volunteering, raising awareness among friends and family, or even throwing a fundraiser in the neighborhood.
"These clinics have been so committed to their communities and I think anytime their community shows their commitment back to them, they're so grateful," she says, pausing to add, "Communities need these clinics, but these clinics need their communities too."