Indie Abortion Clinics Play A Huge Role In Reproductive Care — But They're Struggling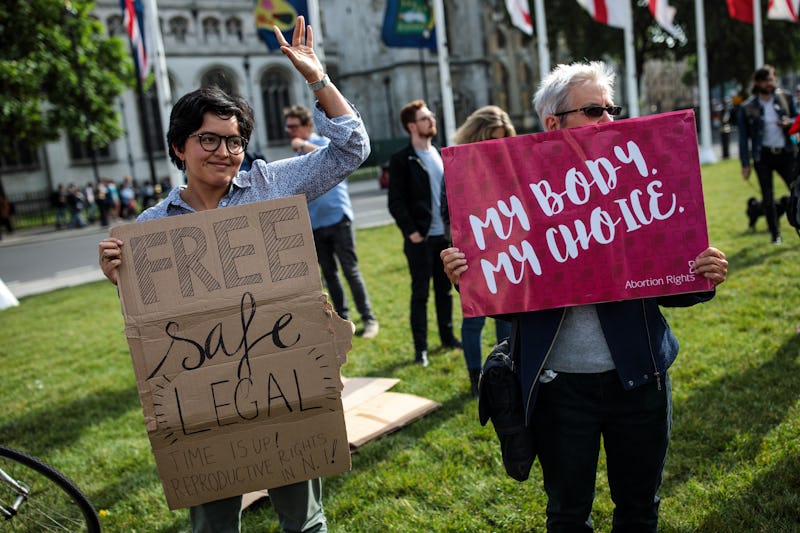 Jack Taylor/Getty Images News/Getty Images
Although abortion care conversations often center around large, nationwide providers, there is a class of determined, smaller clinics in the United States, some of which have been around for more than three decades. These independent abortion clinics provide most abortion services in the United States, according to a new report released by the Abortion Care Network (ACN), and experts say they also tend to provide a wider array of options for their patients. But according to the ACN, which collects data on these providers, they're also struggling to stay open.
"Independent clinics are community based, locally owned," Amy Hagstrom Miller, CEO of Whole Woman's Health — which won a major Supreme Court case — tells Bustle. "They're usually owned by a local doctor just like a medical practice. And so the doctors... They're more sort of like regular, normal health care providers."
About 60 percent of people who have abortions receive that care from an independent abortion provider, according to the ACN report. That, Miller explains, is because they function much like any other medical practice. A patient, she says, "goes to the health services at her university. Or, she goes to the health department and says 'I'm pregnant and I don't feel ready to continue the pregnancy.' And either they provide the service themselves or they're going to refer her to someone in the community."
According to experts like Miller, these providers are also more likely to provide a wider array of options for their patients. That might mean that a patient at an independent clinic has the option of choosing between surgical or medically-induced abortions, Miller says, or it may mean that the clinic provides later-term abortion care.
But, she says, it can be a tough business to keep up with. According to the ACN report, the total number of independent clinics in the United States has decreased by almost 28 percent since 2012.
Miller points to three main challenges for independent providers: Stigma surrounding abortions in general, regulations that make care more expensive, and insurance limitations. Indeed, one of the key conclusions that the ACN report drew is that independent providers need all the help they can get, in volunteer manpower as well as financial donations.
"Independent clinics typically pour every cent they have into patient care and rely on donors to support any additional work they do in their communities," the report stated.
But, Miller says, most of the issues independent providers face come back to stigma.
"The overarching road block is the stigma that surrounds abortion in this country," Miller says. "Stigma is manufactured by our opposition and used as a tool to push people who provide abortions outside of the medical mainstream, so we're thought of as 'outside' or 'other than.'"
She points to the tendency for people to refer to abortion providers as "abortion doctors" rather than as simply "doctors" as an example. But, Miller says, independent abortion providers carry on in the face of these challenges because they care deeply about their patients, which she says is also one of the reasons they tend to have more abortion options available.
"Most people who [perform] abortions have a social justice or human rights commitment," Miller says. "[Performing] abortions is very challenging... There's so much political interference and stigma around the issue that anyone who's going to decide to offer this care in a community has to be really passionate about feeling like this is what justice looks like."
And that passion translates into high-quality patient care, according to Nikki Madsen, executive director of the ACN. She tells Bustle that independent community abortion providers give patients more autonomy over their medical decisions, largely because they have a clearer understanding of what their patients are looking for.
"The ability to choose the type of health care you want and be able to decide whether a medical or surgical abortion is the right type of care for you is core to our values as health care providers," Madsen says. "And I think it's important to acknowledge that independent providers are really providing the care that their communities want and need."