Indiana Republican Suggests Women Learn "How Not To Be A Victim"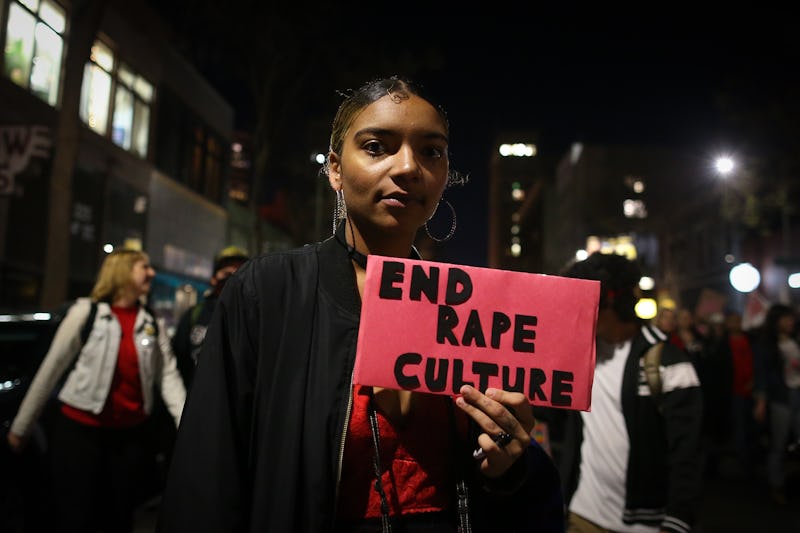 Elijah Nouvelage/Getty Images News/Getty Images
A Republican legislator who implied women could prevent rape if they learned "not to be a victim" still doesn't seem to understand why critics are outraged by his remark. In a Facebook post published Saturday, Indiana state Rep. Jim Lucas claimed he'd been "publicly excoriated" for suggesting women "empower themselves to mitigate their chances of being violently assaulted" after people "twisted" his choice of words.
Lucas became the target of heavy criticism earlier in the week after he shared a letter — penned on paper embossed with the official seal of the State of Indiana House of Representatives — that he had sent to a local reporter regarding an article about a sexual assault survivor. "It would be nice to see a follow up article about the thousands of Hoosier women that are taking steps and learning how not to be a victim," Lucas wrote.
Almost immediately the post began to draw comments from those outraged over Lucas' offensive implication that the responsibility of preventing rape somehow falls to women rather than would be perpetrators. The state legislator was also accused of using rape to further his pro-gun agenda.
But Lucas doesn't appear to understand what all the fuss is about. In what appears to be more of a "sorry, not sorry" type of apology post published to his Facebook yesterday, Lucas said he was "absolutely amazed at the level of hatred" he'd received over the letter.
"I used the word 'victim,' which has been used for centuries and has a plainly worded dictionary definition and was used in the headline of the IndyStar, yet I was branded as 'victim blaming,' he wrote in the post.
While the word "victim" may indeed be a word found amongst the pages of any dictionary, it's Lucas' use of the phrase "learning how not to be a victim" and his implication that women wouldn't be raped if only they'd just stop being victims. It's not enough to say, as Lucas did, that rape "is an evil, horrible crime." We must also stop placing the burden of responsibility and prevention on the women who are attacked but rather turn our attention toward combatting the culture that creates rapists and sexual predators to begin with, a concept Lucas doesn't quite doesn't to fully understand.
"People are demanding that we educate boys and men about respecting women and teach them that rape is bad," Lucas said. "Yet this episode shows how those who do try to discuss this sensitive issue can have their words twisted and get attacked."
The simple truth of the matter, however, is that people shouldn't have to demand that boys and men be taught to respect women or that rape is not OK. Teaching young men to respect women should not be a debatable topic.