Indiana University Is Barring Athletes With A Record Of Sexual Violence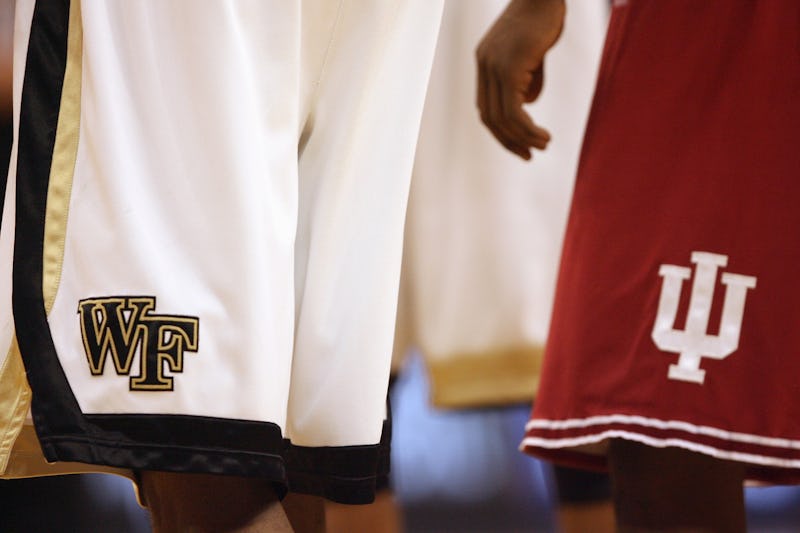 Streeter Lecka/Getty Images Sport/Getty Images
Indiana University just took a proactive step in ensuring all college students are protected on its campus: The Big Ten school has announced that it will not accept any student athletes with a record of sexual or domestic violence. The policy defines prohibitive behaviors as "dating violence, domestic violence, rape, sexual assault or sexual violence as defined by the Indiana University policy on sexual misconduct."
Athletic Director Fred Glass is being credited as a major driving force behind the new policy. The Southeastern Conference (SEC) made significant changes to its requirements in 2015, installing a ban on transfer student athletes who have a past record of "sexual assault or domestic violence." But Indiana University is part of the Big Ten, and that conference has delegated the decision of acceptance standards to individual universities. Glass responded with proactive vigilance, briefing his staff on what the proper protocol would be, should sexual assault become an issue they were faced with. Referencing the horrific sexual assault allegations at Baylor, as well as other incidents, Glass outlined his expectations for how his team would handle any similar situations.
Other organizations had input on crafting this policy, including the Office of Student Welfare and Title IX, and IU's Student-Athlete Advisory Committee.
The move comes at a time when sexual assault on campus at the hands of athletes is in the national spotlight. Last year, allegations regarding a sexual assault scandal at Baylor University dominated coverage of the school, resulting in the ousting of former head coach Art Briles, as well as Baylor's president at the time, Ken Starr. According to Patty Crawford, a former Title IX coordinator, '"hundreds of women came forward with stories of rape, stalking, harassment, or assault" during the two years she handled those claims.
Baylor eventually hired an independent law firm, Pepper Hamilton, to investigate the football program and its response to accusations made against its student athletes. The firm stated in a court filing:
The football program was a black hole into which reports of misconduct such as drug use, physical assault, domestic violence, brandishing of guns, indecent exposure and academic fraud disappeared.
Earlier this year, Tracy Claeys, head football coach at the University of Minnesota, sent a tweet in support of players who had boycotted games because 10 of their teammates were suspended on suspicion of sexual assault. That tweet led to Claeys getting fired. But it reinforced the perception that college athletes and their coaches often seem unserious and unconcerned about crimes against women.
The proactive move on the part of IU's Fred Glass is therefore all the more necessary and welcome. It demonstrates that not all athletic programs are alike, and not all coaches are willing to sacrifice the potential safety of female students in the name of winning. And sadly, that's not something you see every day.