India's Growing #MeToo Movement Just Took Down A Top Politician In The Country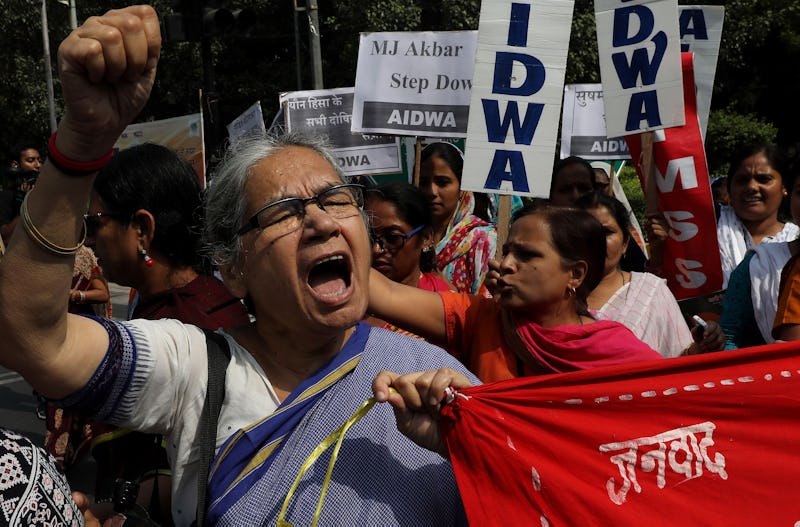 RAJAT GUPTA/EPA-EFE/Shutterstock
A reckoning with against sexual misconduct is picking up steam in India. After being accused of sexual harassment by more than 12 women, India's minister of external affairs, M.J. Akbar, has resigned from his post, launching a defamation lawsuit against one of his accusers in the process, according to The Washington Post. He is widely considered to be the most high-profile person India to leave a job over India's growing #MeToo movement.
Akbar has denied all allegations against him. "I deem it appropriate to step down from office and challenge false accusations levied against me," he said in a statement, according to NPR.
In his statement, Akbar explained his decision to resign, pointing to the "personal" nature of the allegations. "Since I have decided to seek justice in a court of law in my personal capacity, I deem it appropriate to step down from office and challenge false accusations levied against me, also in a personal capacity," he said, per the Post. Bustle has reached out to the Ministry of External Affairs for comment.
The woman Akbar is suing is journalist Priya Ramani, who claims that the minister sexually assaulted her in his previous job as a newspaper editor at The Asian Age. Several other women who have levied accusation against Akbar also say that their assaults took place when he worked in the media, per the Post.
Defamation can be a criminal offense in India, and can even result in jail time, the Post reports. Akbar currently has as many as 97 lawyers working for him in his suit against Ramani, according to The New York Times.
On Tuesday, 20 additional women journalists came forward via a public statement, writing that they were willing to testify against Akbar. They insisted that "Ramani is not alone in her fight," according to a copy of the statement published on Indian news outlet News 24x7. They continued:
What Mr. Akbar has demonstrated through his legal actions is his refusal to introspect, acknowledge or atone for his actions that have caused immense pain and indeed harm to many many women over the years. He himself, in the meanwhile, continues to enjoy enormous power and privilege as minister and Member of Parliament.
When Ms. Ramani spoke out against him in public, she spoke not only about her personal experience but also lifted the lid on the culture of casual misogyny, entitlement and sexual predation that Mr. Akbar engendered and presided over at The Asian Age.
Ramani had previously described Akbar's alleged inappropriate behavior in an essay for Vogue in October of 2017, in which she addressed an unidentified "male boss." Earlier this month, she said that she was referring to Akbar when she wrote the piece.
Indian Prime Minister Narendra Modi has yet to publicly respond to the allegations against Akbar, nor the budding #MeToo movement as a whole, according to NPR. India's #MeToo movement just began to pick up speed a few weeks ago, according to multiple reports. How the government responds to to the allegations may set an important precedent for any other potential allegations that might arise in the future.