Inspiring Fall Quotes To Post On Social Media When Hashtags Won't Cut It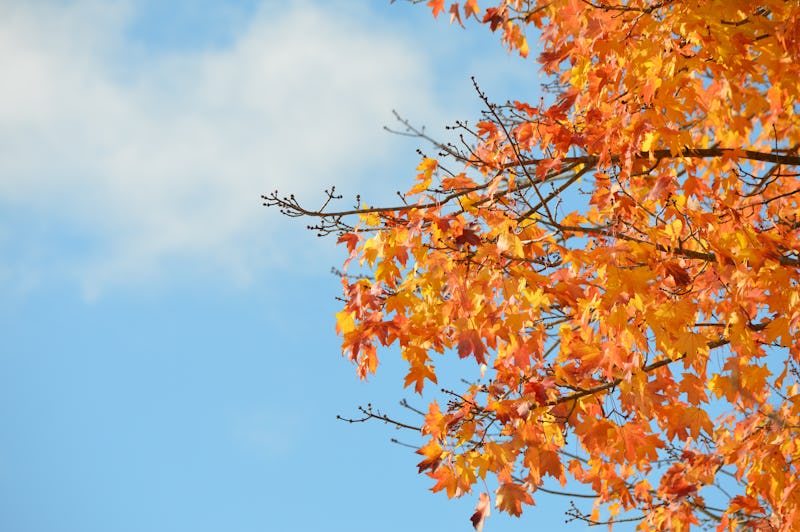 Philippe Gerber/Moment/Getty Images
With Sept. 22 marking the Autumnal Equinox, it's time to start welcoming in the season of fall. In order to help you do that, I've rounded up inspiring fall quotes for 2017 to share on social media. Why? Because everybody will post at least one #foliage photo over the next three months, guaranteed. Really, it feels impossible not to (and like you're doing an injustice to all of your followers... because who doesn't love a good fall photo?).
Hashtags can be fun, but when it comes to describing the beauty of the autumn season, they just don't cut it. Putting the spirit of fall into words can be difficult, which is why these 16 quotes might be of some assistance to you as you're trying to figure out how to caption your perfect, fall photo.
While spring and summer are certainly photo worthy, and the winter is beautiful in its own special way, none of the three other seasons can even come close to comparing to the fall. With leaves bursting from yellow to orange to red all around you, you're going to want to document the next few months in all their aesthetic glory. Fortunately for you, these 16 quotes will help you do them justice once you start sharing them on social media.
1. "Autumn is a second spring when every leaf is a flower." — Albert Camus
2. "I cannot endure to waste anything as precious as autumn sunshine by staying in the house. So I spend almost all the daylight hours in the open air." — Nathaniel Hawthorne
3. "Autumn burned brightly, a running flame through the mountains, a torch flung to the trees." — Faith Baldwin
4. "Summer is already better, but the best is autumn. It is mature, reasonable and serious, it glows moderately and not frivolously... It cools down, clears up, makes you reasonable..." — Valentin
5. "Bittersweet October. The mellow, messy, leaf-kicking, perfect pause between the opposing miseries of summer and winter." — Carol Bishop Hipps
6. "Autumn is the eternal corrective. It is ripeness and color and a time of maturity; but it is also breadth, and depth, and distance. What man can stand with autumn on a hilltop and fail to see the span of his world and the meaning of the rolling hills that reach to the far horizon?" — Hal Borland
7. "Autumn, the year's last, loveliest smile." — William Cullen
8. "A tangerine and russet cascade of kaleidoscopic leaves, creates a tapestry of autumn magic upon the emerald carpet of fading summer." — Judith A. Lindberg
9. "Autumn carries more gold in its pocket than all the other seasons." — Jim Bishop
10. "Every leaf speaks bliss to me, fluttering from the autumn tree." — Emily Bronte
11. "Leaves drift softly earthward toward the grass, Spring and summer blend from green to gold, and so the seasons come full turn and pass, day follows day and each of us grows old. Somewhere there is a bright new shining day, and as these seasons pace and turn, we will live in joy complete and never say that for younger days our hearts still yearn." — Corby Magnuson
12. "Autumn that year painted the countryside in vivid shades of scarlet, saffron, and russet, and the days were clear and crisp under harvest skies." — Sharon Kay Penman
13. "Even if something is left undone, Everyone must take time to sit and watch the leaves turn." — Elizabeth Lawrence
14. "For the Fall of the year is more than three months bounded by an equinox and a solstice. It is a summing up without the finality of year's end." — Hal Borland
15. "I see the turning of a leaf dancing in the autumn sun, and brilliant shades of crimson glowing when a day is done." — Hazelmarie Mattie Elliott
16. "The tints of autumn… a mighty flower garden blossoming under the spell of the enchanter, frost." —John Greenleaf Whittier
Images: Getty Images (3)