Instagram Will Now Show Hashtags Related To Opioid Use To Help People Get Support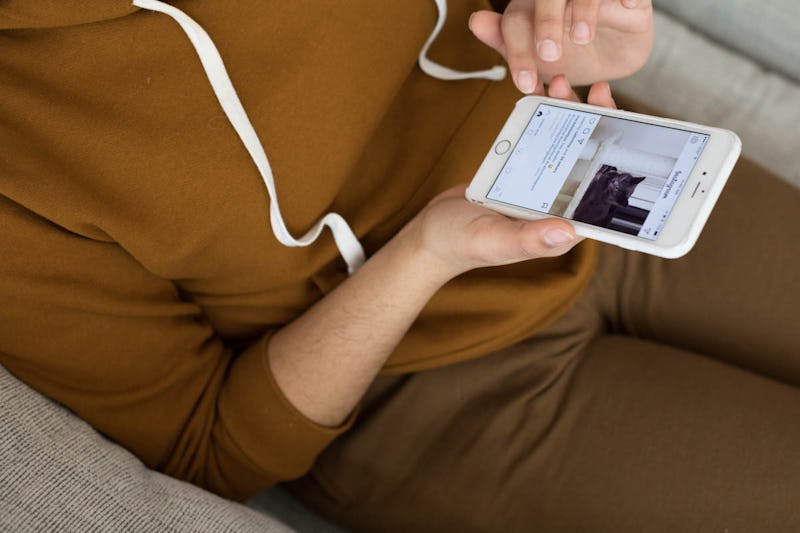 Ashley Batz/Bustle
Instagram has launched a new feature that uses hashtags to provide substance use support services to its community. According to Mashable, now when users search for opioid-related hashtags, Instagram will direct them to get help for substance use, rather than blocking those hashtags. According to BuzzFeed News, when Instagram users search for substance-related hashtags like #opioid or #uppers, they will see a pop-up that reads "Can we help? If you or someone you know is struggling with opioid or substance misuse, find ways to get free and confidential treatment referrals, as well as information about substance abuse, prevention, and recovery." Tapping "Get Support" takes the user to a landing page with information on opioid and substance use, says BuzzFeed, with contact information for the Substance Abuse and Mental Health Services Administration's (SAMHSA) National Help Line.
The platform used to block opioid-related hashtags, says Mashable, because Instagram's rules prohibit users from selling prescription and illegal substances on the app. But many Instagram users use those same hashtags to find and offer support to those affected by opioid use, Mashable reports.
"Keeping Instagram a safe and open place for people to share their daily lives is hugely important to us," Instagram's Head of Public Policy Karina Newton told TechCrunch. "One of the most inspiring things about Instagram is that people can come together to support one another. People from all over the world use hashtags, comments, and more to offer support and find communities who understand the issues they may be struggling with. The opioid epidemic is an issue that affects millions of people, and we want to use our platform to offer resources to those who need it — in the places where they are seeking help. This is an important step for us in our ongoing commitment to make Instagram the kindest, safest social network."
According to TechCrunch, sales of opioids on the platform had been an ongoing issue for the photo-posting community, leading Instagram to block exact-name hashtag searches of substances in April, but that did not deter dealers. Facebook, which owns Instagram, has faced the same challenges with users selling opioids on the social platform, which lead Facebook to launch these same support resources last month, TechCrunch reports. According to The Verge, Facebook also blocks certain search terms to try to keep dealers from reaching the rest of the Facebook community. Now that Instagram has followed suit, says TechCrunch, it's still a matter of combating the drug dealers who bypass the pop-up and continue to try to sell substances on the platform.
CDC data has found that nearly two-thirds of overdose-related deaths in the U.S. involved a prescription or illicit opioid in 2016, BuzzFeed reports. And last year, BuzzFeed says, an estimated 25,000 people died from fentanyl or other synthetic opioid alone. According to CNN, opioid prescriptions are on the rise in the U.S., increasing from 112 million in 1992 to 282 million in 2012. In fact, the U.S. represents about 99 percent of the world's hydrocodone consumption, CNN reports.
Though dealers may still use the hashtags for illegal purposes, it's encouraging to see the platform make an effort to offer support services for people with substance use disorder. These kinds of tools might be the help someone needs with ongoing substance use.
If you or someone you know is seeking help for substance use, call the SAMHSA National Helpline at 1-800-662-HELP (4357).