Instagram's New Tools Let You Make Your Content Accessible To Visually Impaired Folks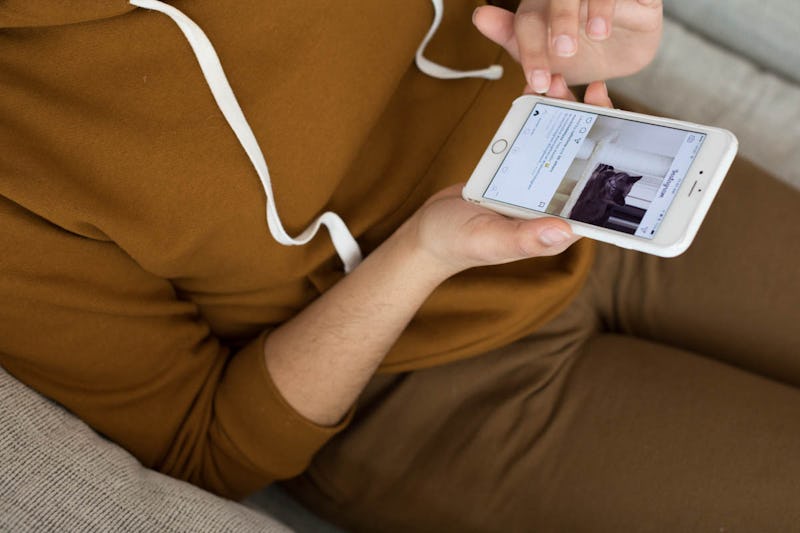 Ashley Batz/Bustle
Picking up your smartphone and browsing social media feeds first thing in the morning is something most people probably take for granted. But for blind and visually impaired users, social media content hasn't always been the most accessible. Starting Nov. 28, Instagram is launching new tools to help visually impaired users access the app, according to a company announcement.
Instagram says it has added automatic alternative text so users can hear descriptions of photos through screen readers when browsing the Feed, Explore, and Profile sections of the app. The feature auto-generates photo descriptions using object recognition technology, according to Instagram. Since it just rolled out, it's hard to say just how accurate those auto-generated descriptions are just yet. But if you want to make sure those photo descriptions are really accurate, Instagram also announced custom alternative text so you can add your own descriptions. Those will also be read by screen readers, giving users a more robust experience on the platform. You can access this by going into the "advanced settings" option underneath your draft.
Instagram isn't the only social platform that is making efforts to make their services more accessible to blind and visually impaired users. Facebook engineer Matt King, who is blind, was recruited to the platform's accessibility team in 2015 and helped launch a photo-description system that has been deployed across all Facebook products. Although Facebook is continually working to improve its accessibility technology, King told Bustle part of the challenge with improving accessibility is that many people don't realize blind and visually impaired people use computers in the first place. King recommends turning on your facial recognition technology to help your visually impaired friends use Facebook, according to Bustle. King also recommends taking a moment to add your own photos descriptions, says Bustle, like "my dog sitting next to me in the car."
Twitter users can also make their visual content more accessible; you just have to enable the feature first, according to The Independent. From either the app or the website, go into settings, then privacy, then accessibility, says The Independent, and then select the "Compose Image Descriptions" box. Now whenever you add an image to a tweet, you'll get an option to add an image description, which is the same as adding alternative text for blind or visually impaired users, according to The Independent. The description text won't appear in your tweet, says The Independent, and it won't count towards your character limit.
"People who are visually impaired will have access to the description via their assistive technology … Descriptions can be up to 420 characters," Twitter wrote in a now-deleted blog post on March 29, 2016, when the feature was launched, The Independent reports. The Twitter Help Center has full instructions on how to activate this feature, showing it is still available and active.
Even if a platform itself doesn't offer accessibility tools, there are ways to try to make social media content more accessible to users. DigitalGov recommends adding captions to photos and videos; indicate whether a link is a photo, video, or audio file so people with screen readers know what to expect; and use common, easy to understand words in your descriptions.
With Instagram's new features, users can choose to let the platform generate accessibility features for them or add it themselves. Either way, the new features will help more people enjoy the platform.