An Intruder Was Arrested At The White House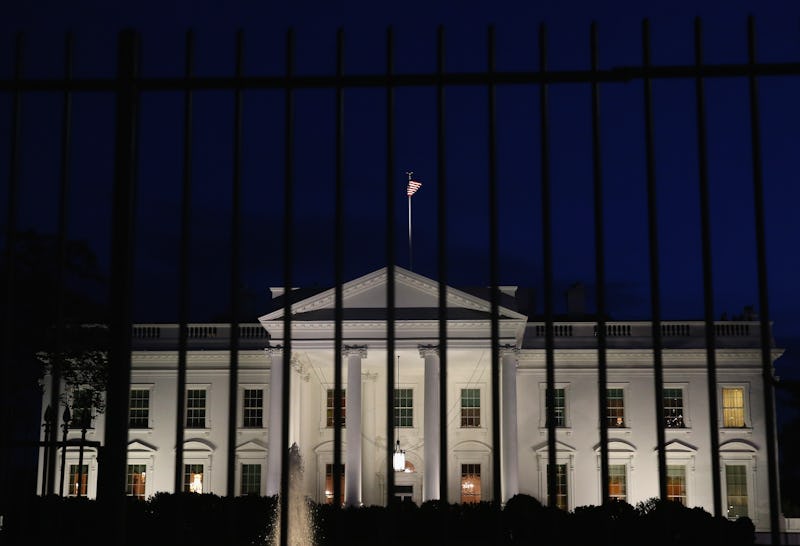 Mark Wilson/Getty Images News/Getty Images
Less than two months after taking office and President Donald Trump is already dealing with his first White House intruder. A man carrying a backpack scaled a fence to gain access to White House grounds and was arrested shortly after midnight on Saturday, according to a statement from the U.S. Secret Service. Although he was in the White House at the time of the intrusion, the president was unharmed.
A male suspect jumped a fence along the northwest courtyard of the Treasury Building late Friday night and gained access the 18-acre White House complex. According to a report from CNN, the intruder managed to stay undetected for an unknown period of time until he was finally discovered by Secret Service agents and apprehended near the White House's south portico entrance.
At the time of his arrest the suspect reportedly claimed to be a friend of President Trump. "No, I am a friend of the president. I have an appointment," CNN reported the suspect told Secret Service agents according to a report from the Washington, D.C., Metropolitan Police Department. The intruder reportedly also told officer he had "jumped the fence."
In a statement to reporters President Trump called the intruder a "troubled person" and thanked the Secret Service for handling the incident. "The service did a fantastic job last night," Trump told reporters prior to a lunch meeting with his Cabinet officials at Trump National Golf Club in Potomac Falls, Virginia. "I appreciate it." The president went on to classify the incident as "very sad."
Although the identify of the suspect has not been made public, a federal law enforcement official told USA Today he had no criminal record nor any prior history with the Secret Service. A routine scan of the intruder's backpack found it did not contain any hazardous materials, according to the Secret Service's statement. It has not been reported whether the intruder was in possession of a weapon or not at the time of his arrest.
The suspect arrested Saturday is not the first person to scale a White House fence. An incident involving an Army veteran armed with a knife in September 2014, for example, led to a series of tighter security measures, including the addition of sharper spikes a top the White House's perimeter fence in 2015. Plans to build a taller fence with "intrusion detection technology" was approved earlier this year. Construction of the new fence is expected to begin by next year, Reuters reported the Secret Service had said.