Betsy DeVos Orders An Investigation Into How Michigan State Let Larry Nassar Happen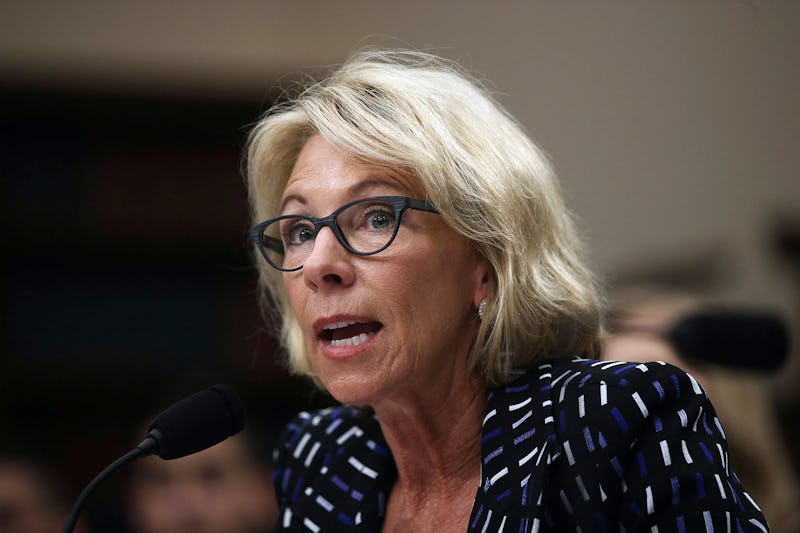 Alex Wong/Getty Images News/Getty Images
Just a month after the former gymnastics doctor Larry Nassar was convicted of sexually abusing his patients for decades, Education Secretary Betsy DeVos announced a investigation into Michigan State University's (MSU) handling of sexual misconduct complaints having to do with the doctor.
"This new Title IX investigation will look at systemic issues in the University's handling of sex-based incidents involving Dr. Larry Nassar," DeVos said in a statement. "Our Office for Civil Rights team will be in East Lansing shortly, where they will join the Federal Student Aid (FSA) team already on site. FSA is currently performing a Clery Act compliance examination regarding MSU's reporting of crimes committed on campus."
(The Clery Act is a federal statute that requires institutions of higher education who participate in federal financial aid programs to track and share campus crime statistics, as well as security information.) DeVos went on to describe the victims as "brave" and to contend that she is committed to combatting sexual assault on college campuses:
The crimes for which Dr. Nassar has been convicted are unimaginable. The bravery shown by the survivors has been remarkable... Every student across every campus should know that I am committed to ensuring all students have access to a learning environment free from sexual misconduct and discrimination and that all institutions that fall short will be held accountable for violations of federal law.
Previously, Nassar worked as a sports doctor at MSU, in addition to serving as the team doctor for U.S.A. Gymnastics (USAG). In January, Nassar was sentenced to up to 175 years in prison for sexually abusing over 260 girls and women throughout the course of his career.
As Nassar's case unfolded over the last year, some victims told media outlets that they had complained about uncomfortable appointments with Nassar, wherein he reportedly digitally penetrated patients under the guise of medical treatment. These victims allege that they told MSU officials about what was going on, but that their complaints were continually ignored. In the trial's aftermath, the university's most recent president, Lou Anna Simon, and athletic director Mark Hollis, resigned from their positions.
Similarly, the entire USAG board of directors also resigned following Nassar's trials. Many of Nassr's victims, over 150 of whom delivered victim impact statements in court, decried what they believed to be a culture of abuse within the organization. They argued that leadership enabled Nassar's ability to abuse them and said that any complaints against him tended to be swept under the rug.
As far as MSU goes, officials say they are well-aware of the Title IX investigation, and plan to comply with whatever transpires.
"As we have been, MSU is cooperating fully with this and all investigations," MSU's vice president for communications and brand strategy, Heather Swain, told The Huffington Post. "Our focus is on taking the actions that demonstrate the voices of the survivors have been heard and on creating a culture that provides a safe environment for all members of our community."
Though DeVos has launched an investigation into MSU, she has also been on the receiving end of criticism when it comes to how colleges handle sexual misconduct complaints. Last September, she announced she was rescinding a series Obama-era policies which directed colleges on how to respond to sexual misconduct reports.
Among the changes, DeVos allowed college administrators to choose the level of evidence they require when investigating sexual assault complaints on campus. Under Obama, schools were instructed to default to the lowest standard of proof, "preponderance of evidence," to decide whether or not an alleged perpetrator should be penalized for sexual misconduct. DeVos allowed for schools to revert to a higher standard.
Critics of the Obama-era policies argued that the system created an environment wherein those accused would be unfairly treated and were more likely to be found guilty. The DeVos guidelines are intended to be temporary while the department reviews public comment on the matter.