Iowa Rep. Says Women Who Miscarry Should Carry Fetus To Term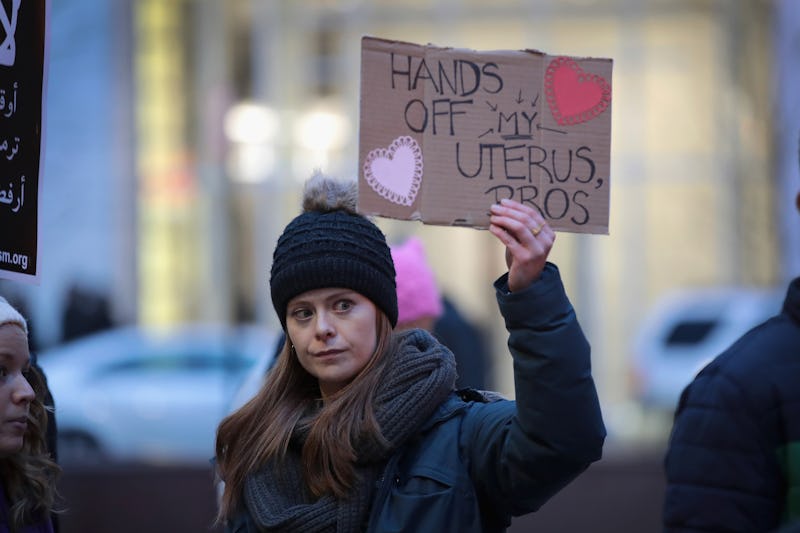 Scott Olson/Getty Images News/Getty Images
Debate over controversial legislation aimed at severely restricting abortion in Iowa took a bizarre turn late Wednesday, when an Iowa lawmaker reportedly suggested that women who miscarry would be required to carry a dead fetus to term under the proposed legislation. Although lawmakers in Iowa quickly scrapped plans to pursue a so-called "fetal heartbeat bill," Iowa's House Human Resources Committee voted to advance a 20-week abortion ban opponents have called overreaching and unconstitutional.
While lawmakers on Iowa's House Human Resources Committee discussed a bill that would ban abortion at 20 weeks prior to a vote late Wednesday, Rep. Shannon Lundgren showed what some have called a complete disregard for women's physical and mental health when she implied that women who miscarry after the 20th week of their pregnancy should continue to carry the dead fetus to term. When asked by Democrat Rep. John Forbes if the proposed legislation would force a woman like his daughter, who is 21 weeks pregnant, to carry a dead fetus to term if she were to suffer a miscarriage anytime after the 20th week of her pregnancy, Rep. Lundgren answered yes.
"Rep. Forbes, this bill wasn't written for the intent to protect or govern on the side of the woman. It was written to save babies' lives," Lundgren is shown saying in video of the House Human Resources Committee discussion. "I would concur that in that instance, if your daughter's life is not in danger, that yes, she would have to carry that baby."
Although none of her Republican colleagues appeared to correct or clarify her statement at the time it was given, Iowa's House GOP has since said Rep. Lundgren "misspoke," and that the bill does allow for the removal of a dead fetus in the case of a miscarriage.
Initially, Republicans in Iowa's House Human Resources Committee had hoped to pass a so-called fetal heartbeat bill, which would ban abortion as early as six weeks from conception or as soon as a fetal heartbeat was detected. Intense opposition to that provision, however, forced them to abandon it only a day after they had been proposed it.
While it's certainly good news that Iowa's proposed 20-week abortion ban actually does define abortion as "the termination of a human pregnancy with the intent other than to produce a live birth or to remove a dead fetus" (meaning it would not require women to carry a dead fetus to term), the fact that Rep. Lundgren appeared perfectly OK with a bill she believed would jeopardize women's physical and emotional health by forcing them to carry a dead fetus to term calls into question the true intentions of the lawmakers backing the bill.