Iowa's Governor Just Signed The Country's Most Draconian Abortion Ban Into Law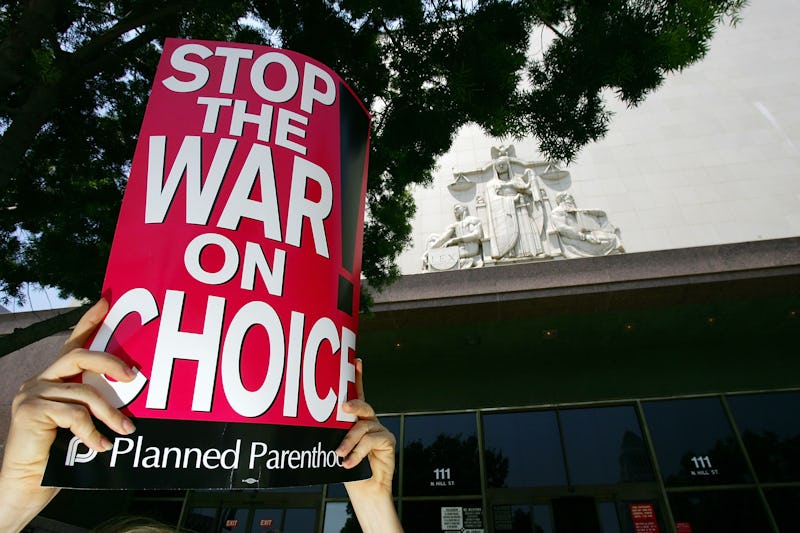 David McNew/Getty Images News/Getty Images
On Friday, the governor of Iowa signed the most restrictive abortion law in the country. The so-called "fetal heartbeat" legislation will effectively ban abortions at six weeks into a pregnancy, making it by far the most draconian abortion law on the books. Planned Parenthood has called the law unconstitutional and, alongside the ACLU, has announced its intention to challenge it in court.
"I believe that all innocent life is precious and sacred, and as governor, I pledged to do everything in my power to protect it," Gov. Kim Reynolds said at a signing ceremony Friday. "That is what I am doing today."
The term "fetal heartbeat" is often used to describe this type of legislation — which has been proposed before at both the state and federal level — but that term is a misnomer. The law bans abortions as soon as cardiac activity is detected in a fetus, which generally occurs around six weeks. But a fetus doesn't possess anything resembling a heart six weeks into its development; rather, it has something called a fetal pole, a millimeters-thick structure that exhibits cardiac activity long before the heart develops.
The law, which will take effect July 1st unless a court challenge successfully halts it, would ban abortions in Iowa before many women even know they are pregnant.
The law passed the Iowa House of Representatives on a 51-46 vote after 10 hours of heated debate, We Are Iowa reports. Every Democrat voted against the legislation, as did six Republicans.
The bill contains exceptions for some — but not all — women who are victims of rape or incest. If a woman is raped and wants an abortion past six weeks, she must report the rape to law enforcement, a public or private health agency, or a family physician within 45 days under the new law. Women who are victims of incest must do the same within 140 days.
In addition, women who have partial miscarriages will still be able to have abortions after six weeks under the new law, as will women whose lives will be at risk if they give birth. Lastly, a woman in Iowa may have an abortion after fetal cardiac activity is detected if a physician determines in their "reasonable medical judgement" that the fetus won't survive.
This isn't the first time Iowa has passed an historically restrictive abortion law. In 2017, then-Gov. Terry Branstad signed a law that banned the procedure after 20 weeks and imposed a three-day waiting period for women seeking abortions. The 20-week component of the law went into effect, but the Iowa Supreme Court placed an injunction against the waiting period as it considers the constitutionality of that provision.
This most recent legislation appears to be headed to court as well. Planned Parenthood of the Heartland, the organization's local branch, and the American Civil Liberties Union of Iowa have both announced their intention to sue Iowa over the new law, with Planned Parenthood criticizing Reynolds for signing a bill "that is so clearly unconstitutional."
"The ACLU of Iowa is proud to be a part of the litigation team that will sue to strike down this clearly unconstitutional law before it goes into effect on July 1," ACLU of Iowa Executive Director Mark Stringer said in a statement. "It's clear, after decades of legal precedent, that an abortion ban at this very early stage of pregnancy is unconstitutional. And supporters of this abortion ban know it is unconstitutional. They have been willing to push it through because their goal is to overturn Roe vs. Wade and ban abortions altogether."
If past is any precedent, abortion rights proponents have reason to be optimistic: In 2013, a U.S. District Court judge struck down a nearly-identical abortion law in North Dakota, calling it "clearly unconstitutional."