Ireland's Abortion Vote Could Save Women's Lives — Here's Why It's Still So Up In The Air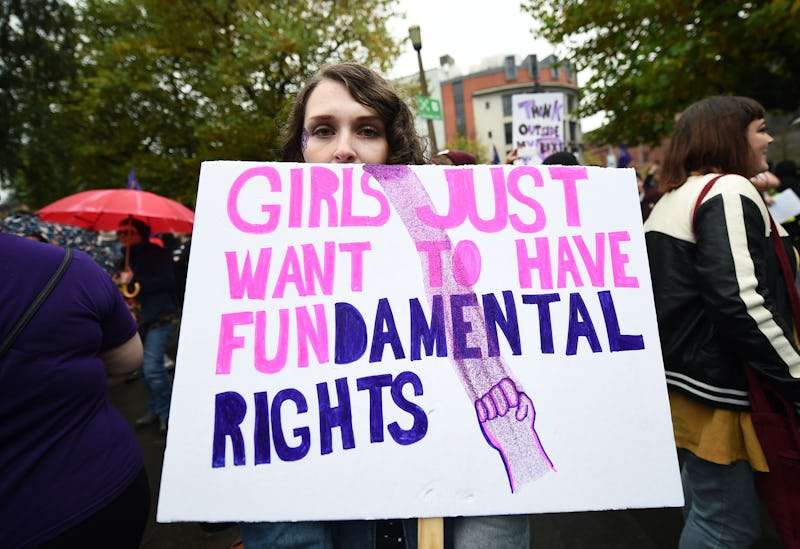 Charles McQuillan/Getty Images News/Getty Images
Ireland is wrestling with a particularly polarizing issue on women's reproductive health care. With only a few days left before it holds its final referendum on repealing its near-total ban on abortion, how Ireland's abortion vote will turn out is completely up in the air.
On May 25, Ireland will conduct a national abortion poll for its citizens to decide whether they support the government repealing its ban on abortion. In Ireland, abortion is almost completely banned with only one exception: If medical physicians deem that the pregnant woman's life is in danger. There are no exceptions made for rape or incest. If the ban is repealed, women in Ireland will be allowed to get an abortion up to 12 weeks of their pregnancies.
For now, according to Politico, the disagreement stems from Irish citizens who think that the 12-week window is too lenient and broad. In January, the Market Research Bureau of Ireland poll found that 56 percent of polled citizens supported the 12-week window. But according to Politico, support for repealing the abortion ban is now "below 50 percent."
That January poll had also found that 29 percent of Irish participants were against the repeal while 15 percent were unsure. Catherine Noone, Irish senator and member of the Irish Fine Gael party, told Politico, "Irish people are naturally very conservative on this issue."
It's hard to say how the vote will go. There's plenty of differences in opinion among Irish citizens on the abortion debate; as Politico reported, there are some Irish voters who think that while a near-complete ban is too restrictive, the proposed 12-week frame is too relaxed.
Earlier this year, Ireland's minister for health, Simon Harris, tweeted that the "referendum to repeal the [Eighth] Amendment will take place on Friday, 25th May. The people will have their say."
Ireland's Eighth Amendment refers to the rule barring Irish women from undergoing an abortion in the country unless her pregnancy poses a legitimate threat to her life. Because of the country's strict stance on abortion access, thousands of Irish women frequently choose to travel to England to gain access to safe and legal abortion services.
The near-total ban on abortion led to protests in 1992, which sparked the "Repeal The Eighth Amendment" movement. The movement later inspired the Abortion Rights Campaign in 2012. After years of protests, last year, the Irish government declared that the a final referendum would be held in 2018.
Those who are against repealing the Eighth Amendment have been just as vocal about their opposition. Síle Quinlan, member of the anti-abortion campaign Love Both in Ireland, told the BBC on Thursday, "Essentially what we're talking about here is removing the most fundamental right to life for all." Quinlan added that it amounts to "handing a blank cheque over to our politicians to legislate how they see fit for abortion. And more than likely if we vote Yes on May 25th we, the Irish people, will never again be asked for our view on the issue."
But those in favor of repealing the Eighth Amendment say that Irish women's futures depend on safe access to abortion. Niamh O'Connor, member of the pro-choice Together For Yes campaign, told BBC, "We have abortion in this country; we have illegal abortion in this country and we have women going abroad. That is health care; they are seeking medical health care."
Ireland will cast its vote on repealing the abortion ban on May 25. For now, O'Connor told the BBC that the current lack of access to safe abortion services in Ireland is "making refugees of Irish women going elsewhere for help."