Millions Of Gallons Of Sewage Are Contaminating Cities Hit By Irma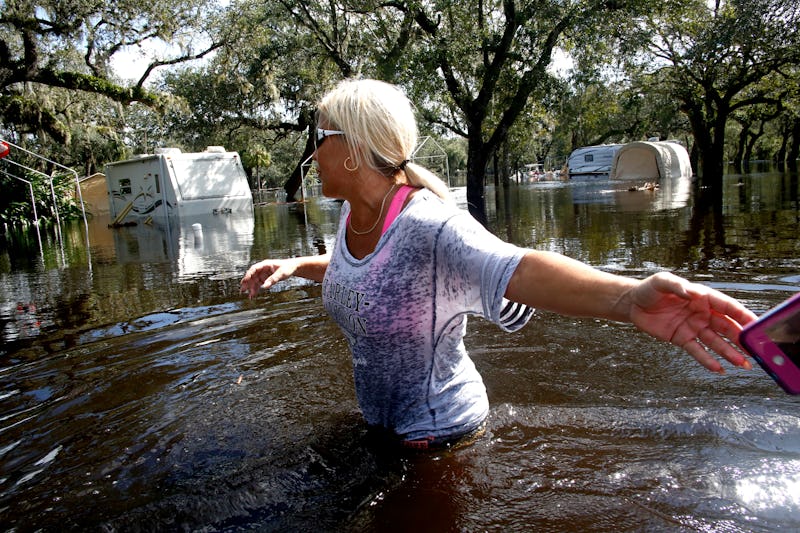 Brian Blanco/Getty Images News/Getty Images
It wasn't just rain and floods: Hurricane Irma also caused massive sewage overflows across Florida, sending human excrement flooding into the streets and presenting a serious health threat to the state's residents.
The state has released at least 113 public advisories regarding the overflows, and collectively, they indicate that at least 28 million gallons of sewage have spilled onto the streets throughout the state. However, that number is almost certainly an understatement. Forty-three of those advisories didn't list an estimate as to how many gallons had leaked, and so the output of those leakages wasn't included in the 28 million gallon total.
On Sunday, a seven-hour power outage at the South District Wastewater Treatment Plant in Miami temporarily disabled the plant's pumps, which resulted in a whopping 6 million gallons of sewage leaking into the streets. A spokeswoman for the plant told US News & World Report that the wastewater had already undergone the majority of the treatment process but hadn't yet been chlorinated. That overflow reached as far as Biscane Bay, a state aquatic preserve.
That was one of the more severe leaks, but other areas of the state had similarly nightmarish experiences in Irma's wake. Two million gallons of waste leaked from a sewer in Seminole County, about 300,000 of which spilled into Stevenson Creek, while there have been "no cleanup efforts" yet after a two-million-gallon leak in Volusia County, according to the New Republic.
Sewage overflows aren't just disgusting to think about, although they certainly are that. They're also a significant public health hazard: Raw sewage can carry dangerous pathogens like E. Coli and salmonella, as well as toxic chemicals that it picks up from roadways.
"Public health is the most imminent threat with these releases," Mary Grant, the director of Food and Water Watch's Public Water for All campaign, told the New Republic. "Contamination of water leads to people being exposed to disease."
The scale of the post-Irma leaks has compelled state and federal authorities to take action. The Florida Department of Health has told residents in dozens of counties to boil their tap water before drinking it, while the Environmental Protection Agency has deployed specialists to the state to help with cleanup efforts, according to Bloomberg.
Although Irma was unusually powerful, it's common for hurricanes to send sewage spilling out of treatment plants and into city streets. In 2012, damage from Hurricane Sandy resulted in an estimated 11 billion gallons of treated and untreated sewage overflowing across six states. Four years later, Hurricane Hermine forced a pump failure in the Florida city of Clearwater, producing a 30-million-gallon sewage overflow. And days before Irma hit Florida, Hurricane Harvey caused at least 80 sewage spills in Texas, according to USA Today.
According to Bloomberg, sewage treatment plants are often built in low-lying areas, so that the wastewater they've treated can be more easily emptied into nearby waterways. But flooding from hurricanes hits low-lying regions the hardest, and power outages caused by the storms often knocks pumps offline, resulting in overflows.
This problem is exacerbated when water treatment facilities are outdated — and they are, throughout the country. Federal funding for water infrastructure has fallen by 74 percent (adjusted for inflation) since 1977, according to the New Republic, and the EPA estimated in 2016 that merely maintaining the nation's wastewater infrastructure would cost a staggering $271 billion over the next two decades, including $17 billion for Florida alone. In addition to this, heavier rains and rising water levels caused by climate change also make coastal sewage plants more likely to leak.
"Even without hurricanes, the five U.S. Gulf Coast states are highly vulnerable to disease due to a unique mix of poverty, climate change and heat stress (the highest in North America), aggressive urbanization, and human migrations," Peter Hotez, dean of the National School of Tropical Medicine at Baylor College of Medicine in Houston, told the Washington Post. "We are a global 'hotspot' for neglected tropical diseases. Now the hurricanes threaten to further amplify this problem."