Where To Stream '50 Shades' Before The Sequel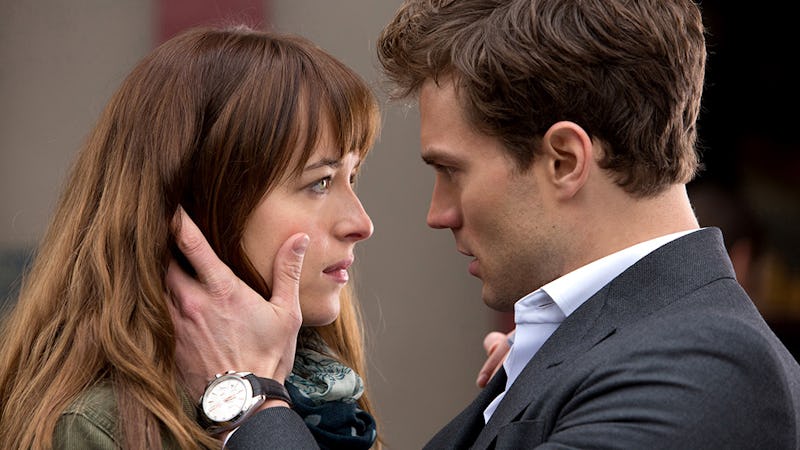 Universal Pictures
There are a number of sequels heading to theaters in 2017 that are hotly anticipated. Guardians of the Galaxy: Volume 2 certainly has its fans, as do upcoming part twos for films as varied as Kingsman: Secret Service, Trainspotting, and even Blade Runner. And then there's Fifty Shades Darker, which could be the biggest one of all. The sequel hits theaters on Feb. 10 — just in time for Valentine's Day — but what if you want to catch up on the original before seeing it? Is Fifty Shades of Grey on Netflix?
Unfortunately, you'll have to look somewhere other than Netflix to watch Fifty Shades of Grey. The movie is not currently on the streaming site, and it doesn't appear as if it will be heading there anytime soon. However, that doesn't mean it's not streaming anywhere. The film can currently be found on HBO, which means subscribers can stream it anytime on HBO GO, or on HBO Now if they subscribe to that digital-only platform. The movie premiered on the premium cable network back in November 2015, so it's not clear how much longer it will stay on HBO. But with the film's sequel coming out next month, it seems likely that HBO will want to hang onto the original at least until that time.
As for why it's not on Netflix, it all has to do with distribution deals. Fifty Shades is distributed by Universal, and if you peruse Netflix's current library, you'll notice that there aren't any recent Universal releases. Where you will find these movies, though, is HBO. Universal's 2016 blockbusters like The Boss, Hail, Caesar!, and Ride Along 2 are all on HBO, and that's because the network has a distribution deal with Universal. Netflix has no such deal with Universal, but they do have one with Disney, which is why you can find recent movies like Zootopia, The Jungle Book, and Captain America: Civil War on Netflix already.
As much as I wish that all movies were available on Netflix, that's not the case. Different studios' films pop up on different streaming services thanks to licensing deals, and if you want to be able to stream everything, you're just going to have to subscribe to all the services that are out there.
Or, you know, if you're really just desperate to watch Fifty Shades of Grey, you can rent it on Amazon for about four bucks. That works, too.