Why John Krasinski & Emily Blunt's New Horror Movie Is Unlike Anything You've Seen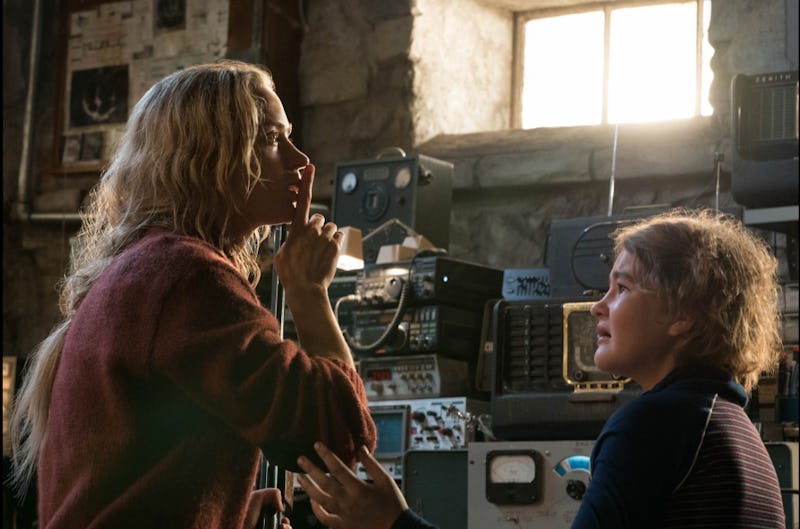 Paramount Pictures
If you're a horror fan, you know all about those eerily quiet moments that signify that something terrifying's going to happen at any second. But what happens when most of the movie is silent? A Quiet Place isn't a silent movie, but it is the first of its kind within the modern horror genre for how little spoken dialogue it actually has.
In the apocalyptic film, out April 6, director John Krasinski and his real-life wife Emily Blunt star as the nameless parents of two children who must adapt to living in complete silence while remaining in hiding from murderous, spider-like, blind creatures who have supernatural hearing. Any sound, from footsteps to coughing, can cause an attack. The oldest child is an adolescent girl who is the only deaf member of the family. Thanks to their knowledge of sign language, the family is able to outlive the others surrounding them, as they have found a way to communicate without having to rely on sound. But when the mother finds out that she's expecting a third child, this changes everything.
Having a deaf actor play the role of the daughter was crucial to Krasinski in the casting process. Millicent Simmonds not only helped the cast learn sign language, but also helped the director understand the impact that non-verbal communication can have in a scene. In an interview with Bloody Disgusting, Krasinski said, "Having [Simmonds]… it was almost like she was my parent because as I was trying to sign to her, she had the most wide-open face and was so appreciative that we were even giving it a shot. And just saying, like, 'That's not quite it, do it again.' It was like my best friend, mom, sister, everything, was teaching me ASL! It was such a beautiful moment."
Making a horror film with barely any sound was a major challenge for the filmmakers. The concept of creating a silent horror film first came up for screenwriters Scott Beck and Bryan Woods when they were in college. In an interview with Filmmaker Magazine, Beck explained, "We were watching a lot of silent films, things with Charlie Chaplin and Buster Keaton. Jacques Tati was an absolute favorite of ours. We were enamored with how they were such visual storytellers. They didn't need dialogue or exposition to tell a story and that got our minds going about how we could bend that into a genre context."
Beck and Woods didn't begin to work on the screenplay for A Quiet Place until 2013, after deciding to create a new type of silent narrative, using the lack of sound as a tool to create tension and fear (think about it — every little moment of sound is reason for audiences to freak out that something bad's about to happen). In the Filmmaker interview, the writers said it was the "weirdest script [they've] ever written," playing with the structure by shrinking down the text to emphasize that it was said quietly, and having an entirely blank script page, with the exception of one word.
For the rare moments that the characters do have vocal conversations with each other, Beck and Woods had to find loopholes that allowed them to speak without worrying about the monsters. One scene has the father having a conversation with his son by a waterfall, masking the sound of their voices. Another has the couple having an intense conversation in their basement bedroom, discussing the anxieties that come with being parents who have to protect their children from harm. All these moments give depth to this horror movie, showing how the narrative defies the genre's traditional films even further. A Quiet Place is simply like nothing else out there, and that makes it pretty freakin' cool.