The Story Behind 'A Very English Scandal' Is Just As Dramatic As The Series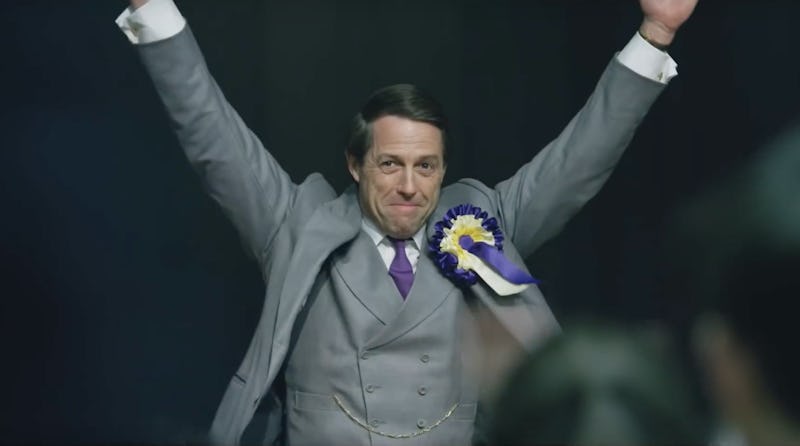 BBC
With political scandal, a primetime slot, and an actor you might have heard of named Hugh Grant, it's almost inevitable that A Very English Scandal will have the nation firmly planted in front of BBC One for the next few Sunday evenings. But with a story featuring real people, there are sure to be questions around whether A Very English Scandal is based on a true story. Set in the aggressively homophobic '60s and '70s, the dramatisation depicts the rise and fall of former Liberal Party leader Jeremy Thorpe, played by Grant. Thorpe ultimately ends up in court accused of conspiracy to murder his reported former lover, stable hand Norman Scott (Ben Whishaw), a charge Thorpe denied and of which he was later acquitted.
The dramatisation is actually an adaptation of a book of the same name by John Preston, the former Arts Editor of the Evening Standard and the Sunday Telegraph. The book tells the story of Thorpe's political downfall, in a scandal that exposed corruption at the centre of the British establishment and culminated in Thorpe being acquitted of conspiracy to murder at the Old Bailey in 1979.
Because the series is an adaptation of a "non-fiction novel," it's possible that whatever creative license Preston took might similarly be reflected in the TV show. But, as the Guardian reported in its review of the book, Preston's account relies on "basic facts [that] have long been in the public domain."
The book documents Thorpe's reported secret romantic life in an era of acute institutional homophobia, and the tabloid-dominating infamy that developed once he was threatened with exposure. In 1976, Thorpe denied the allegations against him in the following statement: "You will know from the very beginning I have strenuously denied the so-called Scott allegations, and I categorically repeat those denials today."
Norman Scott, who is also known as Norman Josiffe, recently told The Times that the pair met in the early 1960s. Scott claims that a sexual relationship developed between the two, something Thorpe denied. Thorpe proceeded to climb the ranks of the Liberal Party (now the Liberal Democrats, after merging with the Social Democratic Party), becoming leader in 1967.
When the alleged relationship soured, things became fraught between the pair, with Preston reporting that Scott regularly asked Thorpe for assistance. In that same recent interview with The Times, Scott himself reiterated a claim that Thorpe had in turn withheld Scott's National Insurance card and prevented him from obtaining work. As reported by The Telegraph, Scott threatened to take his story to the newspapers, and indeed spoke to both Liberal MP Emlyn Hooson and chief whip David Steel. Though sex between two men was decriminalised in 1967, Britain remained deeply hostile to homosexuality; Scott's claim, therefore, had the power to extinguish Thorpe's career.
What elevated the story from everyday political intrigue was Thorpe's arrest and trial for conspiracy to murder in 1979. As The Washington Post reported at the time, Liberal Party colleague Peter Bessell alleged in court that Thorpe aimed to permanently silence Scott, claiming that Thorpe said killing Scott would be "no worse than shooting a sick dog." The conspiracy was allegedly co-ordinated by David Holmes, Liberal treasurer and close friend of Thorpe, who, it was alleged, funnelled money to pilot Andrew Newton.
In October 1975, Newton shot Scott's dog, Rinka, and was imprisoned on firearms charges; upon release, Newton claimed he had actually been hired to kill Scott. Thorpe resigned his Liberal Party leadership on May 10, 1976, denying the allegations.
At trial, Thorpe was acquitted of the charges after the judge was unconvinced by prosecution witnesses Scott, Bessell, and Newton. Bessell's testimony was particularly compromised by the revelation of a deal he'd signed with the Sunday Telegraph to publish extracts from his book: he'd receive £25,000 if Thorpe was found innocent, and £50,000 if he was found guilty. Regardless, Thorpe's political and public reputation was shattered, and after developing Parkinson's disease, he withdrew altogether from public life. "If it happened now I think … the public would be kinder. Back then they were very troubled by it," he told the Guardian in 2009. "It offended their set of values." Thorpe died on Dec. 4, 2014.
Alongside Grant and Whishaw in the central roles, the TV adaptation also stars Monica Dolan as Thorpe's wife Marion, Alex Jennings as political and prosecution witness Bessell, and Jonathan Hyde as Thorpe's solicitor, David Napley. Coincidentally, the series is also something of a Doctor Who reunion: it's written by NuWho showrunner Russell T Davies, and also stars alumni Eve Myles and Adrian Scarborough.
To recap: that's Hugh Grant, Ben Whishaw, real political intrigue, and a solid showing from the Doctor Who cohort. Yeah, A Very English Scandal is going to do just fine.