What You Need To Know About Absentee Vs. Regular Ballots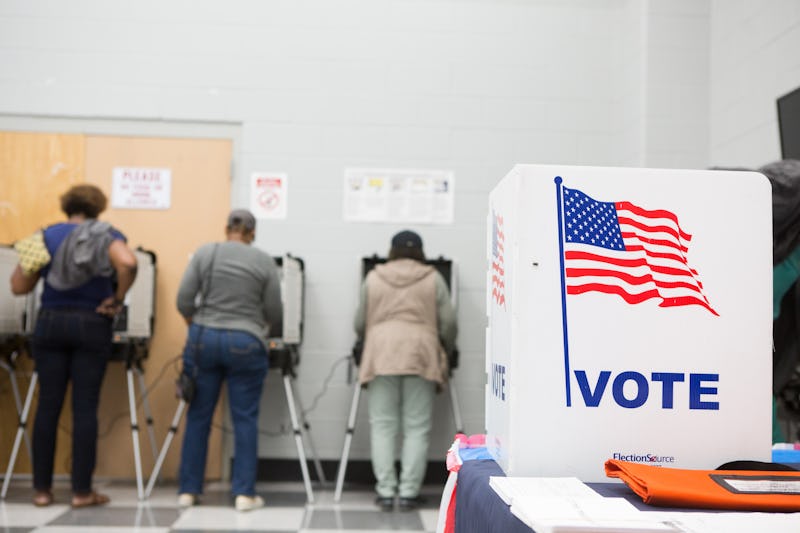 Jessica McGowan/Getty Images News/Getty Images
During the 2016 presidential election, millions of people voted absentee, and the number of people who have registered to do so has rapidly grown over the past few election cycles. As the midterm elections approach, the 2018 election cycle is set to outpace that of two years ago, with millions already having voted early or absentee. But are absentee ballots any different from regular ones? They may entail different registration processes, but the format and content of absentee and in-person ballots are the same.
The primary difference between an absentee ballot and a regular ballot lies in voter registration. To obtain an absentee ballot, military and overseas voters must register to vote using a Federal Post Card Application, while citizens who are within the U.S. but outside their state of residence need to register via their state or territorial election office. But if a citizen wants to vote on Election Day using a regular ballot, the majority of states allow online voter registration, and those that don't accept the National Mail Voter Register Form or in-person registration.
However, the physical ballots are extremely similar. Both absentee and regular ballots contain the same information — candidates' names, political affiliations, the positions they're running for, and how many a voter can select for a particular position. Both absentee and in-person voters can vote for candidates running for federal, state, or local offices, as well as on measures and propositions in their districts. For in-person voters, that would be wherever they are registered to vote, and for absentee voters, that would be for their permanent U.S. address or the last U.S. address at which they resided.
The primary physical difference between an absentee ballot and a regular one pertains to size. Absentee ballots may vary in size depending on whether a state mails out the ballots themselves or allows voters to print them out via email. Regular ballots, meanwhile, tend to be large, double-sided sheets of paper — something that occasionally poses a problem for voters who don't check both sides and therefore fail to complete their ballots.
While the ballots themselves contain the same information, the submission process is inevitably different. An absentee ballot must typically be mailed in a special envelope to the county in which a voter is registered, while a regular ballot can simply be submitted at the polls.
Absentee ballots have made numerous headlines ahead of this year's midterm elections due to controversial state policies that critics allege are contributing to voter suppression. In Georgia, for example, a district judge ordered election officials to stop rejecting absentee ballots if voters' signatures don't match the ones that officials have on file. In Montana, meanwhile, the Republican National Committee acknowledged that it mistakenly sent out incorrect information about the deadline to vote absentee.
Despite these hurdles, however, absentee ballots and other nontraditional voting methods — such as voting by mail or voting early — have grown increasingly popular. According to The New York Times, millions of people have already cast their ballots in this year's midterm elections, and NBC News predicts that the number of people who resort to nontraditional voting will surpass 2016 figures.